You are here
Small Wind Slab Avalanche, Middle Peak, Castle Lake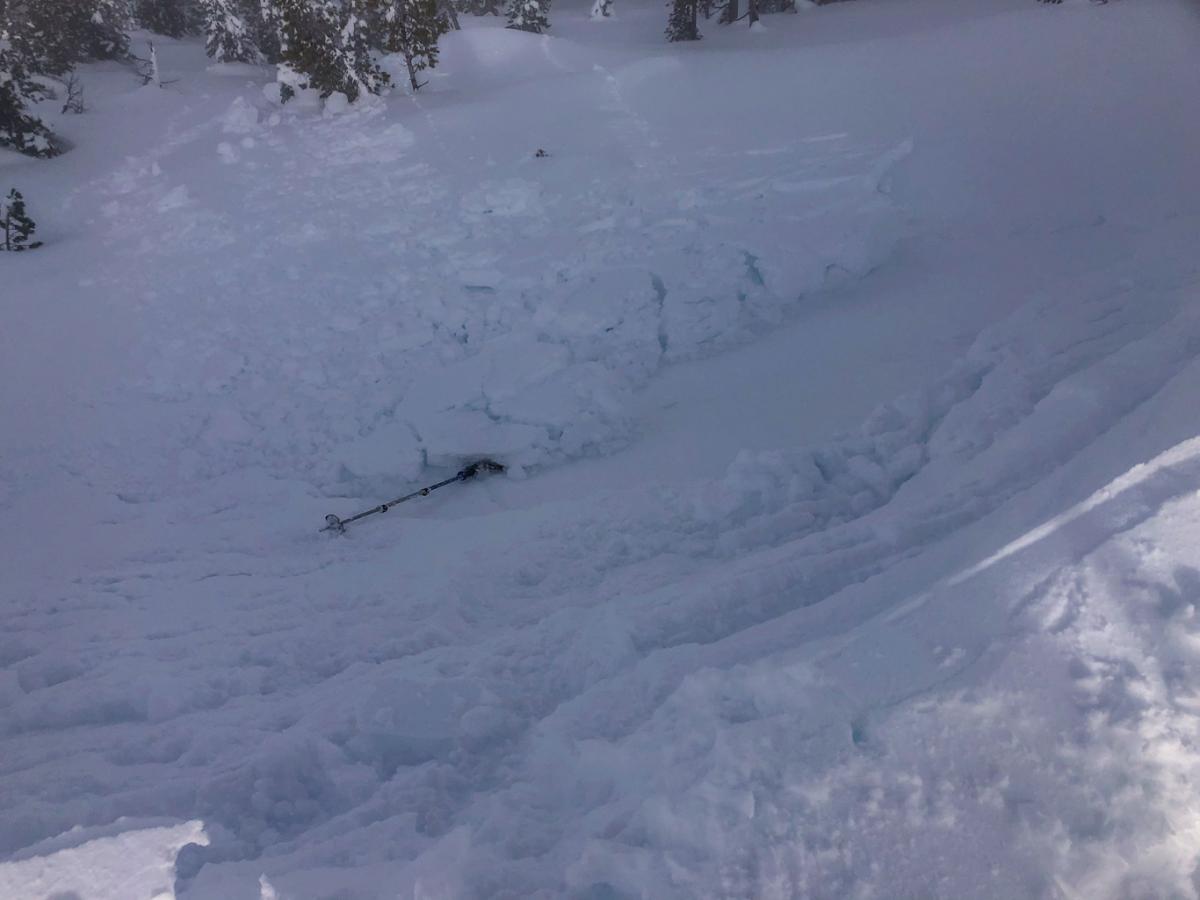 Location Name:
Castle Lake
Date and time of observation:
Mon, 02/15/2021 - 11:30am
Observation made by:
Forecaster
Red Flags:
Recent avalanche activity
Whumphing noises, shooting cracks, or collapsing
Recent loading by new snow, wind, or rain
Rapid warming
Location Map
96067
Mount Shasta
,
CA
United States
41° 13' 11.1072" N, 122° 23' 0.9168" W
California US
Snowpack Observations
Details
We triggered a small avalanche on a test slope by cornice fall today. The result was a small wind slab avalanche. It was approximately 20 feet wide and 20 feet long. The bed surface was a thin icy crust. The crust was 12 inches deep in a pit we had dug earlier. Temperatures were warming up and snow surfaces were beginning to feel moist and heavy. The trees were dripping melting snow. 
Observation Location: Castle Lake
Elevation: 6200 Feet
Date: 20210215
Time: 1130
Observer: Ryan and Aaron
Sky Conditions: Scattered (SCT) - Periods of fog and scattered clouds at various altitudes.
Current Precipitation: NO 
Air Temperature:  39 °F
Surface Penetration: Ski penetration (PS) = 6 in (15 cm), boot penetration (PF) = 12 in (30 cm)
Total Snow Depth (HS): 80 in (205 cm)
24-hour New Snow Depth (HN24): 3 in (8 cm)
24-hour New Snow Water Equivalent (HN24W): 0.35in (8 mm)
Wind Direction: SW 
Wind Speed:Light (L), 1-16 mi/hr, twigs in motion 
Column & Block Tests:

Slope Angle & Aspect: 40º, NE - test slope. 30º NE- snow pit
ECTX
CT13 SC  ↓ 12 in (32 cm)
Avalanche: SS-AC-R1-D1
Photos
Weather Observations
Details
Snow shower continued until 9 a.m. Fog would move in and out with scattered clouds as we toured up to Middle Peak. Temperatures were rising. A high of 43.5 ºF was recorded at 1 p.m. at our Castle Lake weather station. Roller balls and pinwheels were forming on south aspects. It would have been a perfect day to build a snowman. Moist packable snow was everywhere. 
Statistics
Cloud Cover:
50% of the sky covered by clouds
Air temperature:
Above Freezing
Air temperature trend:
Warming
Wind Direction:
Southwest