You are here
Snowpack above Treeline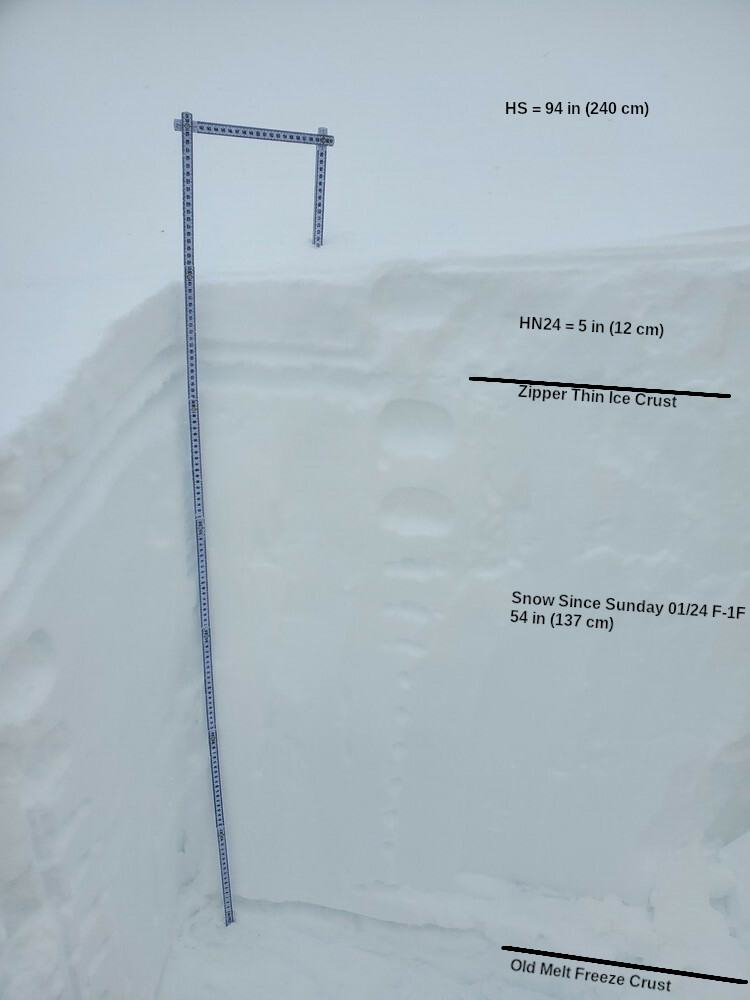 Location Name:
Old Ski Bowl
Date and time of observation:
Sun, 01/31/2021 - 2:00pm
Observation made by:
Forecaster
Location Map
96067
Mount Shasta
,
CA
United States
41° 22' 6.2184" N, 122° 11' 45.33" W
California US
Snowpack Observations
Details
Observation Location: Old Ski Bowl, Mount Shasta
Elevation: 8,400 ft
Date: 20210131
Time: 1400
Observer: Aaron Beverly
Sky Conditions: Obscured (X)
Current Precipitation: Type - Snow (SN), Rate - 2 cm/hr (S2)
Air Temperature: 23 °F
Surface Penetration: boot penetration (PF) = 18 in (46 cm)
Total Snow Depth (HS): 94 in (240 cm)
24-hour New Snow Depth (HN24): 5 in (12 cm)
Wind Direction: SW
Wind Speed: Light (L), 1-16 mi/hr, twigs in motion
Column & Block Tests:

Slope Angle & Aspect: 22º, SE
ECTP15 ↓ 6 in (15 cm), ECTX
CT15 SC ↓ 6 in (15 cm)
DTN
We made a foray into the upper regions of the Old Ski Bowl to get a picture of state of the snowpack since the series of storms that hit the area since last Sunday (01/24/21). At a location that was slightly wind-loaded, the snowpack was right side up ranging from fist to one-finger / 4F+ hard snow down to the old melt-freeze crust that dominated the surface of the snowpack prior to the storms. A thin breakable ice crust exists at all elevations we traveled just below the new snow from today.
The layer of snow from the 01/24 storm is well bonded to the old melt-freeze crust. Deep tap tests could not produce any failures at this interface. Medium, clean failures were achieved just below the ice crust from yesterday. Extended column tests were inconsistent.  One produced propagation, one did not.
The thin ice layer that formed yesterday has capped off much of the snowpack. It is not clear how far up this ice layer extends, but it was still prevalent at 8,400 ft. Snow being transported was new snow.
No other signs of instabilities were seen or felt.
Everitt Memorial Highway remains closed with no signs that it will open soon. Please know the boundaries if venturing up the highway on your snowmobiles. Anywhere to the left of the highway (north) is off limits until you get to the Old Ski Bowl.
Photos
Weather Observations
Statistics
Cloud Cover:
100% of the sky covered by clouds
Accumulation rate:
Less than 1 in. per hour
Air temperature:
Below Freezing
Air temperature trend:
Static
Wind Direction:
Southwest