You are here
Snowpack at Castle Lake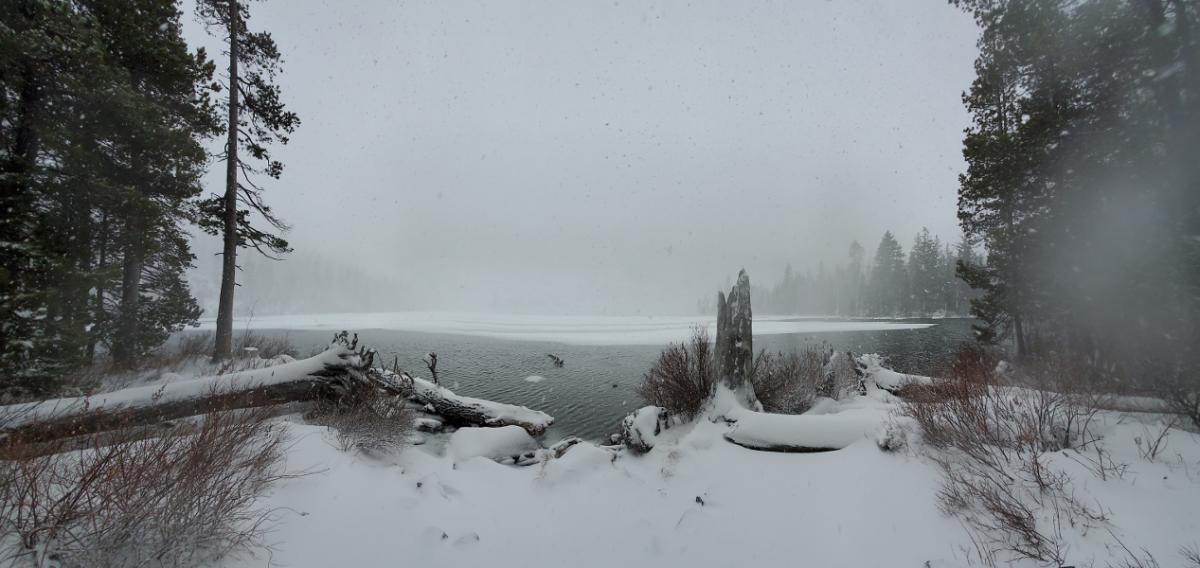 Location Name:
Left Peak, Castle Lake
Date and time of observation:
Sun, 12/22/2019 - 2:00pm
Observation made by:
Forecaster
Red Flags:
Whumphing noises, shooting cracks, or collapsing
Location Map
96067
Mount Shasta
,
CA
United States
41° 13' 39.2628" N, 122° 22' 31.0476" W
California US
Snowpack Observations
Details
Observations on Left Peak, Castle Lake, 20191222 - 1400 hrs - Beverly & Sorenson
ELEVATION: 6,160 ft; near treeline
ASPECT: North
SKY: Obscured
VISIBILITY: 600 ft (183 m)
PRECIPITATION: Snow @ 1 in/hr
BLOWING SNOW: Yes
AIR TEMP: < 32°F
SKI PEN (PS): 4 in (10 cm)
HEIGHT OF SNOWPACK (HS): 41 in (105 cm)
HEIGHT OF NEW SNOW (HN24): 5-10 in (12-25 cm)
WIND: South, light to moderate
TEST RESULTS: CTV SC ↓ 16 in (40 cm), CT11 SC ↓ 16 in (40 cm), ECTPV SC ↓ 16 in (40 cm), ECT21 SC ↓ 16 in (40 cm)
The granular snow found on the surface last week at Cliff Lake has become a weak layer under a layer of ice and new snow. Columns and block test results were inconsistent but all break within the weak layer 16 inches from the surface - some on isolation, and some with moderate to hard force. Whumphing was experienced twice but was isolated and localized to under skis. The stout crust atop the weak layer was difficult to break with ski stomps. Significant more snow atop the snowpack may make this weak layer more of a concern in below and near treeline areas.
Drifting snow was up to 24 inches (60 cm) deep. New cornices were forming on northerly aspects but were unreactive to ski cuts. No shooting cracks were observed. Minor blocking within new snow indicated storm slabs may be an issue on very steep slopes.
Castle Lake has some ice on it but is not ready for traveling on.
Photos
Videos
Weather Observations
Statistics
Cloud Cover:
100% of the sky covered by clouds
Accumulation rate:
Less than 1 in. per hour
Air temperature:
Below Freezing
Air temperature trend:
Static