You are here
Snowpack at Castle Lake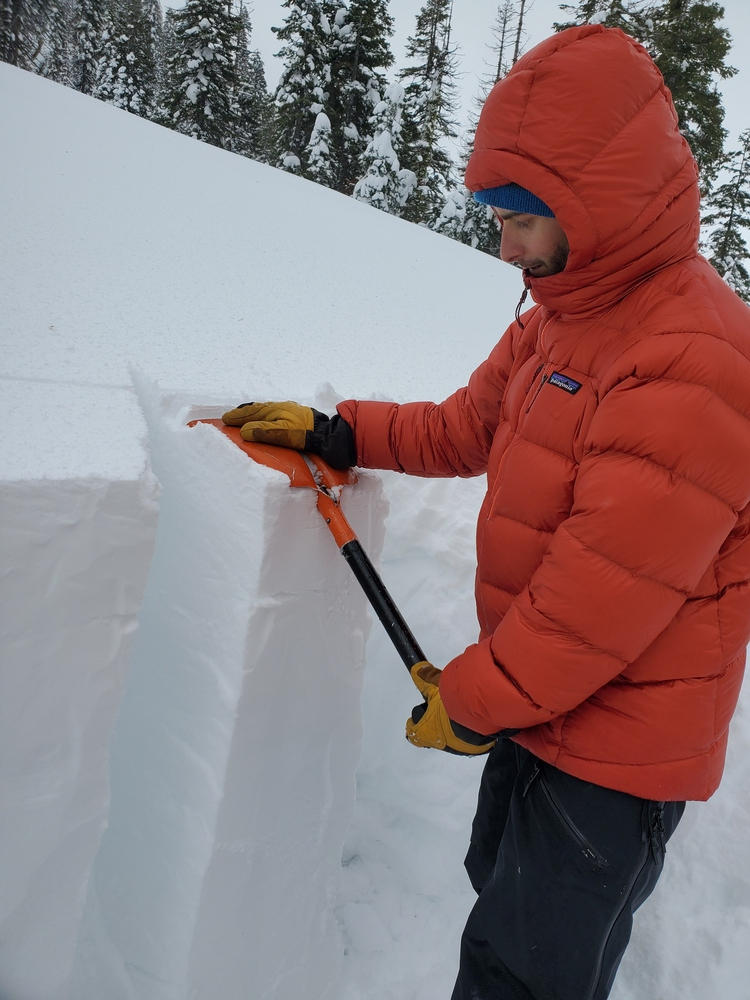 Location Name:
Below Treeline, Castle Lake
Date and time of observation:
Mon, 02/01/2021 - 12:00pm
Observation made by:
Forecaster
Red Flags:
Recent loading by new snow, wind, or rain
Location Map
96067
Mount Shasta
,
CA
United States
41° 13' 51.6468" N, 122° 22' 33.7908" W
California US
Snowpack Observations
Details
After an attempt to do a snow survey near Gray Rock Lakes, we had to bail due to deep, wet snow. We made a quick jaunt up to Castle Lake to check out conditions.
Observation Location: Castle Lake
Elevation: 5,630 ft
Date: 20200201
Time: 1200
Observer: Aaron Beverly
Sky Conditions: Obscured (X)
Current Precipitation: Type - Snow (SN), Rate - < 1 cm/hr (S-1)
Air Temperature: 29 °F
Total Snow Depth (HS): 71 in (180 cm)
24-hour New Snow Depth (HN24): 1 in (2.54 cm)
Wind Direction: SE
Wind Speed: Moderate (M), 17-25 mi/hr, small trees sway
Column & Block Tests:

Slope Angle & Aspect: 15º, NW
ECTN22 ↓ 18 in (45 cm)
CT24 SP ↓ 18 in (45 cm)
DTN
The snowpack at Castle Lake is almost identical to what we saw above treeline yesterday in the Old Ski Bowl, except the snow totals are less. Snow is right side up ranging from 4F to 1 F down to the melt-freeze crust that was widespread before the series of storms that hit the area on 01/24. A thin, breakable ice crust that formed on Saturday is a few inches below the snow surface. Hard CT and ECT failures were produced on a 4F to 1F density change about 18 inches down. ECT failures did not propagate. Deep tap tests yielded no failures at the interface of the snow from last week's storms and the old melt-freeze crust. All recent snow is well bonded to the old snow.
Southerly winds were blowing moderately, snow was being transported, small trees were swaying, and gusts were strong. Small wind drifts were forming.
Aside from snow being transported, no obvious signs of avalanche danger were observed.
Castle Lake Road is closed.
Photos
Weather Observations
Statistics
Cloud Cover:
100% of the sky covered by clouds
Accumulation rate:
Less than 1 in. per hour
Air temperature:
Below Freezing
Air temperature trend:
Static
Wind Direction:
Southeast