You are here
Snowpit - Old Ski Bowl @ 7861 ft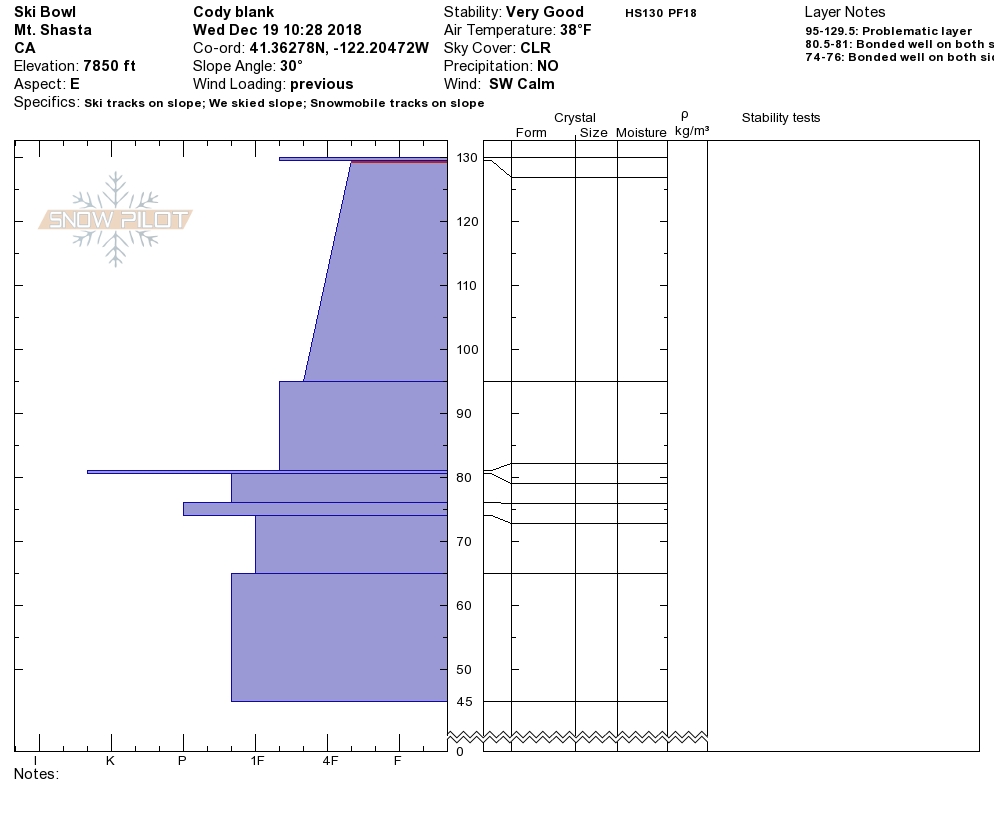 Date and time of observation:
Wed, 12/19/2018 - 10:28am
Observation made by:
Public
Location Map
96067
Mount Shasta
,
CA
United States
41° 21' 46.0008" N, 122° 12' 16.9992" W
California US
Snowpack Observations
Details
Only dug down to 45CM from the ground.  Don't think my stability test was accurate as I accidentally pressed over on my column as I was trying to clear the edges so I'm not going to report. The layer right under the top most crust had some change in density and seemed like the top 10-20cm was lighter but it was hard to figure out the exact depth it happened at.  
Kicked a cornice block @ 8k on Green Butte ridge with no reaction (see image bellow). The slope it fell onto was 30-33, concave, and short so not an amazing data point. Tried some ski cuts on slopes 32-35 SE/E @ 7.8k with no reaction.
Photos
Videos
Weather Observations
Details
There was an inversion + some serious solar radiation today. I left bunny flat at 8:30ish with my car saying 30F and when I got back at 12ish it was reading 50F. Trees were starting to drip at 8:30 and it became a rain forrest by 11:30.



Inversion versus elevation equalled out at probably around the 4k-5k elevation showing the lowest temp on my way down the hill. 



Blowing snow was only observed at ridgetops but evidence of wind transported snow was evident on SE to NE aspects. 
Statistics
Air temperature:
Above Freezing
Air temperature trend:
Warming
Wind Direction:
Southwest