You are here
South Fork/Cliff Lake/Eddy-Parks Ck.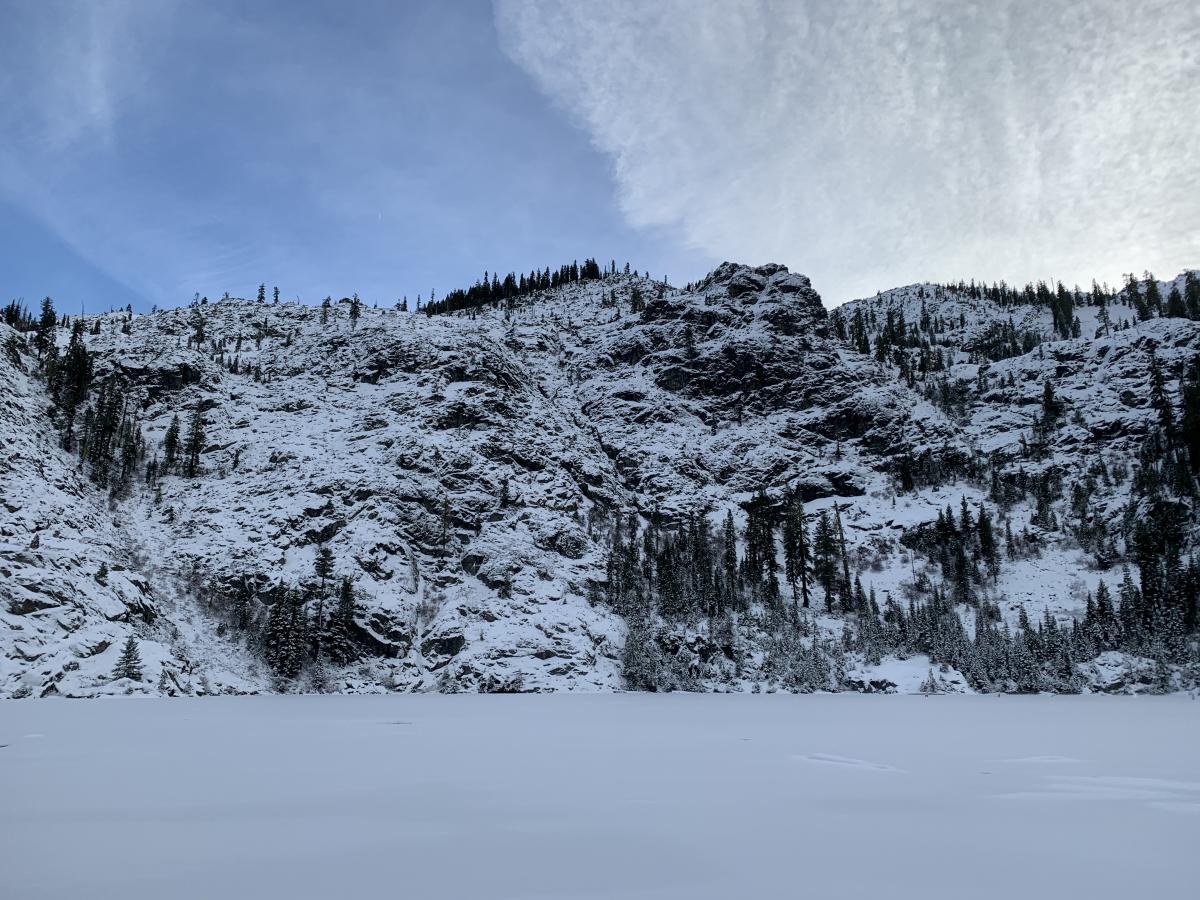 Location Name:
Mount Shasta Area
Date and time of observation:
Fri, 12/18/2020 - 2:30pm
Observation made by:
Forecaster
Location Map
96067
Mount Shasta
,
CA
United States
41° 11' 57.5736" N, 122° 29' 25.3248" W
California US
Snowpack Observations
Details
Snowpack and conditions check of Parks Creek road in the Eddy Mountains via Stewart Springs and the South Fork of the Sacramento drainage to Cliff and Gumboot Lake zone.

The sun came out all day today and crusts on southerly aspects are likely for tomorrow. Trees were dripping at lower elevations. North facing and other shaded/sheltered aspects will likely hold soft snow for the time being. For the most part, it was manzanita and brush galore in the Cliff Lake and Gumboot Area. Folks have been driving all the way to both lakes. There is a couple inches more snow in the Eddies. Winds were calm and variable near and below treeline. While one could ski up the Parks Creek Road from Caldwell TH and perhaps find some low angle glades covered up in the Eddy Mtns...the South Fork area does not have a usable snowpack for skiing or riding. You couldn't buy an avalanche today.
Observation Location: Eddies and South Fork
Elevation: 5,770 - Cliff Lake / 6,835 (Caldwell Lake turnoff) Parks Ck Rd.
Date: 20201218
Time: Afternoon
Observer: Meyers
Sky Conditions: Clear (CLR) 
Current Precipitation: none
Air Temperature: High 30's to low 40's
Surface Penetration: n/a
Total Snow Depth (HS):  6-10 inches / 15 - 25 cm
24-hour New Snow Depth (HN24): 0 
24-hour New Snow Water Equivalent (HN24W): 0 
Wind Direction: variable
Wind Speed: Calm
Eddy Mountains via Parks Creek Road (42N17)
One can drive the un-plowed road 5.1 miles from Stewart Springs to Caldwell Lakes trailhead. 4x4 recommended. Driving further is possible but risk of getting stuck begins.
Snow level near 5,000 feet
12-14 inches total snow depth at 5,800 feet
6-7 inches new, low density snow
Wind: calm / Temp: 40 F  
Notes: A barely usable snowpack. No avalanches possible. 
West Side - South Fork/Cliff Lake/Gumboot Lake Area
Road un-plowed past forest boundary. It's 8 miles to the Cliff Lake turnoff. Snow on the ground near 4,000 feet. 
With proper 4x4, one can drive to the lake. Most will park just off South Fork Rd. 
Lakes are frozen. Ice skating is a no-go due to recent snow creating a slush topping on the what was, good ice.
5-10 inches total snow depth, a very shallow snowpack. Not usable for skiing. Perhaps best for taking your new snow boots or snow shoes out for a spin. 
1-4 inches new, low density snow
Photos
Weather Observations
Details
Clear, calm wind, temps in the high 30s to low 40s F.
Statistics
Air temperature:
Above Freezing
Air temperature trend:
Static