You are here
South Side Conditions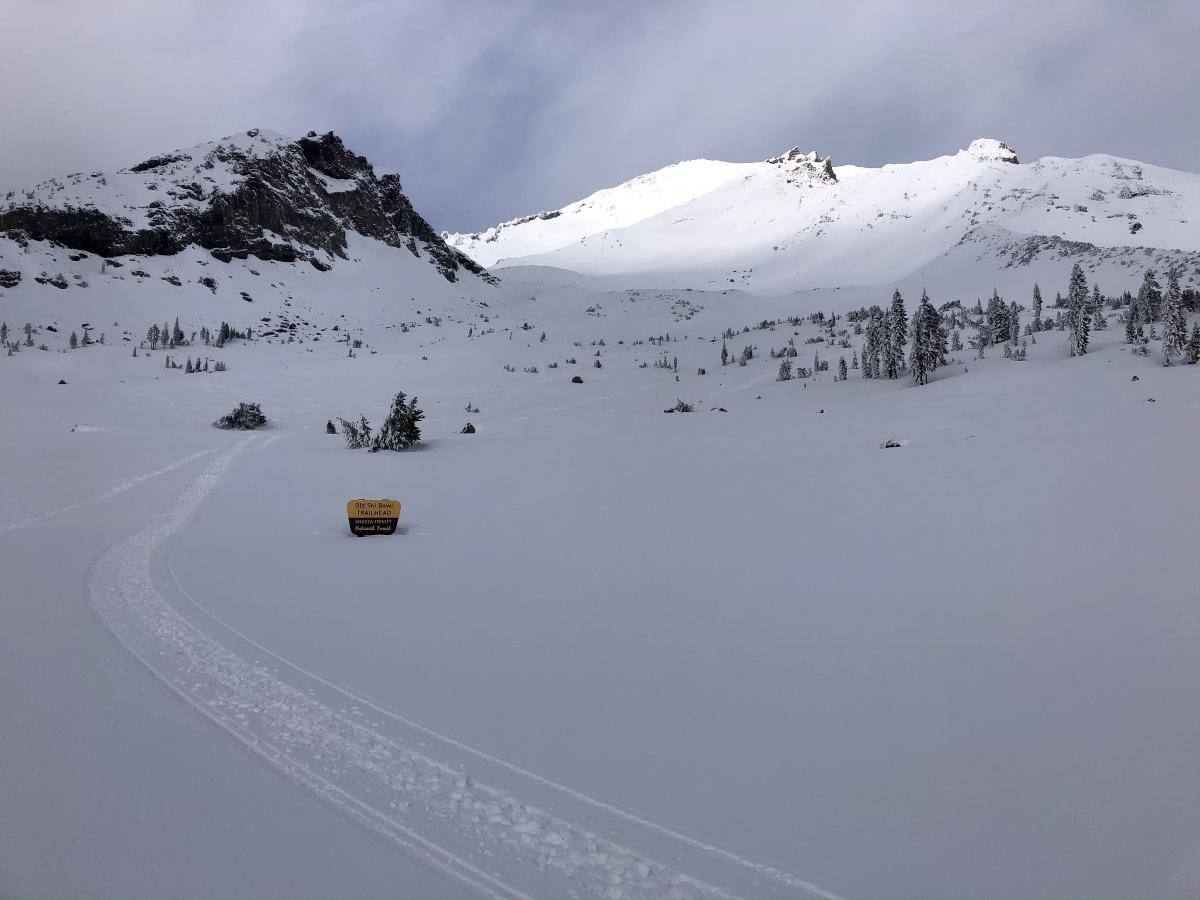 Location Name:
Old Ski Bowl
Date and time of observation:
Sat, 12/14/2019 - 1:30pm
Observation made by:
Forecaster
Location Map
96067
Mount Shasta
,
CA
United States
41° 22' 38.874" N, 122° 11' 56.094" W
California US
Snowpack Observations
Details
Today was the calm after the storm. Clear skies after sunrise quickly turned to blue as folks geared up for what was for many the first day of the season.  One could see from town that Mount Shasta had received a lot of wind from the recent storm. Wind textures are scattered across open areas of the West Face, Avalanche Gulch, and Old Ski Bowl. Sustained westerly and northerly winds of 16 to 28 mi/hr and gusts to 43 mi/hr were recorded at our 8,000 foot weather station (Gray Butte) over 20 hours of the last 24 hours (8 am 12/13 to 4 am 12/14). A tour in Old Ski Bowl observed a wide variety of snow hardness and surface textures. In protected areas below treeline soft new snow over a variety of crusts can be found. On near and above treeline terrain wind effected snow is more common. A pit dug at 9,300 feet on a south west aspect of Old Ski Bowl found 1 finger hard wind packed snow over a variety of crusts. Stability tests found planar fractures that were stuborn and resistant, failing 7 inches down on a slight density chance below a zipper thin ice crust. 
Overall, the moist nature of the recent storm has allowed the new snow to settle quickly into the snowpack on Mount Shasta. Strong winds have packed or otherwise sublimated the majority of snow that is available for transport. The base snowpack has settled in well and now we wait for another atmospheric river event expected to arrive late Wednesday night. 
Photos
Weather Observations
Details
9300 feet - SKY: Scattered / WIND: Light-NW / TEMP (air): 27.5 / PRECIP: None / BLOWING SNOW: None (previous)
Statistics
Cloud Cover:
25% of the sky covered by clouds
Air temperature:
Below Freezing
Air temperature trend:
Cooling
Wind Direction:
Northwest