You are here
South Side Mount Shasta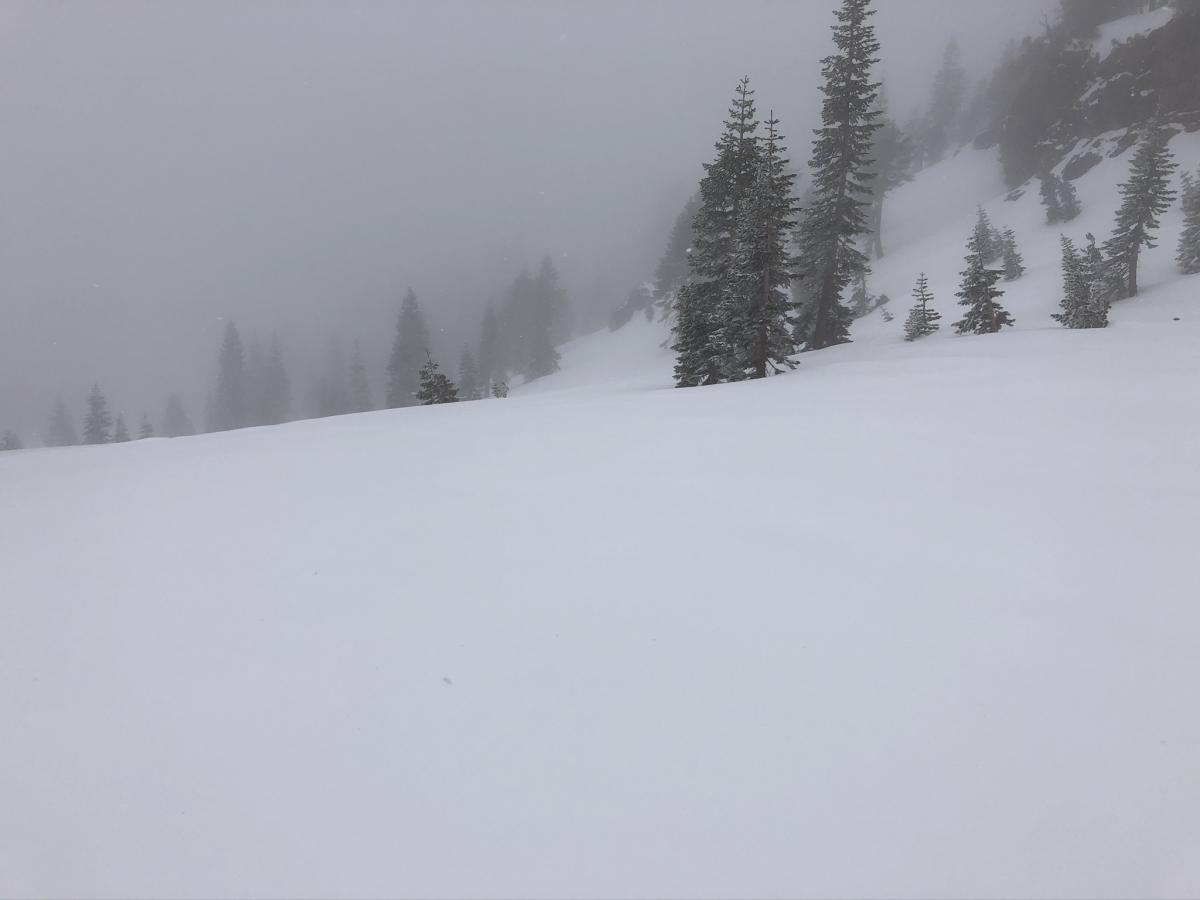 Location Name:
Mount Shasta
Date and time of observation:
Sat, 03/28/2020 - 3:30pm
Observation made by:
Forecaster
Red Flags:
Recent loading by new snow, wind, or rain
Location Map
96067
Mount Shasta
,
CA
United States
41° 20' 47.5764" N, 122° 11' 30.8004" W
California US
Snowpack Observations
Details
March 28, 2020 (20200328) - 1330 hrs - R Sorenson
Gray Butte Area

SKY: Obscured

PRECIP: S1 - sporadic light snowfall

WIND: Calm

BLOWING SNOW: None

AIR TEMP: 23 F

SURF PEN: 5-12 inches (15-30 cm)

Height of new snow:
Below treeline (1130 hours) HN: 3 inches (8 cm), HS: 75 inches (190 cm)
Near treeline (1300 hours) HN: 6.5 inches (16 cm), HS: 79 inches (200 cm)
Above treeline (1230 hours) HN: ~ 7 inches (17 cm) ~ 12 inches of unconsolidated snow atop a thick crust
NOTES: 
There were low clouds, fog, flat light, and generally very low visibility on the south side of Mount Shasta today. The snow was falling from the sky throughout (1100-1500 hours); however, it was sporadic: light one minute, very light the next, then moderate the next.  The new snow sits atop a melt-freeze crust below and near treeline.  This crust is variable in thickness but was very thin in most places observed. It was absent on west-facing terrain above treeline. Approximately 6 inches of 4F to F hard snow remains below that, all above firm and consolidated snow.  Winds were calm, and there was no sign of wind effects on the snow surfaces. No natural or human triggered avalanches were observed. 
Photos
Weather Observations
Statistics
Cloud Cover:
100% of the sky covered by clouds
Accumulation rate:
Less than 1 in. per hour
Air temperature:
Below Freezing
Air temperature trend:
Static