You are here
Southside Conditions Update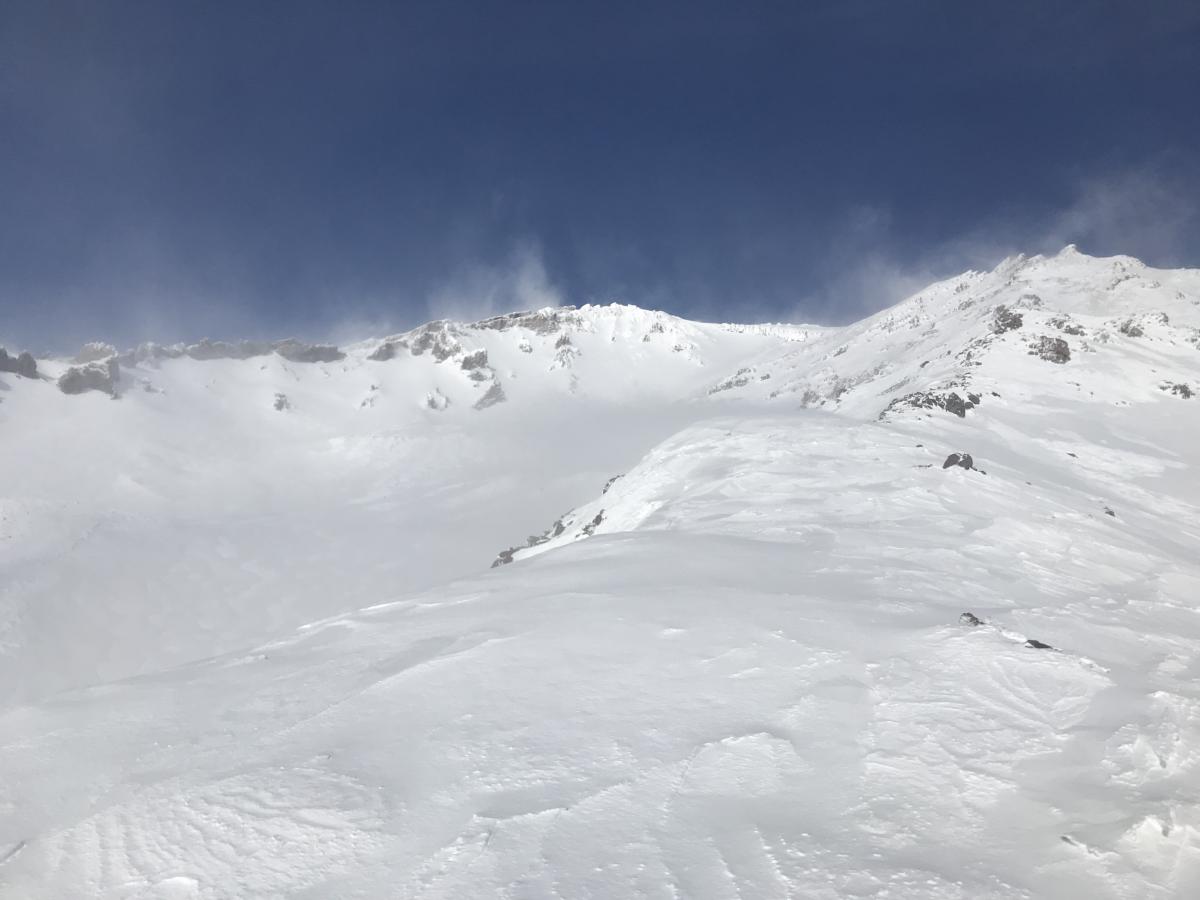 Location Name:
Avalanche Gulch/Green Butte Ridge/Old Ski Bowl
Date and time of observation:
Thu, 01/09/2020 - 2:00pm
Observation made by:
Forecaster
Red Flags:
Whumphing noises, shooting cracks, or collapsing
Location Map
96067
Mount Shasta
,
CA
United States
41° 22' 56.91" N, 122° 12' 26.4528" W
California US
Snowpack Observations
Details
January 9th, 2020 - Southside Conditions Update including Avalanche Gulch, Green Butte Ridge, Old Ski Bowl

1330 to 1530 hours

Meyers

SKY: Clear, low fog/clouds until mid-day

PRECIP: none active, previous yes

BLOWING SNOW: yes

AIR TEMP: 24.5 F

SURF PEN: 10-20 inches

SNOWPACK(HS):  45 - 55 inches

NEW SNOW(HN): 4-7 inches

WIND: Calm below treeline, moderate and gusty near treeline, strong above treeline...westerly in nature, switching to southeast near the noon hour
NOTES: 
A last minute spurt in this mornings short lived storm brought in a storm total of about 6 inches. Westerly winds were strong and gusty near/above treeline terrain. Most all slopes steeper than 25 degrees (avalanche terrain) was stripped of the low density, new snow. Low angle gullies captured the most snow accumulation. Wind slabs were observed but none on steep enough slopes or size of consequence.
Below Treeline: 4 to 6 inches of low density snow evenly distributed on top of variable crust layers. The 12/19 icy crust less prominent at lower elevations. Wind calm and little to none previous wind affect. No signs of avalanche danger.
Near Treeline: 5-7 inches of low density new snow. Westerly wind affect becomes noticeable, swithcing to southeast during PM hours. Still somewhat even distribution of new snow in protected areas but some localized windy terrain hosted scouring. Small test slopes produced shooting cracks and small slab failures within top 2 inches of new snow. Low angle gullies and wind eddies behind rocks/trees held hollow wind drifts up to 2 feet deep.
Above Treeline: Windy, primarily out of the west but localized swirling and eddies observed wind out of the south and east as well. All slopes steeper than +/- 25 degrees were scoured and wind stripped down to the 12/19 ice layer. Low angle gullies and leeward areas behind exposed rocks held drifts up to 2 feet deep. No wind loading was observed in avalanche terrain. Smooth, icy surfaces along ridgelines and moraine tops remain. Some shallow buried rocks still exist. 
Photos
Videos
Weather Observations
Statistics
Air temperature:
Below Freezing
Air temperature trend:
Warming