You are here
Southside Mount Shasta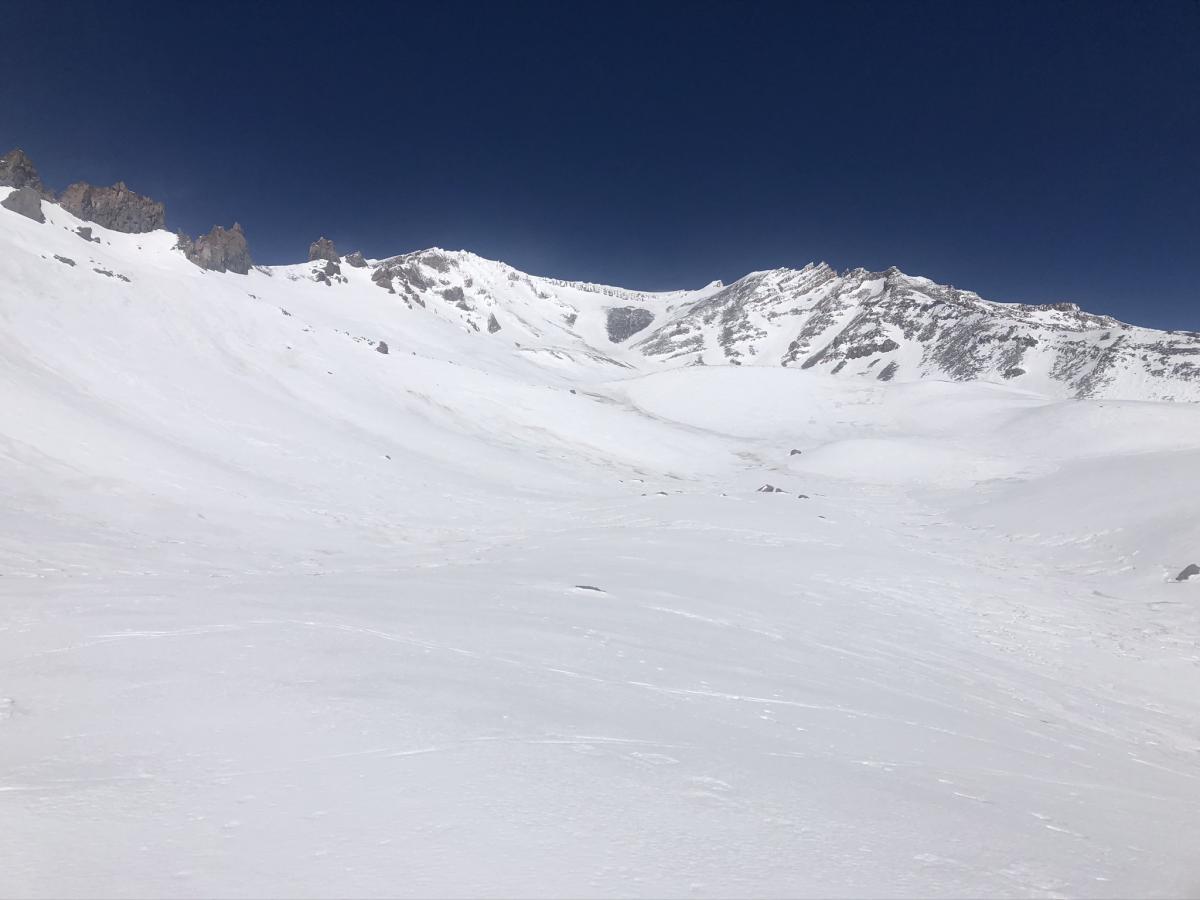 Location Name:
Mount Shasta, Avalanche Gulch
Date and time of observation:
Tue, 02/11/2020 - 1:30pm
Observation made by:
Forecaster
Location Map
96067
Mount Shasta
,
CA
United States
41° 23' 1.1256" N, 122° 12' 57.1644" W
California US
Snowpack Observations
Details
DATE: February 12st, 2020 (20200212)

TIME: 1200-1500

OBSERVER: R Sorenson

LOCATION: Avalanche Gulch, Mt Shasta, below/near/above treeline

SKY CONDITION: Clear blue sky

PRECIPITATION TYPE/RATE: none

BLOWING SNOW: yes, above treeline. No wind loading.

AIR TEMPERATURE: 41 deg F maximum

SURFACE PENETRABILITY: Below treeline: 3-6 inches (7-15 cm) / Near and above treeline: 1-3 inches (1-7cm)

HEIGHT OF SNOWPACK (HS): Treeline 8,400 feet - 64 inches (1.62 m)

HEIGHT OF NEW SNOW (HN): 0

WIND: Northeast - Avg: 6 mi/hr, Gust to Max: 31 mi/hr @ 8,000 feet, Very windy with strong gusts above 8,500 feet

NOTES:
Strong winds have ripped into the snowpack at alpine elevation on Mount Shasta. A barrage of sandblasting icy pellets met us as we toured above Spring Hill (8,200 feet) in Avalanche Gulch. One had to duck to avoid the exfoliating experience when a strong gust blew through. Snow surfaces are variable, and a variety of surface harnesses exist. Below treeline, old tracks and rain runnels are dominant. Sunny slopes held some softer corn snow. Shady areas remain a bit crusty.  The strong north winds have kept the surface conditions firm and icy above treeline. Exposed dirt patches have been scored out by the wind on alpine slopes. Dirt and debris patches blown from higher elevations have begun to form in the lower-lying gullies below. Needless to say, conditions are looking grim.

On a different note, apart from the strong winds, climbing conditions are good. Climbers descending from the upper mountain reported that firmer conditions have made for good cramponing. My biggest worry is that exposed rock around the Red Banks could come crashing down, dislodged from the wind or warmer temperatures. Keep an eye out, and wear a helmet if you plan on climbing into the alpine this weekend. 
Photos
Videos
Weather Observations
Statistics
Air temperature:
Above Freezing
Air temperature trend:
Cooling
Wind Direction:
Northeast