You are here
The State of Things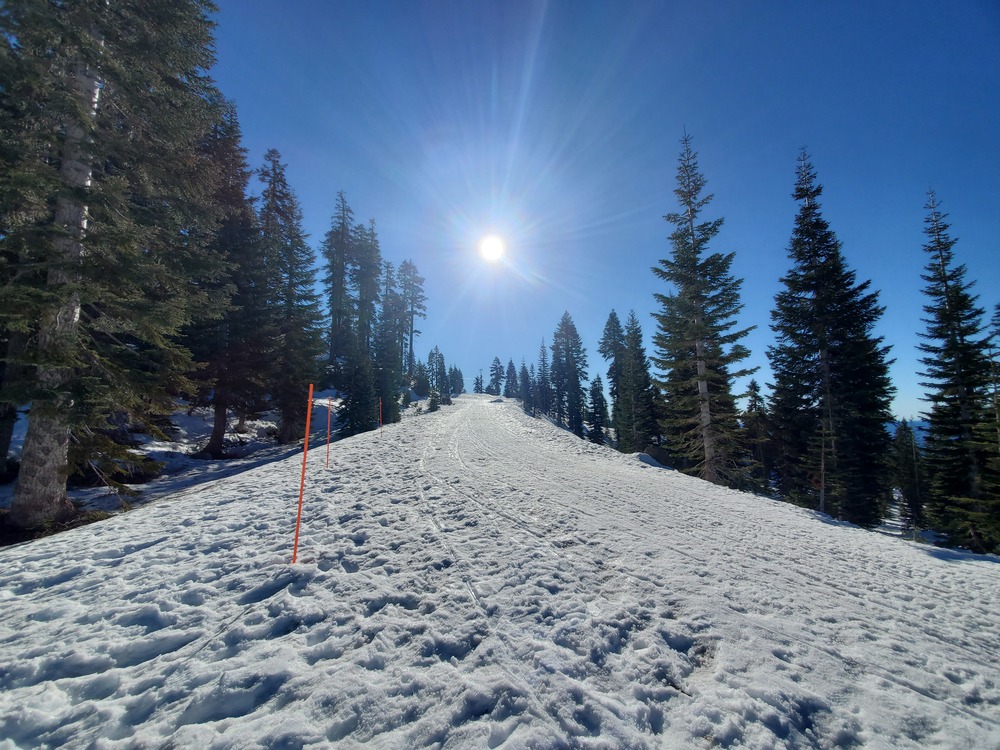 Location Name:
Bunny Flat, Sand Flat, Castle Lake, South Fork Road
Date and time of observation:
Sun, 02/06/2022 - 11:00am
Observation made by:
Forecaster
Location Map
96067
Mount Shasta
,
CA
United States
41° 21' 10.5768" N, 122° 14' 4.4628" W
California US
Snowpack Observations
Details
If it were the middle of May, we might say the state of things were looking decent. But it is early February and we haven't had precipitation for a month. The pictures below will help tell the story. See Ryan's Observation from two days ago for more photos higher on the mountain.
Bunny Flat still has snow to the parking lot, and that snow is jack-hammer hard. Flags for our beacon clinic were difficult to place. Due to its density, it should hold out for a while longer. Everitt Memorial Highway above the parking lot is slick and shiny. Sleds, gravity fed or motorized, will have a rough time on it, but there is still plenty of usable snow. Plan on your Wal-mart sled not being usable afterwards. And be careful. Chintzy plastic sleds have led to injuries in these conditions.
Both upper and lower Sand Flat trails also have plenty of snow for those into the horizontal slide. They are packed out and tracked out with a plethora of ski and boot imprints. But the trails still offer a quiet, pleasant stroll in the woods. 
If looking to journey up South Fork Road for a foray into the Eddies, be prepared for very icy conditions when you meet the county line. It'll be brutal on your snowmobiles and 4x4s.
Castle Lake is frozen and supportable. Ice fishing is in. A bit of manzaneering may be necessary on sun exposed slopes, but you can still find decent turns. The hike to heart lake will probably not require snowshoes. It is well traveled, but icy. The top of Middle Peak has overhanging cornices. Stay clear of these as temperatures warm up this week.
Photos
Weather Observations
Statistics
Air temperature:
Above Freezing
Air temperature trend:
Static