You are here
Storm Conditions, Coyote Butte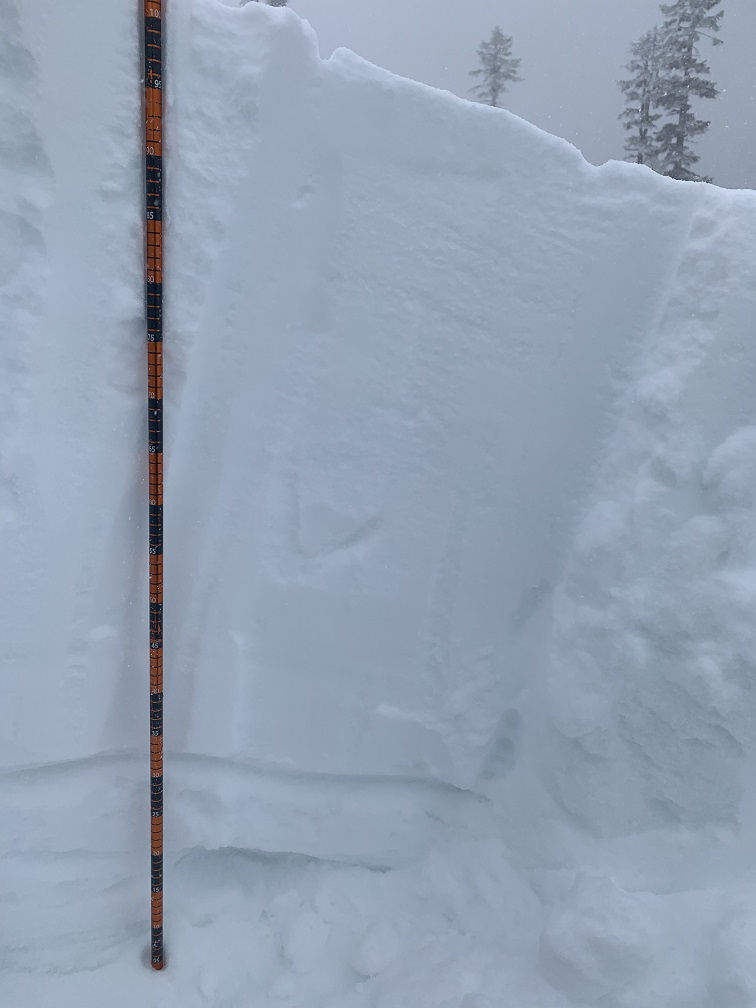 Location Name:
Adjacent to Mt Shasta Ski Park
Date and time of observation:
Wed, 01/27/2021 - 2:30pm
Observation made by:
Forecaster
Red Flags:
Whumphing noises, shooting cracks, or collapsing
Recent loading by new snow, wind, or rain
Location Map
96067
Mount Shasta
,
CA
United States
41° 20' 4.9524" N, 122° 11' 37.2156" W
California US
Snowpack Observations
Details
Today was one of those days when it was too deep. Whether skinning up or skiing down, momentum was tough to come by. Both the Everitt Memorial Highway and Castle Lake roads were closed and access to the backcountry as well as visibilty/road travel was difficult. A backcountry short tour around Coyote Butte up at the Mt Shasta Ski Park was all that ensued. It was a day for storm assessment with a stepping back mindset. My partner and I treaded very lightly and did not ski or travel in avalanche terrain.
Observation Location: Backside of Coyote Butte, adjacent to Ski Park
Elevation: 6,850 feet
Date: 20210127
Time: 1515
Observer: Meyers
Sky Conditions: Obscured (X)
Current Precipitation: Type - SN / Rate -  S1 
Air Temperature: 20.5 °F
Surface Penetration: Ski penetration (PS) = 15 in /  38 cm  --  Boot penetration (PF) = 20-30 in / 50-75 cm)
Total Snow Depth (HS): 67 in /  170 cm
24-hour New Snow Depth (HN24): 21 in / 53 cm
24-hour New Snow Water Equivalent (HN24W): 1.68 inches/ 42.6 mm
Wind Direction: South
Wind Speed: Strong (S), 26-38 mi/hr, whole trees in motion 
Obvious signs of avalanche danger was observed today despite not being able to see much terrain. As of this afternoon, the area has received 28 hours of constant snowfall and strong southerly wind. New snow and subtle temperature and wind speed changes have made for a layered snowpack within the new snow. Slightly warmer temperatures this afternoon made for excellent slab properties. Cracking and blocking, whoomfing and shooting cracks were observed in near treeline terrain. Wind drifts 2-4 feet thick were hollow and slabby. Snow below treeline became upside down cake like later in the day.
In select areas, a weak layer of sugary snow exists below a thick, pencil hard crust, about 90 cm deep. We were not able to produced failure on this layer with a deep tap test. Bridging from the crust and spacial variability of the weak snow keeps this layer a low concern at this time. 
Photos
Weather Observations
Details
A wild and wooly past 24+ hours and still going. Skies have been obscured, snow non-stop. It's been basic survival just keep roads and homes dug out, many still working on it. It will be a day or two before we can really get a good look at things. 
Statistics
Cloud Cover:
100% of the sky covered by clouds
Accumulation rate:
Greater than 1 in. per hour
Air temperature:
Below Freezing
Air temperature trend:
Warming