You are here
Into the storm on Gray Butte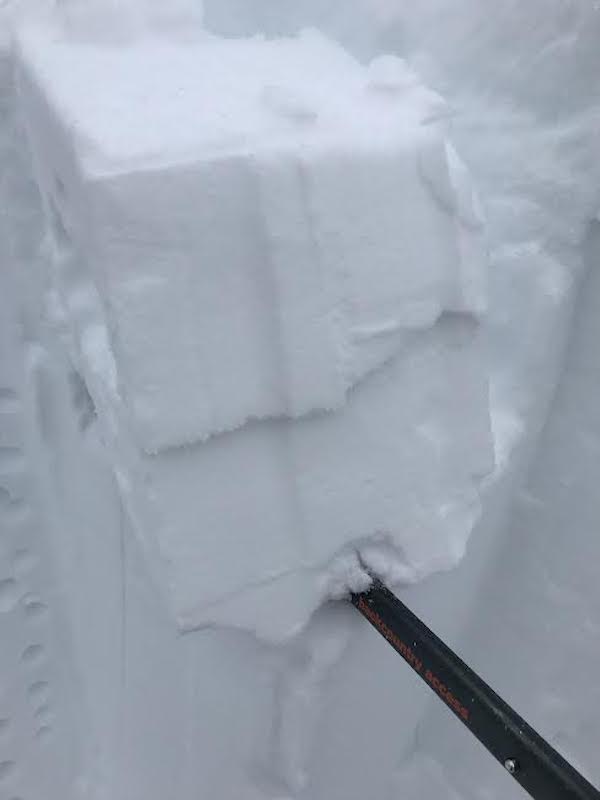 Location Name:
Gray Butte
Date and time of observation:
Tue, 03/14/2023 - 12:08pm
Observation made by:
Forecaster
Red Flags:
Whumphing noises, shooting cracks, or collapsing
Recent loading by new snow, wind, or rain
Location Map
96067
Mount Shasta
,
CA
United States
41° 20' 35.898" N, 122° 11' 48.12" W
California US
Snowpack Observations
Details
This observation comes to you from a south aspect at 7,600 feet on Gray Butte.
Into the storm I traveled yet again to assess the storm slab problem and see if the 14 – 20 inches of new snow forecasted was coming to fruition. The storm slab problem was evident with every step I took. Small cracks shooting out from underneath my skis were experienced all day long. Different layers of storm slab interfaces were revealed in stability tests ranging from 10 cm to 60 cm. To me, this illustrates that steep terrain with a large load will result in a deeper instability. The upside-down snowpack structure is beginning to trend back to right-side-up. Near treeline I experienced 8 inches of fresh snow and counting. Below treeline 6 inches of fresh snow was found. This new snow had a much lighter density to it than the day prior and did not arrive with much wind to tamper it down. Calm winds below treeline allowed the snow to fall straight at light to moderate rates. Near treeline the wind was blowing from the south and southeast at light to moderate speeds with freshly formed wind lips and textured surfaces on wind-exposed ridge tops. Blowing snow was observed onto westerly and northerly aspects near treeline. At 0100 the snow level was at 5,300 feet.  
Observation Location: Gray Butte
Elevation: 7,600 feet 
Date: 2023.03.14
Time: 1200
Observer: E.Falconer 
Sky Conditions: Obscured (X)]
Current Precipitation: Type -  RA | SN , Rate - [S-1 | S1 
Air Temperature: 29 °F
Surface Penetration: Ski penetration (PS) = 10 in (25 cm), boot penetration (PF) = 50 in (130 cm)
Total Snow Depth (HS): 56 in (140 cm)
Wind Direction: SE | S 
Wind Speed: [Calm (C), 0 mi/hr | Light (L), 1-16 mi/hr, twigs in motion | Moderate (M), 17-25 mi/hr, small trees sway 
Column & Block Tests:

Slope Angle & Aspect 27º, South aspect 
ECTN
CT13 - RP - ↓23 in (60 cm)
Photos
Weather Observations
Statistics
Cloud Cover:
100% of the sky covered by clouds
Accumulation rate:
Greater than 1 in. per hour
Air temperature:
Below Freezing
Air temperature trend:
Static