You are here
Storm Slabs/Cornices on Gray Butte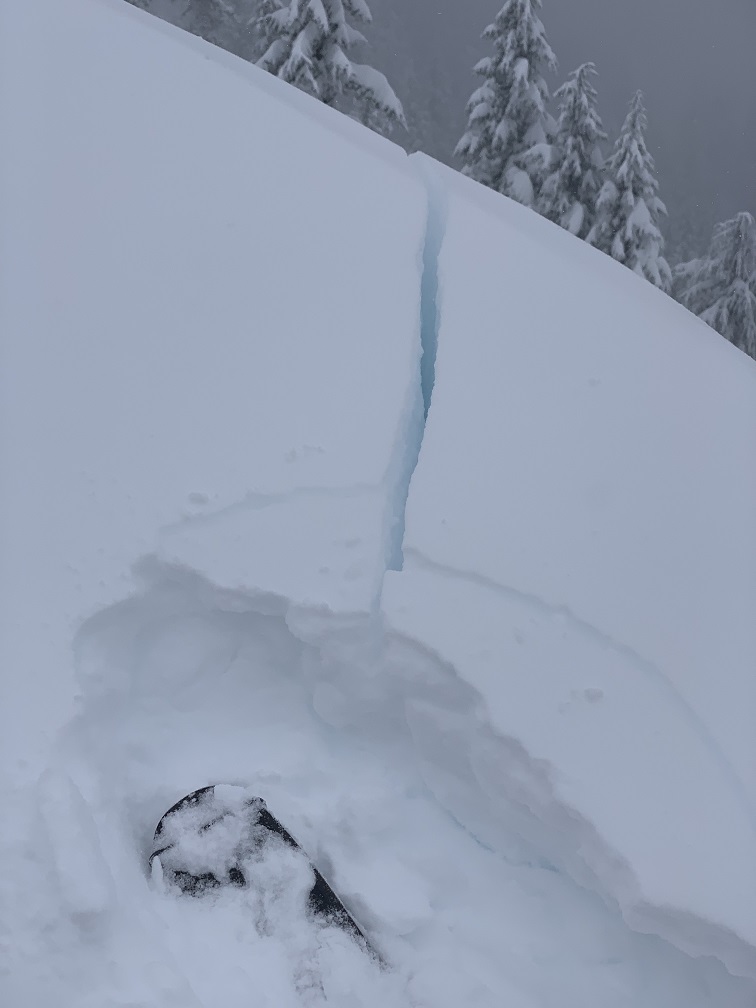 Location Name:
Gray Butte
Date and time of observation:
Thu, 01/28/2021 - 11:30am
Observation made by:
Forecaster
Red Flags:
Whumphing noises, shooting cracks, or collapsing
Recent loading by new snow, wind, or rain
Location Map
96067
Mount Shasta
,
CA
United States
41° 20' 56.1264" N, 122° 11' 32.2152" W
California US
Snowpack Observations
Details
Day two of poor visibility, closed roads and heavy snow. Cornices were easy to crack and release on slopes below...easily triggering 5-10 inch deep soft slabs. Moderate wind out of the south transporting snow onto norths and cross loading west and east aspects.
Observation Location: Gray Butte
Elevation: 8,100 feet / near treeline
Date: 20210128
Time: 1130
Observer: Meyers
Sky Conditions: Obscured (X)]
Current Precipitation: Type -  SN Rate - S2/S5
Air Temperature: 22 °F
Surface Penetration: Ski penetration (PS) = 20 in (50 cm), boot penetration (PF) = 30 in (80 cm)
Total Snow Depth (HS): 80 in (203 cm)
24-hour New Snow Depth (HN24): 4.5 in (11 cm)
24-hour New Snow Water Equivalent (HN24W): 0.93 in (114 mm)
Wind Direction:  S | SW 
Wind Speed: Moderate (M), 17-25 mi/hr, small trees sway
While the below treeline snowpack behaved well today during a tour on and around Gray Butte, near and above treeline terrain presented many signs of avalanche danger including shooting cracks, whoomphing and blowing snow from southerly wind. Easy triggered cornices released soft slabs on northeast slopes below, large enough to sweep someone down a slope. The visibility was poor, and I couldn't catch a glimpse at anything on the mountain. The snow from the first wave of the storm this week has settled a bit, with 4-6 inches of fresh snow from the last 24 hours on top. This afternoon warmed up which contributed to a good bit of settlement. Whatever avalanches were teetering on the brink of stress vs strength likely went this afternoon. Windy areas held slabby conditions with hollow, soft snow below and easy to crack into large blocks.
Stability tests in a pit dug by the Mt Shasta Ski Park ski patrol found the same slab weakness within the top 4 -6 inches of fresh snow.
Photos
Weather Observations
Details
A wintery day again. Just as soon as it seemed like it was clearing up, another round of snow would roll in. The weather was spastic, though snowfall consistent for most of the day. Wind was light below treeline and moderate near/above treeline out of the south/southwest.
Statistics
Cloud Cover:
100% of the sky covered by clouds
Accumulation rate:
Less than 1 in. per hour
Air temperature:
Below Freezing
Air temperature trend:
Warming
Wind Direction:
Southwest