You are here
Summit - Upper Avalanche Gulch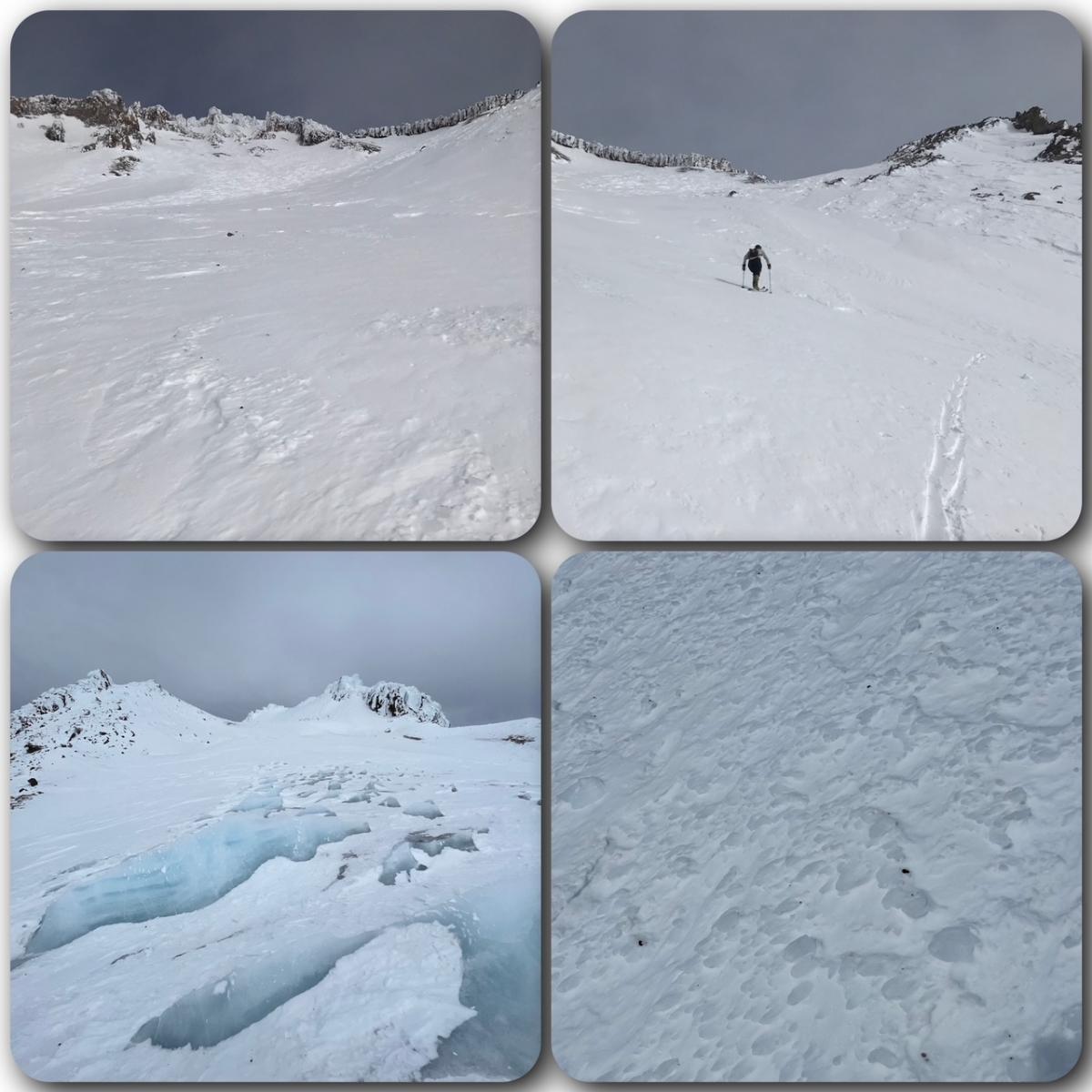 Location Name:
Mount Shasta
Date and time of observation:
Thu, 02/16/2023 - 11:30am
Observation made by:
Forecaster
Location Map
96067
Mount Shasta
,
CA
United States
41° 23' 56.7636" N, 122° 12' 2.5236" W
California US
Snowpack Observations
Details
A local crusher and his comrade ventured above Helen Lake via Avalanche Gulch yesterday. One went all the way to the summit. We will let them do the talking here. In Avalanche Gulch, "...within a 50 yard radius, snow surfaces ranged from wind packed powder, to hard melt/freeze wind board to icy chicken heads to sastrugi 1.5 feet tall."  Also...."The worst conditions I've ever encountered above Helen Lake. A lot of fallen rock on the snow, and the Heart/Redbanks headwall was a checkerboard of wind board snow and clear rime ice. Not skiable from summit to base of Misery Hill without a ton of rock strikes and riding the chicken head jackhammer."  There you have it. If you need it described in other terms -- variable and gnarly! Don't take this lightly. One must not fall in steep terrain. 
Observation Location: Mt Shasta, Avalanche Gulch, Summit
Elevation: 10,000 to 14,179 feet
Date: 20230217
Time: 1130 hours
Observer: Compiled by N Meyers. Conditions reports/photos by J Koster and J Kuenzle
Sky Conditions: Few (FEW) 
Current Precipitation: none
Air Temperature:  27°F - max temp at 8,000 feet, 1000 hours
Surface Penetration: zero
Total Snow Depth (HS): 124 inches at treeline
24-hour New Snow Depth (HN24): none
24-hour New Snow Water Equivalent (HN24W): none
Wind Direction: SW 
Wind Speed: Light (L), 1-16 mi/hr, twigs in motion
Photos
Weather Observations
Details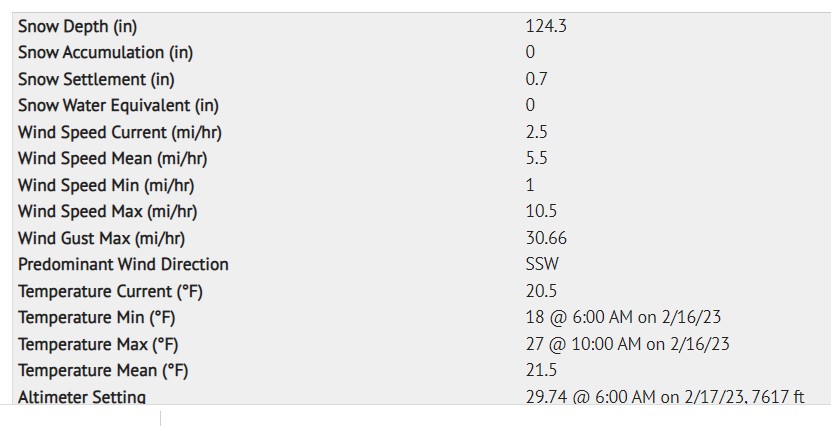 Statistics
Cloud Cover:
25% of the sky covered by clouds
Air temperature:
Below Freezing
Air temperature trend:
Warming
Wind Direction:
Southwest