You are here
Sun Bowl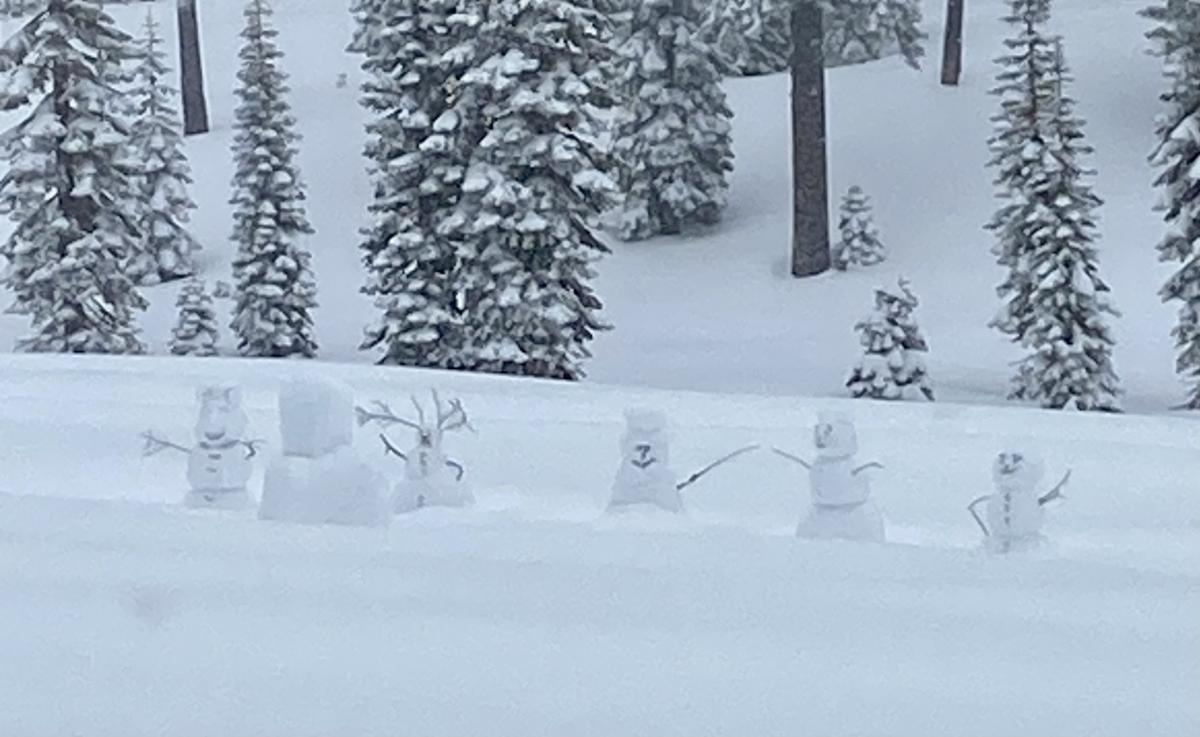 Date and time of observation:
Tue, 12/27/2022 - 10:00am
Observation made by:
Forecaster
Location Map
96067
Mount Shasta
,
CA
United States
41° 22' 2.9784" N, 122° 13' 5.2752" W
California US
Snowpack Observations
Details
Today forecasters headed up Green Butte to check the observed snow accumulation in the field versus the data from the weather stations. Fourteen inches of new snow last night at Old Ski Bowl had me thinking this was going to be a deep day with the potential for some wallowing. What we actually found was anything but.
First, a big shout-out to the folks that built legions of snow-people in the Bunny Flat Meadow over the weekend. Don't think I've ever seen that much sass so clearly portrayed on a snow-person before.
As soon as we got to the trail etiquette sign at the bottom of Green Butte Ridge, I had a feeling things might not be as deep as last night's precip might have made me think. All the way to the ridgeline our ski penetration was in the low-single digit inches.
By the time we gained the ridgeline, the wind coming steadily up and over from the NW showed us why there wasn't much deep snow to be had. It was hard to capture, but you can hear the wind in the video down below. Some hasty-pits dug along the way, all showed the same crust layer from the Dec 23rd rain event. That rain-crust is no joke! Keep an eye on that layer during your backcountry travels, as we may not have seen the last of it.
Visibility as we made our way out of the trees was better than expected. It was possible to see to the top of Green Butte, the other side of Sun Bowl, and the surrounding ridges. We headed over and dropped down to the leeward side of the ridgeline dropping down into Sun Bowl. We wanted to see if the sheltered ridgeline held more snow. It did not. We found basically the same snow depth as we had in other spots, about 115 cm or less. The same 6 cm thick ice crust (shown in the photos below) was 12-18 cm below the surface, no matter what aspect we checked.
All ski tests throughout the day produced no results. The conditions are all there for avalanche danger; winds, new snow, a buried layer. As you get out and about in the next few days, keep an eye out for anything that doesn't seem right. And as always, please submit an observation or let us know if you find anything out there!
Observation Location: Sun Bowl and surrouning areas
Date: 2022/12/
Time: 1000
Sky Conditions: Overcast
Surface Penetration: Ski penetration (PS) = 5 in, boot penetration (PF) = 15 in
Total Snow Depth (HS): 45 in
24-hour New Snow Depth (HN24): 8 in
Wind Direction: NW
Wind Speed: Light - Moderate
Photos
Videos

img-7055.mov
Weather Observations
Statistics
Cloud Cover:
75% of the sky covered by clouds
Air temperature:
Below Freezing
Wind Direction:
Northwest