You are here
Sunny day on Mt Shasta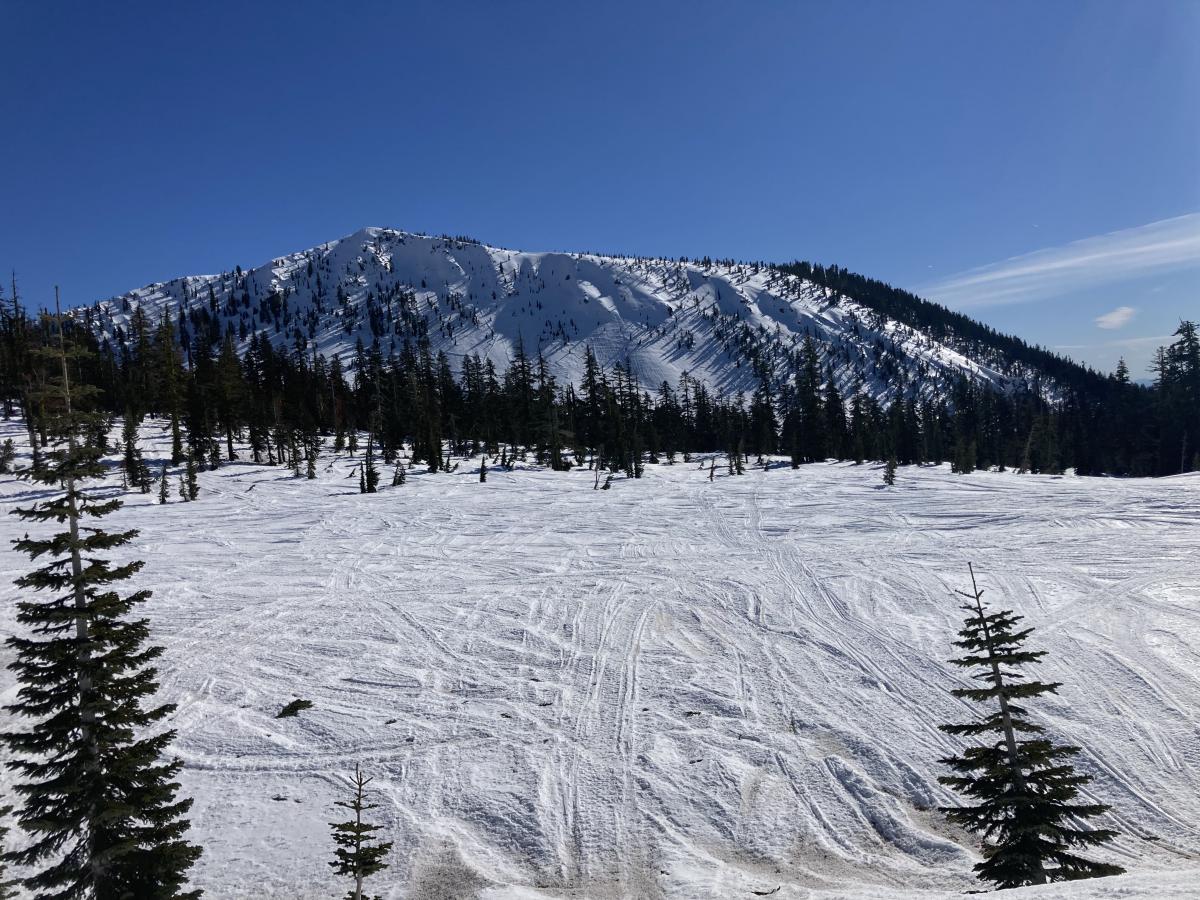 Location Name:
Old Ski Bowl
Date and time of observation:
Tue, 01/24/2023 - 1:00pm
Observation made by:
Forecaster
Red Flags:
Recent avalanche activity
Rapid warming
Location Map
96067
Mount Shasta
,
CA
United States
41° 21' 22.1832" N, 122° 12' 14.0472" W
California US
Snowpack Observations
Details
Eric and I returned today to Bunny Flat and Old Ski Bowl to continue assessing snow surface conditions. We approached via the 31 road and the power lines. Snow quality is rapidly deteriorating on all southerly aspects of Mt Shasta. The 31 road is beginning to develop long sections of bare dirt. The power line route up to Bunny Flat and Old Ski Bowl is heavily tracked out, leaving tough riding conditions. I suspect these riding conditions will not improve until more snow arrives. In the morning, the snow surface was firm with a sun crust on all terrain below, near, and above treeline. In the afternoon, snow became soft and wet, beginning to clump up. 

The northwest face of Gray Butte, was in similar poor condition. The surface appeared firm and wind effected, with faint rain runnels running the entire slope.

No signs of snowpack instability were observed today. Although, with the continued warm weather and increasing saturation of the upper snowpack, I suspect wet instability will rise.

In other news, it appeared that the blower on Everitt Memorial Highway was getting closer to Bunny Flat, yay!
Observation Location: Old Ski Bowl and Gray Butte area
Elevation: 7,500 feet
Date: 20230124
Time: 1300
Observer: S. Clairmont and E. Falconer
Sky Conditions: Clear (CLR)
Current Precipitation: Type - NO
Air Temperature: 37 °F
24-hour New Snow Depth (HN24): 0 in (0 cm)
24-hour New Snow Water Equivalent (HN24W): 0 in (0 cm)
Wind Direction: S
Wind Speed: Calm (C), 0 mi/hr | Light (L), 1-16 mi/hr, twigs in motion
Photos
Weather Observations
Statistics
Air temperature:
Above Freezing
Air temperature trend:
Warming