You are here
Thin Coverage, Good Stability, and December Corn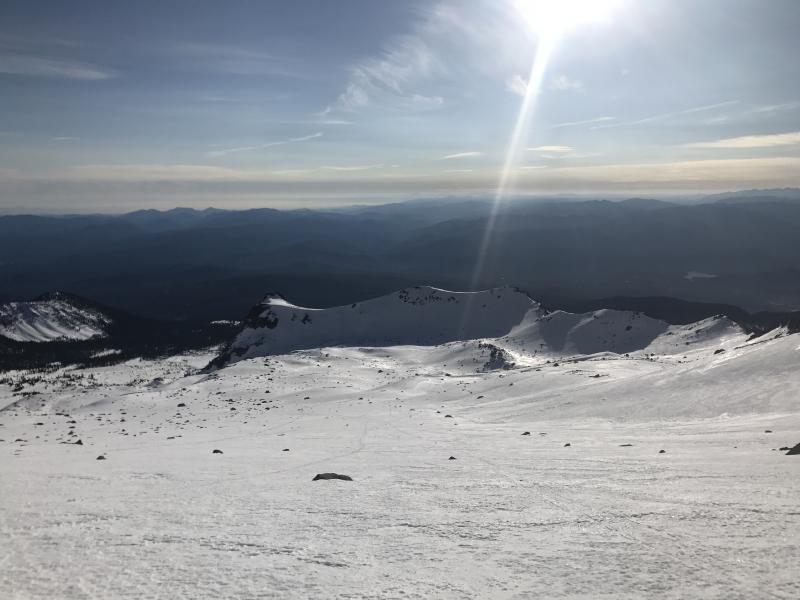 Location Name:
Old Ski Bowl, Grey Butte
Date and time of observation:
Mon, 12/18/2017 - 10:00pm
Observation made by:
Forecaster
Location Map
96067
Mount Shasta
,
CA
United States
41° 23' 1.8996" N, 122° 12' 10.9872" W
California US
Snowpack Observations
Details
Coverage above the gate on the Everett Memorial Highway is getting thin. A few patches of bare road were exposed today. Two trees have also fallen down, but are easily passible. A good trail made for an easy ride to the base of the west face of Grey Butte, where the height of snow ranged from 40-60cm. Above 9k in the Old Ski Bowl, snow height ranged from 80-100cm. Our snowpack is an isothermal mass that has refrozen solid. It is comprised almost entirely of melt forms  - clustered rounded grains and melt freeze crusts. These dominate the snow surface form as well. Wind eroded snow can also be found at the snow surface. Very firm and supportable snow surfaces were widespread throughout the terrain. Snowpack stability was very good today. Southerly slopes below 10K softened with direct sunlight. The corn riding was pretty good by December drought standards.
Photos
Weather Observations
Details
Warm and sunny conditions made it feel like springtime on the south side of Mount Shasta today. High temperatures hit the mid 40's between 7-10k. Moderate northwest winds were observed - much calmer than expected.
Statistics
Air temperature:
Above Freezing
Air temperature trend:
Warming
Wind Direction:
Northwest