You are here
Total Meltdown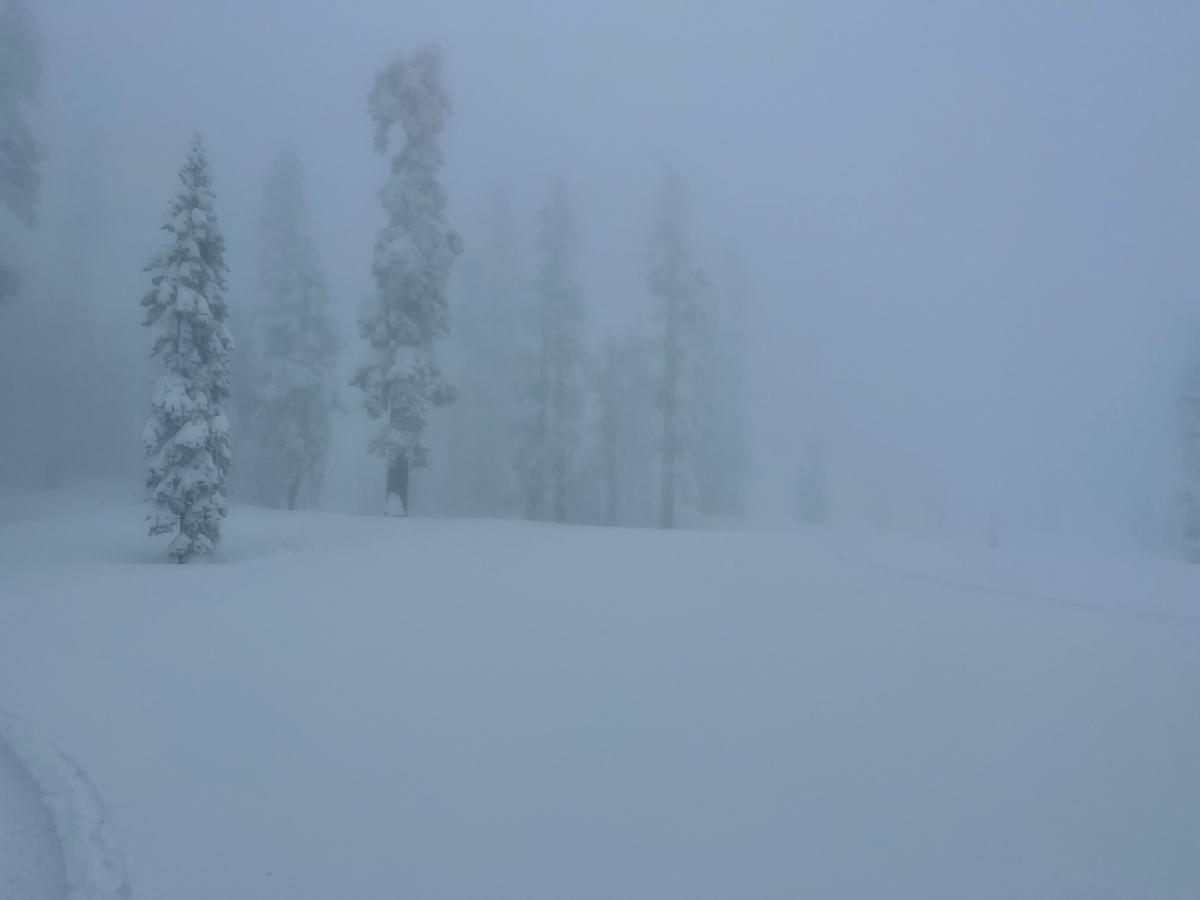 Location Name:
Mount Shasta
Date and time of observation:
Thu, 01/12/2023 - 11:30am
Observation made by:
Forecaster
Red Flags:
Recent loading by new snow, wind, or rain
Rapid warming
Location Map
96067
Mount Shasta
,
CA
United States
41° 21' 14.8824" N, 122° 12' 25.5888" W
California US
Snowpack Observations
Details
The past two days, January 10th and 11th, hosted powder of your dreams. Today, January 12th, was a total meltdown, in the physical state, and me emotionally. Rain on fresh snow occurred up to at least 8,000 feet on Mount Shasta. It was something out of a horror film. Frosty snow and rime plastered trees turned into a winter rain forest. Heavy, snow crusted tree tops, big and small, snapped off and scattered in many areas below and near treeline. Gale force winds have cranked out of the south/southeast. Tree bombs pounded the snowpack. It felt like we were IN the clouds. Misty, or what some might say, pissing rain fell sideways. Just a constant state of mist for most of the day. It was best to ride without goggles. My eye contacts enjoyed the moisture. Visibility was very poor. The top 15 cm of the snowpack was saturated and ultra gloppy. Below, dryer storm snow remains. It was the ultimate upside down cake situation. Expecting a thick crust when this mess cools off, and more storm snow in the forecast to keep things spicy. Deep rain runnels have formed below ~6,500 feet. Travel in the backcountry is for expert only sliders and riders right now. Deep snow conditions exist. Some tree wells are 4–6 feet deep. Boot penetration is thigh to waist deep in heavy, wet, nasty...snow. Where is the good snow? We're not sure right now.
1.12.23 - High temperatures from around the forecast area. High temps all occurred between 1300 and 1400 hours

Gray Butte, 8,000 feet - 32° F

Old Ski Bowl, 7,600 feet - 32° F

Castle Lake, 5,800 feet - 36° F

Mt Eddy, 6,700 feet - 34° F
Observation Location: Powerline to Old Ski Bowl - Snowmachine
Elevation: Town to 8,000 feet
Date: 01.12.23
Time: 1030-1400
Observer: Meyers / Anderson / Knight
Sky Conditions: Obscured (X)
Current Precipitation: Type - RA, Rate - S-1 
Air Temperature: 32 °F
Surface Penetration: Boot penetration (PF) = 2-4 feet
Total Snow Depth (HS): 138 in
24-hour New Snow Depth (HN24): 0 in
24-hour New Snow Water Equivalent (SWE/HN24W):   .74 in
Wind Direction: S 
Wind Speed: Strong (S), 26-38 mi/hr, whole trees in motion
Stability Tests: No results. 20 cm of rain soaked fresh snow on top of dryer storm snow. Could not produce notable ECT or CT failures in the gloppy conditions. That said, steep, heavily wind loaded slabs could have reached their tipping point due to the heavy wet nature of the storm. Visibility was very poor. We did not observe any debris down low and did not make it higher than 7,800 feet.
Photos
Weather Observations
Details
Past 24-hour weather data from Old Ski Bowl and Gray Butte combined: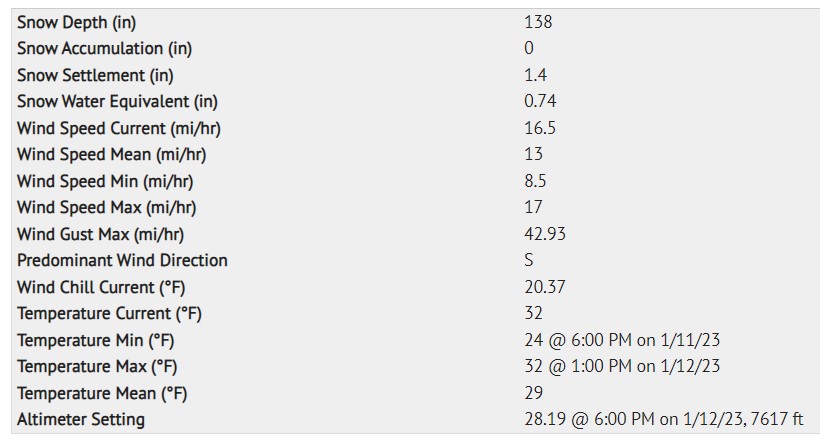 Statistics
Cloud Cover:
100% of the sky covered by clouds
Accumulation rate:
Less than 1 in. per hour
Air temperature:
Above Freezing
Air temperature trend:
Cooling