You are here
Touchy Cornices and Wind Slabs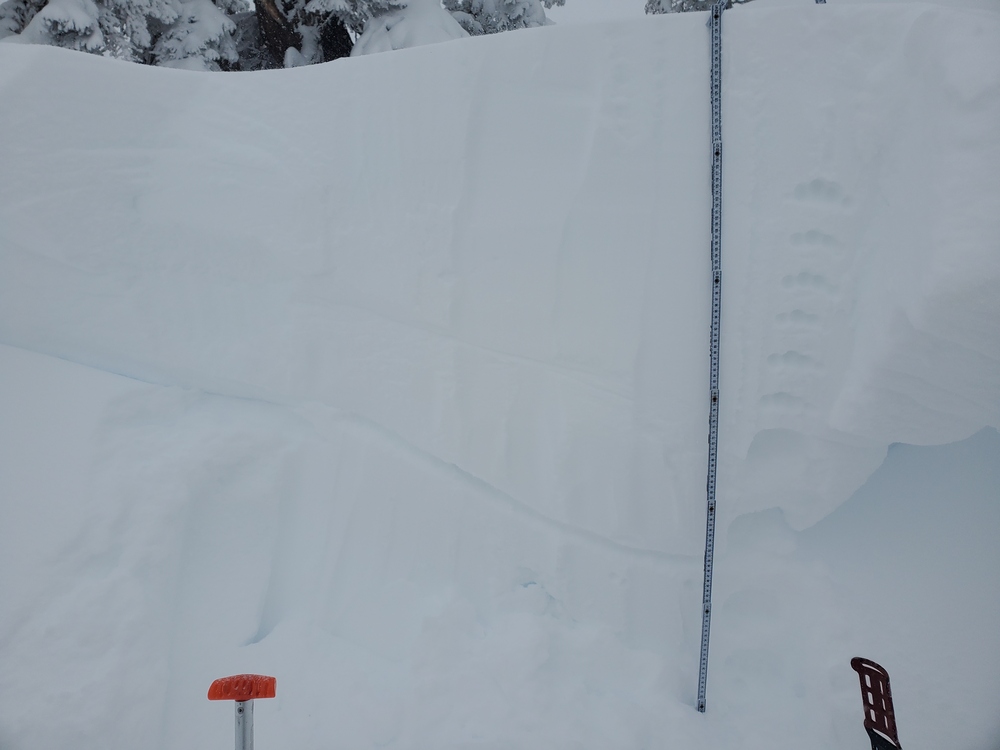 Location Name:
Green Butte Ridge
Date and time of observation:
Sun, 12/26/2021 - 1:00pm
Observation made by:
Forecaster
Red Flags:
Whumphing noises, shooting cracks, or collapsing
Recent loading by new snow, wind, or rain
Location Map
96067
Mount Shasta
,
CA
United States
41° 21' 59.2308" N, 122° 13' 24.078" W
California US
Snowpack Observations
Details
On a tour up Green Butte Ridge out of Bunny Flat, no wind effect was seen below treeline. Winds were calm to light. Column tests on a sheltered, northwest aspect yielded hard failures about 13 inches (34 cm) down on a weak interface (CT21). Extended column tests yielded no failures or propagation (ECTX). Ski cuts on small cliff areas were mostly unreactive, though a small, barely-notable, slough was triggered.
When transitioning to above treeline, wind effects were evident. Cornices were forming and broke upon approach. Extended column tests within drifting snow failed upon isolation (ECTPV). Four-finger-hard cohesive snow sat atop fist-hard snow. Failures occured a few inches below the fist-hard snow on a thin, visible, fist-hard-minus layer (see pic below). This was almost 3 ft down. Wind loaded areas could easily be described as "touchy".
Broadway Ridge was wind effected and becoming scoured.
Similar conditions were reported on Gray Butte.
Observation Location: Green Butte Ridge
Elevation: 7,000 ft - 8,000 ft
Date: 20211216
Time: 13:00
Observer: Aaron Beverly
Sky Conditions: Obscured (X)
Current Precipitation: Type - SN, Rate - S2
Air Temperature: 14 °F
Surface Penetration: Ski penetration (PS) = 3-4 in ([?] cm)
Total Snow Depth (HS): [?] in ([?] cm)
24-hour New Snow Depth (HN24): [?] in ([?] cm)
24-hour New Snow Water Equivalent (HN24W): [?] in ([?] cm)
Wind Direction: W
Wind Speed: Light (L), 1-16 mi/hr -- Moderate (M), 17-25 mi/hr
Column & Block Tests:

On a NW aspect @ 7,880 ft: CT 21 ↓ 34 cm x 2; ECTX
On a SE aspect @ 8,080 ft: ECTPV ↓ 95 cm
Photos
Weather Observations
Statistics
Cloud Cover:
100% of the sky covered by clouds
Accumulation rate:
Less than 1 in. per hour
Air temperature:
Below Freezing
Air temperature trend:
Static