You are here
Touchy cornices and wind slabs at Castle Lake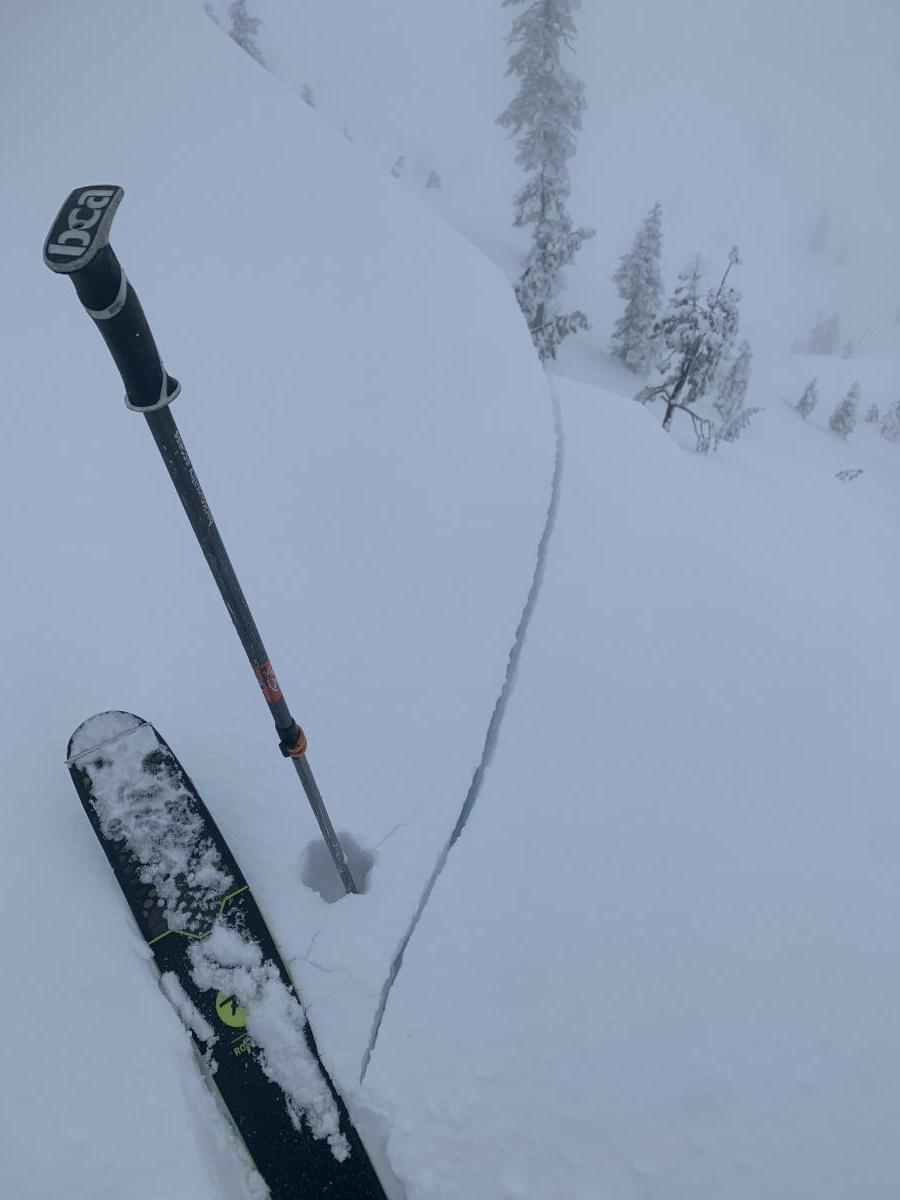 Location Name:
Castle Lake
Date and time of observation:
Fri, 02/19/2021 - 2:30pm
Observation made by:
Forecaster
Red Flags:
Whumphing noises, shooting cracks, or collapsing
Recent loading by new snow, wind, or rain
Location Map
96067
Mount Shasta
,
CA
United States
41° 13' 10.4412" N, 122° 23' 2.5296" W
California US
Snowpack Observations
Details
A full circle tour of the Castle Lake Basin today. The forecast area saw breaks in precipitation over the past two days, but very little clearing. Today was very similar to yesterday: very poor visibility, moderate SW/W wind, snow flurries and touchy cornices and wind slabs along wind exposed ridgelines, bowls and moraines near and above treeline. Below treeline, the new snow kept itself together quite well with no obvious signs of avalanche danger presented. New snow amounts varied widely depending on topography: anywhere from 4 to 12 inches of new snow was measured. In calm, protected areas, about 4 - 6 inches seems to be about average. Near and above treeline where wind was present was the priority concern for the day. Cornices along the ridges were quite large and sensitive. I stomped on a few small ones but stayed well clear of the biggies. Cornices did not trigger wind slabs on slopes below.  Wind slabs were observed up to several feet thick, but were not as sensitive as the day prior on Mt. Shasta. Again, the most notable watch out's for the day was cornices along ridges and wind slabs on steep (>35 degrees), unsupported slopes. 
Observation Location: Castle Lake Basin
Elevation: 6,000 feet
Date: 20210219
Time: Afternoon
Observer: N Meyers
Sky Conditions:  Obscured (X), skies began to clear around 1600 hours.
Current Precipitation: Type -  SN, Rate - S1 - Flurries throughout the day, total accumulation 1-2 inches
Air Temperature: 36°F at 1100 hrs
Surface Penetration: Ski penetration (PS) = 5 in (12 cm), boot penetration (PF) = 10 in (25 cm)
Total Snow Depth (HS):  68 in (175 cm)
24-hour New Snow Depth (HN24): 4-6 in (10-15 cm)
24-hour New Snow Water Equivalent (HN24W): n/a
Wind Direction: SW | W
Wind Speed:  Moderate (M), 17-25 mi/hr, small trees sway
Column & Block Tests:

Slope Angle & Aspect ([]º, [N | NE | E | SE | S | SW | W | NW]:
ECTN12 ↓ 12 in (30 cm)
Photos
Weather Observations
Details
Very poor visibility
Moderate W/SW winds along higher terrain
Snow flurries throughout the day, total daytime snow accumulation 1-2 inches
Active wind loading on N/NE/E facing aspects
Ridges scoured to old snow surfaces
Statistics
Cloud Cover:
100% of the sky covered by clouds
Accumulation rate:
Less than 1 in. per hour
Air temperature:
Above Freezing
Air temperature trend:
Cooling
Wind Direction:
Southwest