You are here
Tri-Forest Snowmobile Trails - East Side Mt Shasta
Location Name:
Ash Creek Butte area
Region:
East of Mt Shasta
Date and time of observation:
Thu, 02/09/2023 - 2:30pm
Observation made by:
Forecaster
Location Map
96067
Mount Shasta
,
CA
United States
41° 26' 17.088" N, 122° 5' 10.356" W
California US
Snowpack Observations
Details
The Tri-Forest Snowmobile Trails are in prime shape. Grooming is active and many of the trails have been recently completed. Access via Pilgrim Creek, Deer Mountain or Four Corners Sno-Parks. The Esperanza road to Pilgrim Creek Sno-Park is muddy and full of potholes, despite a recent grading. Tie your sleds down good and expect for your truck and trailer to get dirty.

Snow conditions below treeline, especially in the low lands around the sno-park, are icy in the morning. Warmer temps of late will soften things during the day. Near treeline, soft snow is widespread and hosted the best snow surface conditions. Somewhat recent fresh, moist snow measured 6–8 inches on top of a firm and supportable snowpack. Approaching above treeline, wind affected and firmer snow begins. Over exposed ridges, higher terrain and the upper mountain, north winds have been nuking and it shows. Icy patches are widespread amongst a wind hammered snowpack. Self-arrest on steep surfaces as such is near impossible. Be careful. No fall zones exist if climbing the mountain. 

No recent avalanches or red flags have been observed. Above treeline, wind has swept most, if not all, loose snow away. Moist and/or crusty snow near and below treeline is keeping it in place. While all this doesn't sound that great, there are areas of soft and fun powder in protected, shady areas.
Observation Location: East Side of Mount Shasta - Ash Creek Butte - Brewer Creek - Inconstance Creek
Elevation: Trailhead to 7,500 feet
Date: 02.09.23
Time: 0900-1630
Observer: Nick Meyers
Sky Conditions: Clear (CLR) with a lenticular cloud over Mount Shasta 
Current Precipitation: Type - NO 
Air Temperature: 41°F
Surface Penetration: Snowmobile penetration = 0-8 in, boot penetration = 0-10 in
Total Snow Depth (HS): 130 in 
24-hour New Snow Depth (HN24): 0 in
24-hour New Snow Water Equivalent (HN24W): 0 in
Wind Direction: NW 
Wind Speed: Below and near treeline: Calm (C), 0 mi/hr | Light (L), 1-16 mi/hr, twigs in motion / Above treeline: Strong (S), 26-38 mi/hr, whole trees in motion | Extreme (X), > 38 mi/hr, gale force]
Photos
Weather Observations
Details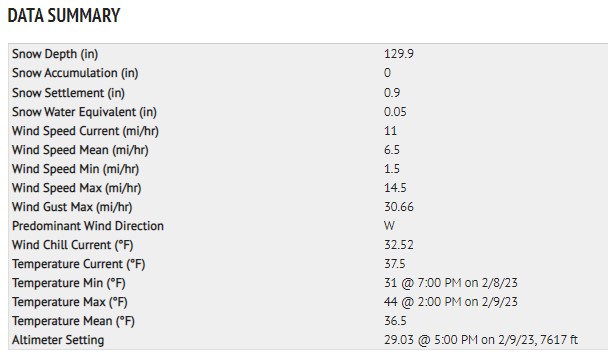 Statistics
Air temperature:
Above Freezing
Air temperature trend:
Warming
Wind Direction:
Northwest