You are here
West Side - Eddys Mtns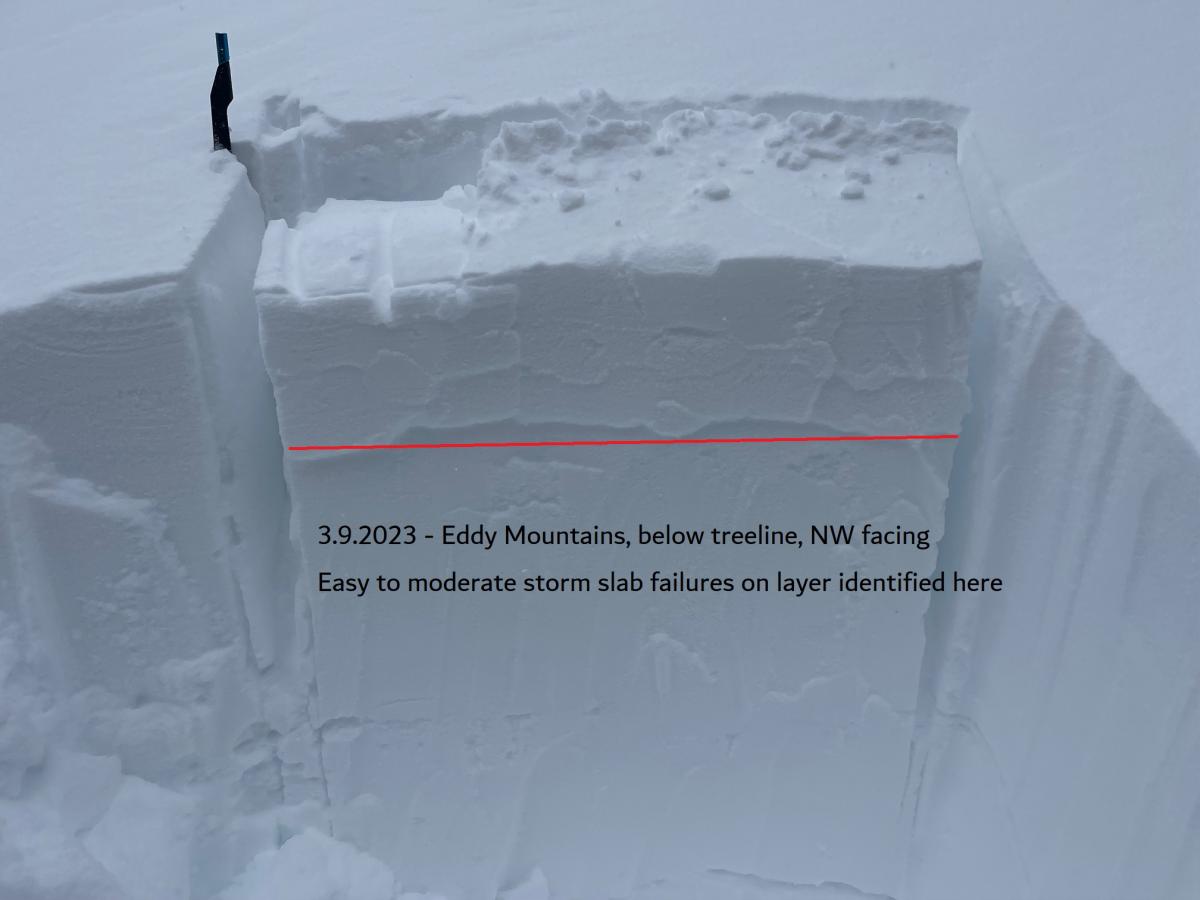 Location Name:
Parks Creek Area
Date and time of observation:
Thu, 03/09/2023 - 1:30pm
Observation made by:
Forecaster
Red Flags:
Recent avalanche activity
Whumphing noises, shooting cracks, or collapsing
Recent loading by new snow, wind, or rain
Location Map
96067
Mount Shasta
,
CA
United States
41° 21' 50.9472" N, 122° 32' 2.436" W
California US
Snowpack Observations
Details
Stuck our noses into the leading edge of the atmospheric river today. Mother Nature isn't messing around with this one. A moist storm with gale force wind and near whiteout conditions. Precipitation was rapidly falling from the sky, but didn't accumulate all too rapidly due to wild and crazy wind. Blowing predominantly out of the south, the wind sounded like a jet above the tree tops. In more localized zones, wind would swirl from all directions. It's difficult to tell where old and new snow interfaces exist. Drifting, well below treeline, was impressive. Drifts across roads driving out of the mountains were also significant. Most notable today was the nuking wind and new, moisture laden snow building up on top of soft, recent storm snow. Large, deep wind slabs were also observed. A weak layer within the top 6-10 inches of storm snow is continuing to be identified in the mountains west of I-5. (See photo) The main recipe for avalanches currently is the upside down avalanche cake: heavy, wet snow on top of lighter, low density snow. Tread lightly.
VIDEO: https://youtube.com/shorts/DbP3mqbO5E4?feature=share
Observation Location: Eddy Mountains - 
Elevation: 6,800 feet
Date: 20230309
Time: 1430 hours
Observer: Meyers
Sky Conditions: Obscured (X)
Current Precipitation: Type - SN, Rate - S1
Air Temperature: 23 °F
Surface Penetration: boot penetration (PF) = 1-3 feet
Total Snow Depth (HS): 150 in
24-hour New Snow Depth (HN24): 2 inches
24-hour New Snow Water Equivalent (HN24W): n/a
Wind Direction: SE | S | SW 
Wind Speed: Strong (S), 26-38 mi/hr, whole trees in motion
Column & Block Tests:

Slope Angle & Aspect 20º, NW
ECTN8-12 ↓ 6-8 in
CT8-12 RP↓ 6-8 in 
Photos
Weather Observations
Details
Last 24-hour weather data from Mt Eddy weather station (Wagon Bowl), issued 3.9.23 @ 1700 hours: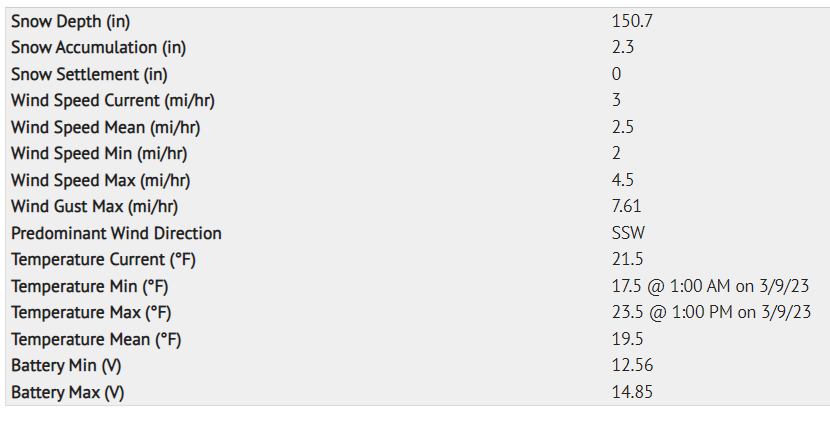 Statistics
Cloud Cover:
100% of the sky covered by clouds
Accumulation rate:
Less than 1 in. per hour
Air temperature:
Below Freezing
Air temperature trend:
Warming