You are here
Whumpfing, Shooting Cracks, Unstable Test Results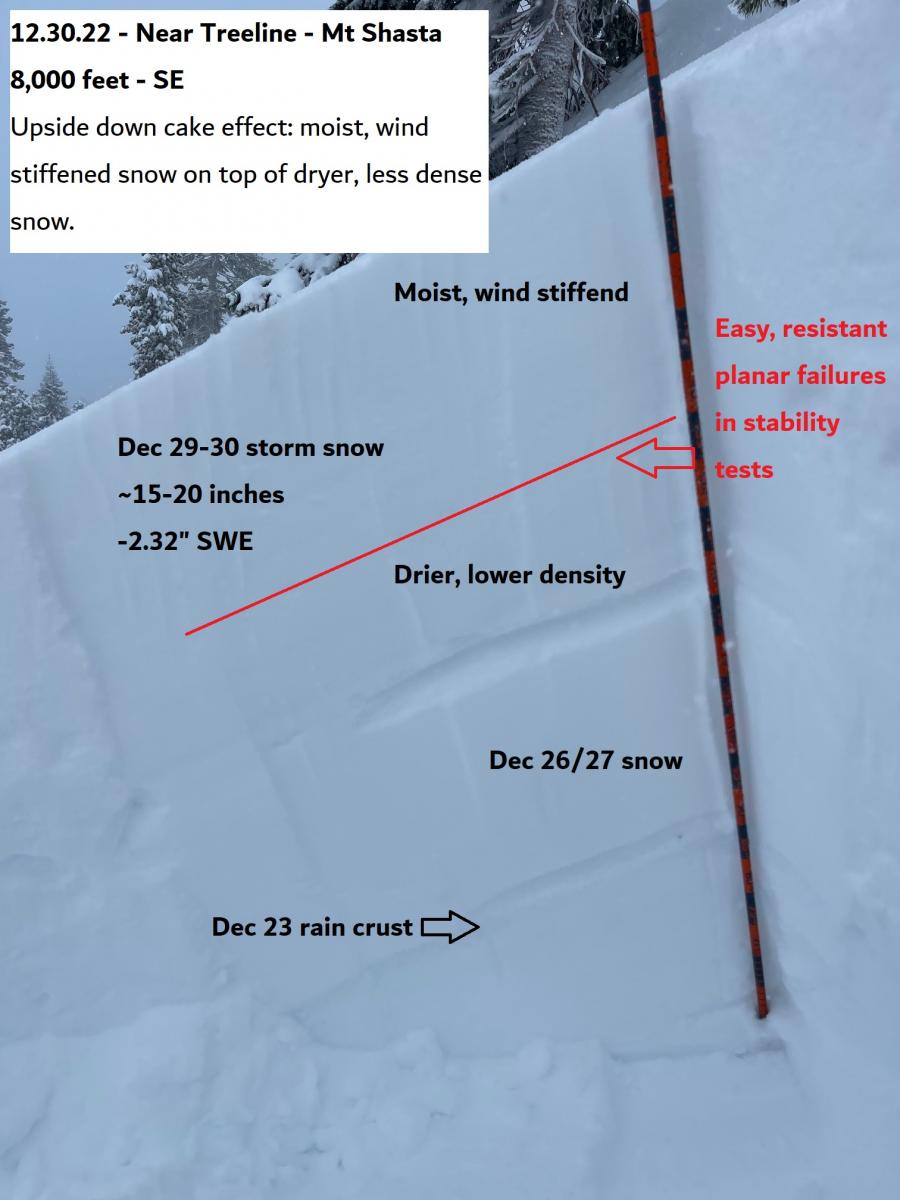 Location Name:
Mount Shasta
Date and time of observation:
Fri, 12/30/2022 - 11:30am
Observation made by:
Forecaster
Red Flags:
Whumphing noises, shooting cracks, or collapsing
Recent loading by new snow, wind, or rain
Location Map
96067
Mount Shasta
,
CA
United States
41° 21' 52.4628" N, 122° 12' 23.2452" W
California US
Snowpack Observations
Details
The second wave of a storm that began on December 29th brought more low visibility conditions and snow today. While yesterday (12/29) was relatively windless, today was noticeably warmer and windier out of the west, and that made the difference in helping with slab properties. Big moist flakes fell today on top of drier, less dense snow from yesterday...the classic upside down cake effect: heavier snow on top of lighter snow...not a strong structure. And to this point, snow pit stability tests (compression and extended column) produced easy failures ~30 cm down from the surface of the snowpack. Resistant planar fractures failed on a density change within the snow that occurred during the break in between the two storms yesterday. Graupel and needles were the predominant grains identified. In this same location, whumpfing was also felt. Along Green Butte Ridge, skiers experienced easy cracking and blocking of new storm snow on small test slopes. Near Gray Butte and the Mt Shasta Ski Park, skiers observed shooting cracks along steep, convex rollovers. Thus, many signs of avalanche danger were observed today. Poor visibility made it difficult to observe any potential natural avalanches from afar. We played it safe in lower angle terrain below treeline. 

VIDEO: https://youtube.com/shorts/bCkh7Y135ig?feature=share
Observation Location: Mount Shasta: Old Ski Bowl, Green Butte Ridge, Gray Butte
Elevation: ~7,000 to 8,000 feet
Date: 12.30.2022
Time: 1000 - 1400 hours
Observer: N Meyers
Sky Conditions:  Obscured (X)
Current Precipitation: Type - SN, Rate - S1 | S2
Air Temperature: 30 °F
Surface Penetration: Knee to waist deep boot penetration
Total Snow Depth (HS): ~75"
24-hour New Snow Depth (HN24): 7-10"
24-hour New Snow Water Equivalent (HN24W): 1.68"
Wind Direction: West
Wind Speed: Moderate near treeline, strong above treeline over ridges and upper mountain 
Column & Block Tests:

Slope Angle & Aspect 25º, SE 
ECTP9↓30cm
CTV - Failed on isolation↓30cm
Resistant planar shear quality (Q2)
Other Notes:
The Everitt Memorial Highway and Castle Lake roads are open and plowed. Drive carefully. Carry chains and know how to put them on. Parking is limited in both areas. If the lot is full, parallel park single file down the road. Large toy haulers are not advised at Bunny Flat and not allowed at Castle Lake. Use Pilgrim Creek or Deer Mountain snowmobile parks for the most user-friendly launch and endless riding.
Photos
Weather Observations
Details
Gray Butte and Old Ski Bowl weather data combined, last 24 hours, 12.30.22 @ 1600 hours: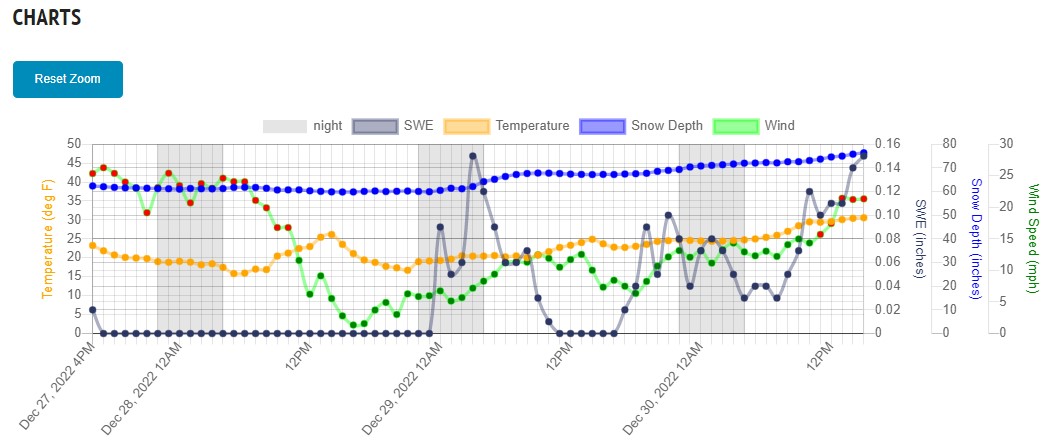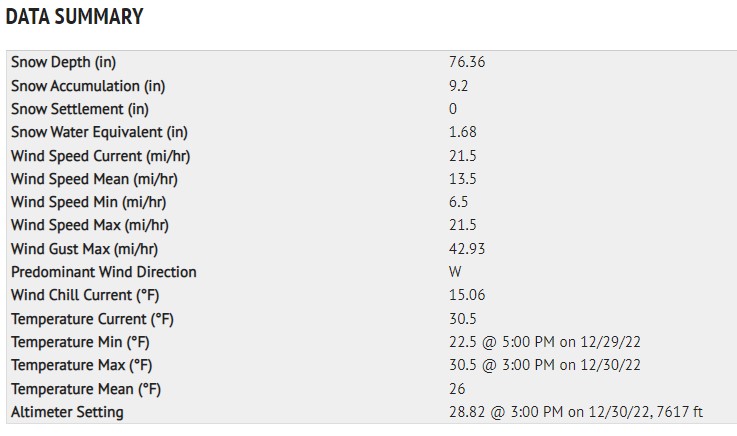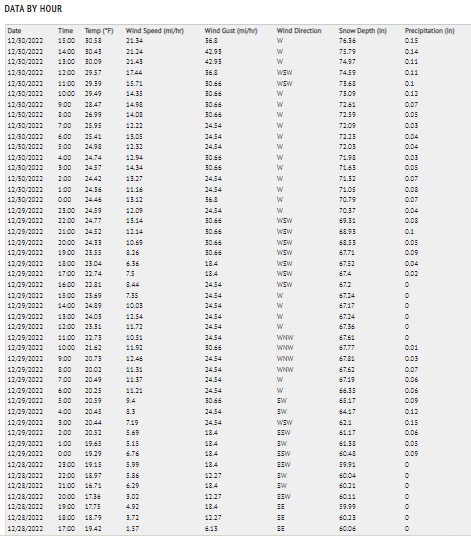 Statistics
Cloud Cover:
100% of the sky covered by clouds
Accumulation rate:
Less than 1 in. per hour
Air temperature:
Below Freezing
Air temperature trend:
Cooling