You are here
Wind Drifts on Green Butte - Mount Shasta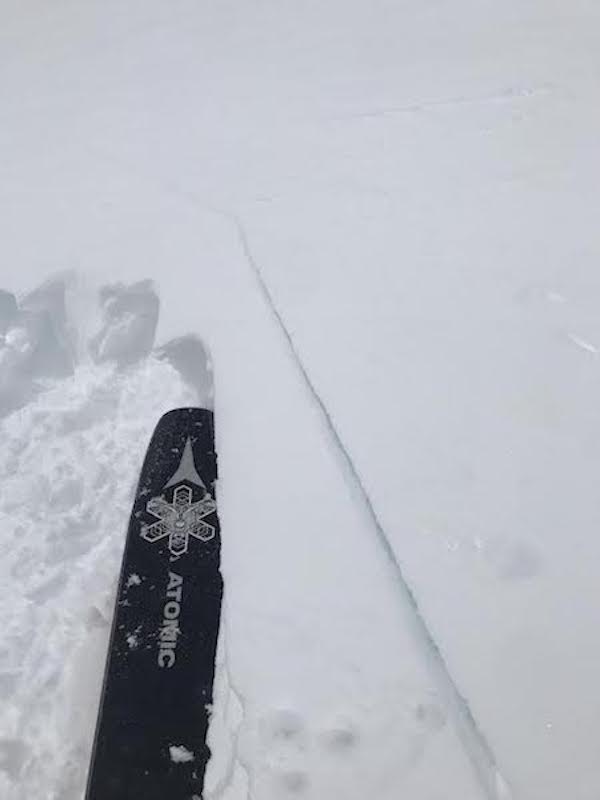 Location Name:
Green Butte
Date and time of observation:
Tue, 02/14/2023 - 12:05pm
Observation made by:
Forecaster
Red Flags:
Whumphing noises, shooting cracks, or collapsing
Recent loading by new snow, wind, or rain
Location Map
96067
Mount Shasta
,
CA
United States
41° 21' 52.8696" N, 122° 12' 26.2836" W
California US
Snowpack Observations
Details
With 4 inches of new snow at 7,000 feet and active winds, I wanted to observe wind slab development at the upper elevations. Near treeline on a southeast aspect I experienced wind transporting new snow onto southerly slopes with fresh drifts developing up to one foot thick on the leeward sides of roll-overs and ridgelines. These drifts were touchy under my weight with shooting cracks reaching lengths up to five feet long. The drifts top 3 - 5 cm of snow were four-finger hardness with less dense snow below. Underneath the new snow was a slippery crust making it easy for fresh snow and drifts to slide. Winds from the northwest blew at moderate speeds with strong gusts near treeline. Visibility was poor, limiting observations to near and below treeline. Temperatures remained below freezing with a stout wind chill.
Observation Location: Old Ski Bowl 
Elevation: 7,800 feet 
Date: 2023.02.14
Time: 1200
Observer: E. Falconer
Sky Conditions:  Overcast (OVC) | Obscured (X)
Current Precipitation: Type -  SN - S1 | S2 
Air Temperature: 13 °F
Surface Penetration: Ski penetration (PS) = 4 in (9 cm), boot penetration (PF) = 10 in (25 cm)
Total Snow Depth (HS): 128 in (325 cm)
24-hour New Snow Depth (HN24): 4 in (10 cm)
24-hour New Snow Water Equivalent (HN24W): 0
Wind Direction: NW
Wind Speed: Moderate (M), 17-25 mi/hr, small trees sway | Strong (S), 26-38 mi/hr, whole trees in motion 
Photos
Weather Observations
Statistics
Cloud Cover:
100% of the sky covered by clouds
Accumulation rate:
Less than 1 in. per hour
Air temperature:
Below Freezing
Air temperature trend:
Cooling
Wind Direction:
Northwest