You are here
Wind slabs easily triggered on Mt Shasta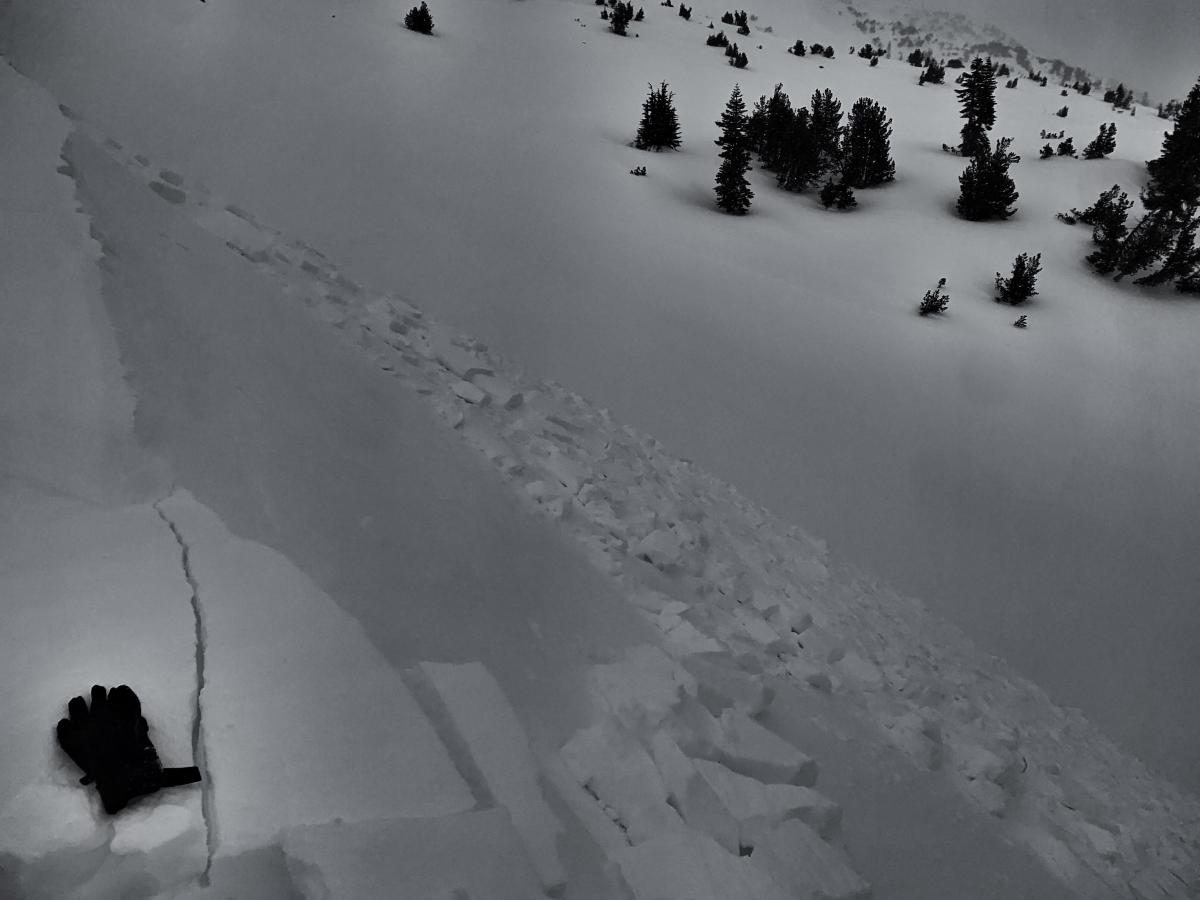 Location Name:
Mount Shasta
Date and time of observation:
Thu, 02/18/2021 - 2:30pm
Observation made by:
Forecaster
Red Flags:
Whumphing noises, shooting cracks, or collapsing
Recent loading by new snow, wind, or rain
Location Map
96067
Mount Shasta
,
CA
United States
41° 22' 8.1048" N, 122° 11' 58.5492" W
California US
Snowpack Observations
Details
A fast moving winter storm swept through this morning, kicking in about daylight and bringing an initial burst of 1-3" of snow at Bunny Flat and 4-6" in the Old Ski Bowl area. Snow was on again, off again during the day. The sky remained obscured. Blue sky and sunshine did not come out to play. The wind was apparent near and above treeline, but spatially variable. One area you'd feel it, not far away you wouldn't. West/Northwest wind speeds overall were diminished today and provided for some good wind loading on northeast, east, southeast aspects where wind was apparent. Temps reached 29.5 F at 1400 hours near treeline. Triggering small wind slabs on test slopes was easy and cracking in the snowpack was observed. Cornices were fragile. Wind slabs were 5-7 inches thick and consisted of the new storm snow and subsequent loading by WNW wind. Below treeline, extended column tests could easily fracture soft slabs within small amount of new snow, but did not propagate.
Observation Location: Below, Near, Above Treeline Storm Tour - Mt. Shasta
Elevation: 6,950 to 9,000 feet.
Date: 20210218
Time: Afternoon
Observer: N Meyers
Sky Conditions: Obscured (X)
Current Precipitation: Type - SN, Rate - S-1
Air Temperature: 30.5°F high temp at 1400 hours
Surface Penetration: Boot penetration (PF) = 10-15 in (25-38 cm)
Total Snow Depth (HS): 80.5 in (204 cm)
24-hour New Snow Depth (HN24): 3-6 in (7-15 cm)
24-hour New Snow Water Equivalent (HN24W): ~.57 in (approximate)
Wind Direction: NW early this morning, switching to WNW in the afternoon
Wind Speed: Moderate (M), 17-25 mi/hr, small trees sway 
Column & Block Tests:

Slope Angle & Aspect 30º, E
ECTN3 ↓ [4] in (10 cm) x 2 (near treeline)
Easy failures within wind slabs and cornices above treeline and wind exposed areas elsewhere near treeline.
Photos
Weather Observations
Details
An initial burst of snow this morning, then on again, off again precipitation (snow) throughout the day. Total storm accumulation 3-6", more the higher in elevation you traveled. Sky remained obscured. The light was very flat above treeline and visibility poor above 9,500 feet. 

Evidence of the extreme winds yesterday could be observed from the numerous tree tops that were snapped off and laid freshly on top of the snowpack.

Blowing snow was observed near and above treeline and in open areas below treeline. Aspects NE/E/SE facing wind loaded with 6' to 12" drifts.

Weather station data screenshot from today (disregard the white highlighted row).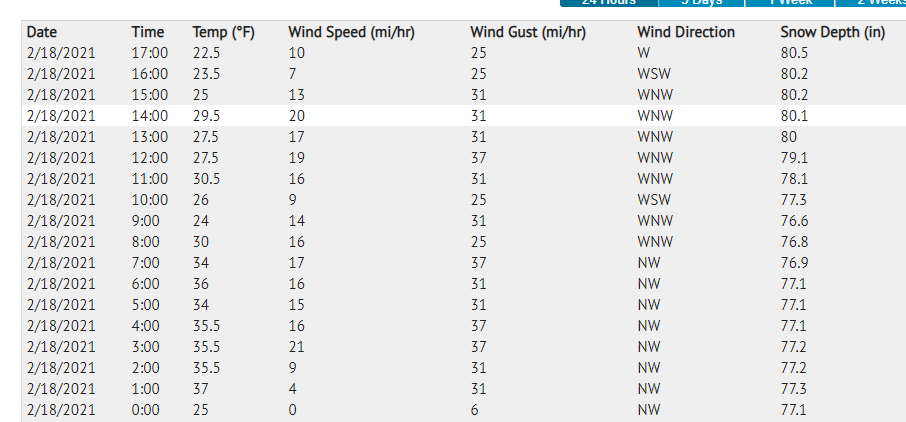 Statistics
Cloud Cover:
100% of the sky covered by clouds
Accumulation rate:
Less than 1 in. per hour
Air temperature:
Below Freezing
Air temperature trend:
Cooling
Wind Direction:
Northwest