You are here
Avalanche Advisory for 2018-01-06 06:24:33
EXPIRED ON January 7, 2018 @ 6:24 am

Published on January 6, 2018 @ 6:24 am
Issued by Nick Meyers - Shasta-Trinity National Forest
Above treeline on Mount Shasta, the avalanche danger is MODERATE. Human triggered wind slab avalanches are possible on steep, recently wind drifted slopes, primarily above 9,000 feet. Natural avalanches are unlikely.
Near and below treeline offers LOW avalanche danger with shallow snowpack hazards.
Avalanche Problem 1: Wind Slab
Certain

Very Likely

Likely

Possible

Unlikely

Historic

Very Large

Large

Small
The wind slab problem will be confined to above treeline where significant new snow has accumulated. Recent new snow has "pasted" itself well onto old snow surfaces below 8,500 feet, but it could be different higher up. Nobody has been to any upper elevation terrain yet. One to two feet of new snow has fallen upon the upper half of the mountain, accompanied by strong southerly winds over the past two days.

Suspect areas could include but not limited to: 
Lines dropping off Casaval or Green Butte ridgelines into Avalanche Gulch
Steep moraines in upper Avalanche Gulch, above Lake Helen 
The Trinity Chutes, Redbanks, Sargents Ridge, The Heart area
The upper ramparts of The Old Ski Bowl. 
Mid slope starting zones could host wind slab "scabs" or "patches" as well. Size could range from small to large. Watch for areas of recent wind transported snow such as fresh cornices, snow drifts, and uneven snow surfaces. Identify and avoid locations where recent wind loading has occurred. We expect this avalanche problem to decrease in danger as the weekend progresses.
Wind slabs can be deceptively difficult to manage in the terrain. Take a moment and read the recent blog post by NWAC Pro Observer Jeremy Allyn on wind slabs.
Advisory Discussion
Mount Shasta will get a two day break from the recent WET weather. Mother Nature provided 2.7 inches of water (Old Ski Bowl weather station) over the past 60 hours. Warm temperatures brought mostly rain on snow below 8,000 feet. Above the rain/snow level, conditions are much different. Heavy snow and strong southerly winds have hammered the upper mountain. The same show we see every year is playing today... the first clear day after a storm with folks heading above treeline for fresh turns. This is terrain we've not confirmed the presence or absence of avalanche danger. Just by looking at the numbers, I would draw the conclusion that wind slabs are possible and certainly could be large enough to harm human life, if triggered. Tread lighter as you gain elevation above treeline today.
Recent Observations
Yesterday was a carbon copy of Thursday. Mount Shasta received an additional .7 inches of water in the past 24 hours. Bunny Flat (6,950 ft) did not see any flakes as snow levels were bouncing at the 7,500 to 8,000 foot level. Below 8,000 feet, no new measurable snow was observed, only rain on snow. A few bare patches in the forest and on the road above the Bunny Flat gate have doubled in size. Sometimes the truth hurts: the snowpack below treeline is grim. Treeline and above, it's a different situation. Snow on the ground at 7,800 feet was sopping wet and holding up decently. One could squeeze a steady stream of water out of a fist full of snow. Visibility was less than 100 yards and I didn't venture higher into the whiteness. A brave, solo skier reported an unofficial 8-10 inches of heavy, wet snow at 9,000 feet in the Old Ski Bowl. Conditions in alpine terrain are unknown. In near and below treeline terrain, no avalanches or instability has been observed on Mount Shasta. All other areas (Castle Lake area / Eddy Mountains / Ash Creek Butte / East Side) are generally free of snow.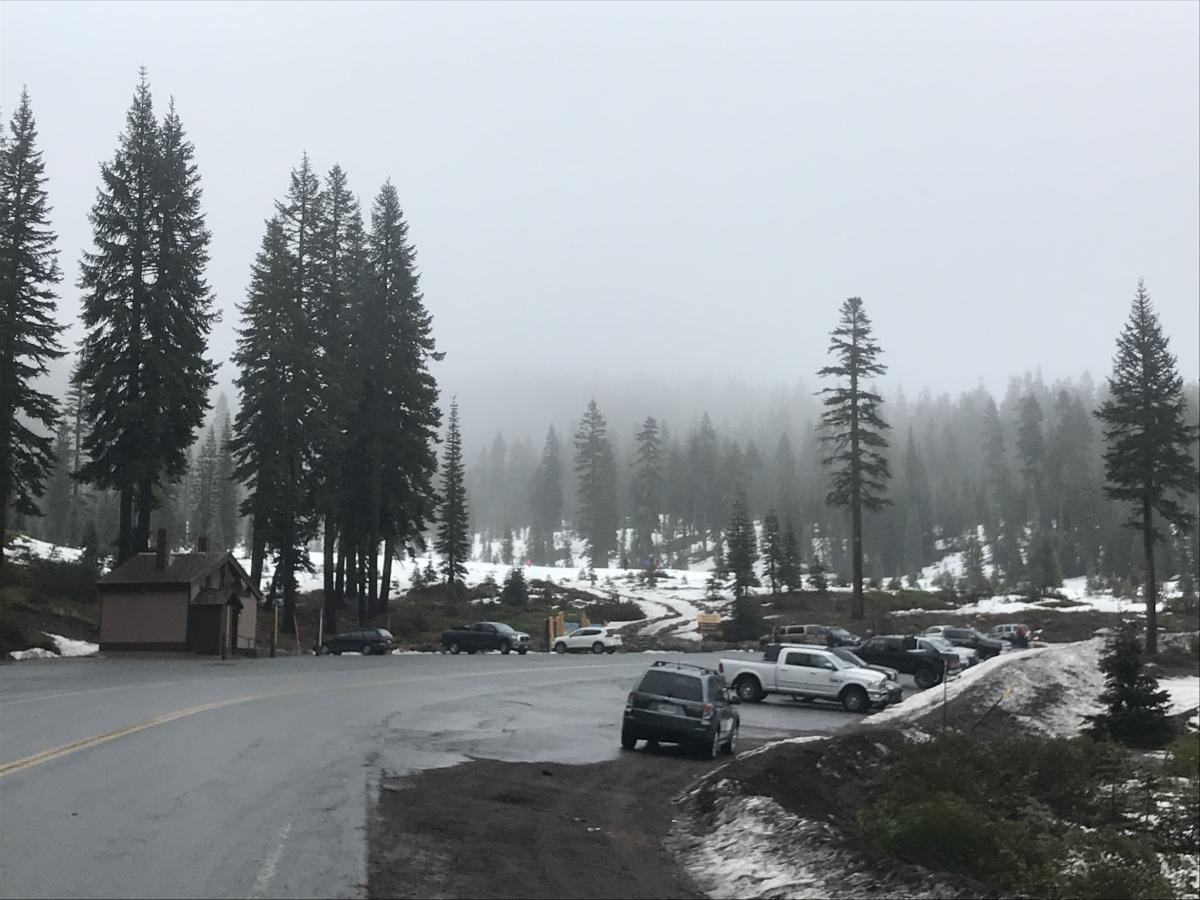 Bunny Flat on 1.4.18 at 1300 hrs / Photo: N. Meyers
Weather and Current Conditions
Weather Summary
The last two days of mostly rain and high elevation snow will fade this morning. Lingering showers are possible, but the trend will be toward sunshine and light winds for the weekend. High pressure builds inland and this stable atmosphere will lead to low clouds and fog. The ridge will host dry weather that will last into Sunday. Next week, abundant moisture is expected with warmer tempertures. More on that later!
-------------------------
THIS SEASON PRECIPITATION for MT SHASTA CITY: Since October 1st (the wet season), we have received 7.19 inches of water, normal is 16.38 inches, putting us at 43% of normal. For the month of January and 2018, we have received 1.36 inches of water, normal is 1.17 inches, which is 116% of normal. Mt Shasta finished off 2017 with 44.82 inches of water; normal observed value is 43.21, which is 103% of normal.
Always check the weather before you attempt to climb Mt Shasta. Further, monitor the weather as you climb. Becoming caught on the mountain in any type of weather can compromise life and limb. Be prepared.
24 Hour Weather Station Data @ 4:00 AM
Two Day Mountain Weather Forecast
Produced in partnership with the Medford NWS
For 7000 ft to 9000 ft
Saturday
Saturday Night
Sunday
Weather
Lingering clouds this morning, slight chance of showers, generally clearing, partly sunny this afternoon
Partly cloudy
Mostly sunny
Temperature (°F)
41
32
43
Wind Direction
Northeast
Southeast
South
Wind Speed (mi/hr)
0-5 mph
5-10 mph
5-10 mph
Expected Snowfall (in)
0
0
0
For 9000 ft to 11000 ft
Saturday
Saturday Night
Sunday
Weather
Mostly cloudy this morning, slight chance of snow showers, generally clearing, becoming mostly sunny
Partly cloudy
Mostly sunny
Temperature (°F)
33
33
36
Wind Direction
Southwest
Northwest
Southwest
Wind Speed (mi/hr)
5-10 mph
5-10 mph
15-20 mph
Expected Snowfall (in)
0
0
0
Disclaimer
This advisory does not apply to Ski Areas or Highways and is for the Mount Shasta, Castle Lake and Mount Eddy backcountry. Use this information for guidance only. You may find different conditions in the backcountry and should travel accordingly. This advisory expires on midnight of the date it was posted unless otherwise noted.