You are here
Avalanche Forecast for 2019-02-20 05:31
EXPIRED ON February 21, 2019 @ 5:31 am

Published on February 20, 2019 @ 5:31 am
Issued by Nick Meyers - Shasta-Trinity National Forest
Gale force northwesterly wind has and will continue to impact the forecast area. Near and above treeline terrain has become mostly scoured down to old snow and hard surfaces, but not completely. Watch out for isolated old and new wind slabs in more protected areas where wind has not been as strong. Steep, extreme terrain, around rocky outcrops and sheltered couloirs are the most likely places to trigger a wind slab. Pay attention to blowing snow and where it's headed!
Avalanche Problem 1: Wind Slab
Certain

Very Likely

Likely

Possible

Unlikely

Historic

Very Large

Large

Small
Small to large wind slabs still exist near and above treeline, albeit difficult to trigger. Most terrain has or will continue to see intense scouring and snow sublimation from gale force, northwest winds. Areas where wind speeds are not quite as strong is where a touchy wind slab could lurk. Aspects S-SE-E will host the largest, deepest and most suspect wind slabs. Pay attention to shooting cracks, hollow sounding snow and stiff snow surfaces with soft snow beneath. Steep, extreme terrain and unsupported hanging snow drifts/features should be avoided. A few inches of new snow is expected today along with strong northwesterly wind.
Forecast Discussion
We still can't get over the size and magnitude of the Valentine Avalanche. Take the time to go look at this perhaps once in a lifetime natural spectacle!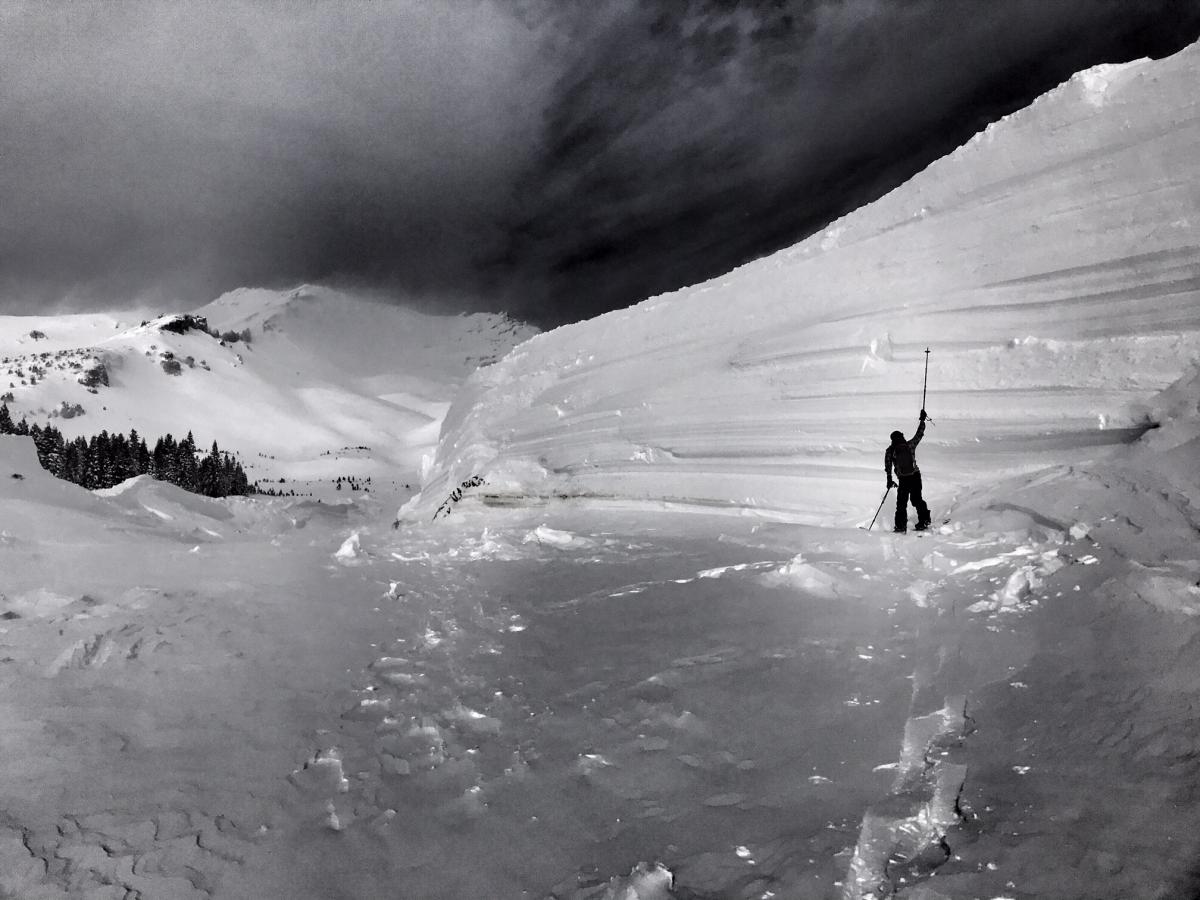 This photo is taken from near treeline in Avalanche Gulch. This is part of the left flank of the large, D4 Valentine Avalanche that we believe to have occurred early in the morning on Valentines Day. The scouring that the avalanche left behind is unreal, with glacial like polishing of snow, ice and trees. The sheer volume of snow that is deposited in the runout zone is mind-boggling. Still to this day, we have been unable to see a crown line. The slide is suspected to have started in the very upper ramparts of Avalanche Gulch, Casaval Ridge and Redbanks/Sargents Ridge areas, +/- 12,000 feet. It ran over 3 miles and 5,000 vertical feet, has walls up to 60 feet tall and debris piles even deeper. For all the meager winters we've had in recent times here in Shasta, this is a wonderful, fantastic, shivers-down-your-spine natural event... and naturally, we are glad nobody was caught in this whopper. 

[Photo: N Meyers]
Recent Observations
It's a full smorgasbord in the Mount Shasta area backcountry. Yesterday on the mountain, spindrifts of snow could be seen spooling off Casaval and Redbanks ridgelines in the morning light. Incessant northwest winds have been on tap and the Gray Butte weather station has backed up this observation: average wind speeds of 26 mi/hr with gusts to 55 mi/hr has been recorded over the past 24 hours. Temperatures have ranged from 14 to 32 degrees F at 8,000 feet. Winds persisted all day and scoured most of near and above treeline terrain.  Avalanche debris continues to be discovered from the Valentines Day avalanche cycle, including two D2 slides up in the Cliff Lake area on NW and N facing, near treeline terrain. No new avalanches were observed yesterday. That said, snow continues to be blown around. In low angle terrain in Avalanche Gulch, small, hollow wind slabs 1 to 2 feet thick were found. Minor cracking and small dinner plate slabs were easily triggered on slopes of non-conseqence.  Most of the snow available for transport is being scoured away, but isolated wind loading is certainly not out of the question. Overall, widespread settlement has occurred over the past few days. Smooth powder snow can be found in protected, shady areas. Breakable sun and wind crusts and hard, scoured snow is also part of the package.
Weather and Current Conditions
Weather Summary
Northwest flow aloft will bring in snow showers, continued cold temperatures and wind today. In comparison to our recent storms, this one will hardly register for those in search of the steep and deep. Only about .15 inches of precipitable water is forecast, with snow levels down to about 1,500 to 2,000 feet. Expect a couple inches of snow at best, but that's about it. Windy northwesterlies will persist for near and above treeline terrain. Cold air will stay put for Thursday and some areas might see single digits.  Another system is destined for the area this weekend. Snow levels will be a higher (2,000 to 3,000 feet) with modest water amounts (.32" SWE, Saturday - Sunday).
24 Hour Weather Station Data @ 4:00 AM
Two Day Mountain Weather Forecast
Produced in partnership with the Medford NWS
For 7000 ft to 9000 ft
Wednesday
(5 a.m to 11 p.m.)
Wednesday Night
(11 p.m. to 5 a.m.)
Thursday
(5 a.m to 11 p.m.)
Weather
Snow showers. Chance of precipitation 100%.
Snow showers. Chance of precipitation 80%
Lingering showers possible in the morning, otherwise mostly sunny
Temperature (°F)
21
10
22
Wind (mi/hr)
Northwest 5-10
Northwest 5-10
North 10-15
Precipitation SWE / Snowfall (in)
/ 2-4
/ 1-2
/ 0
For 9000 ft to 11000 ft
Wednesday
Wednesday Night
Thursday
Weather
Snow showers, windy, wind chill as low as -27 F.
Snow showers, blustery. Wind chill as low as -27 F.
Chance of showers in the morning, otherwise clearing and mostly sunny. Wind chill down to -25 F.
Temperature (°F)
6
4
6
Wind (mi/hr)
Northwest 20-25
Northwest 2-4
Northeast 25-30
Precipitation SWE / Snowfall (in)
/ 2-4
/ 1-2
/ 0
Season Precipitation for Mount Shasta City
Period
Measured (in)
Normal (in)
Percent of Normal (%)
From Oct 1, 2019 (the wet season)
21.61
27.05
80
Month to Date (since Apr 1, 2020)
7.68
4.78
161
Year to Date (since Jan 1, 2020)
13.20
11.84
111
Disclaimer
This forecast does not apply to Ski Areas or Highways and is for the Mt. Shasta, Castle Lake and Mt. Eddy backcountry. Use this information for guidance only. You may find different conditions in the backcountry and should travel accordingly. This forecast expires on midnight of the date it was posted unless otherwise noted.