You are here
Avalanche Forecast for 2019-03-18 06:42
EXPIRED ON March 19, 2019 @ 6:42 am

Published on March 18, 2019 @ 6:42 am
Issued by Ryan Sorenson - Mount Shasta Avalanche Center
Small loose-wet avalanches are possible on steep sunny slopes this afternoon. However, the snowpack is generally stable and a consequential avalanche is unlikely. Wearing a helmet is always a good idea when travelling in steep terrain, especially under heavily rimed features
Avalanche Problem 1: Normal Caution
Certain

Very Likely

Likely

Possible

Unlikely

Historic

Very Large

Large

Small
As temperatures rise this afternoon loose-wet instabilities could form on steep, sunny slopes. The potential for loose-wet avalanches will decrease with increasing light wind today. These will also remain inconsequential in size. Normal caution is advised. If traveling into steep terrain; have a plan, but be able to adjust to the conditions you find and the skills your group has. If you see roller balls or pinwheels, it might be time to move to a different aspect. Bring the gear and skills necessary for avalanche rescue.
The upper elevations on Mount Shasta have become caked by rime ice over the course of the winter. Warm temperatures can cause this rime to crack and fall. It is best practice to avoid extended periods of time traveling directly below these cliff features. Large chunks of rime can cause serious injury. 
Forecast Discussion
A summit pass and human waste pack-out bag are required if you are climbing above 10,000 feet on Mount Shasta.  A wilderness permit is required if traveling in the Mount Shasta wilderness.
Confused by which aspect receives the most sun on Mount Shasta? Check out this map developed in Cal Topo. Slopes shaded in yellow receive first light around 8 a.m. in March: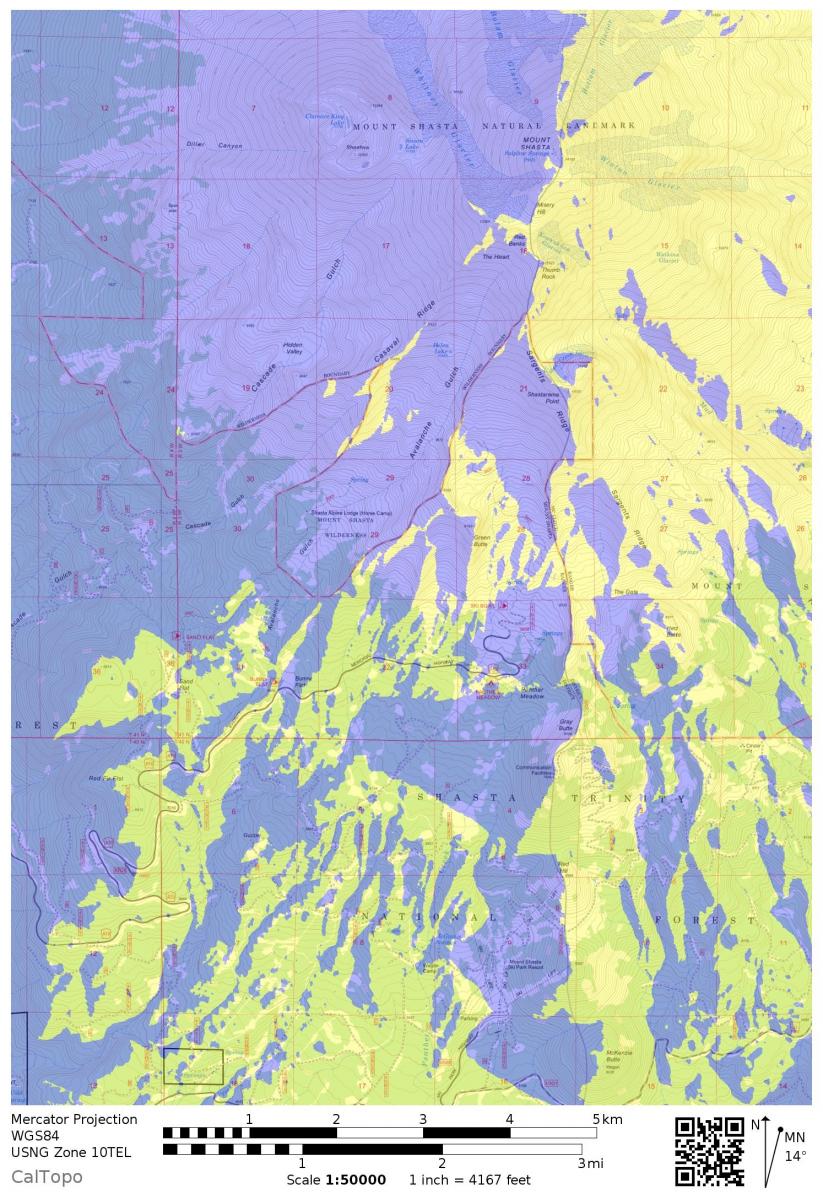 Recent Observations
Blue skies, calm winds and warm temperatures were observed on Mount Shasta.  A high of 46 degrees F was recorded at 3 p.m. at 8,000 feet. Lows reached 35 degrees F on Mount Shasta lastnight. Mount Eddy recorded a high of 49 degrees F and a low of 30 degrees F.
The melt-freeze cycle has allowed for soft surface textures in isolated areas. Other areas host variable surface textures from hard wind effected ridgelines to sticky wet snow below treeline.   
View of the variable wind textured snow on Green Butte Ridge yesterday: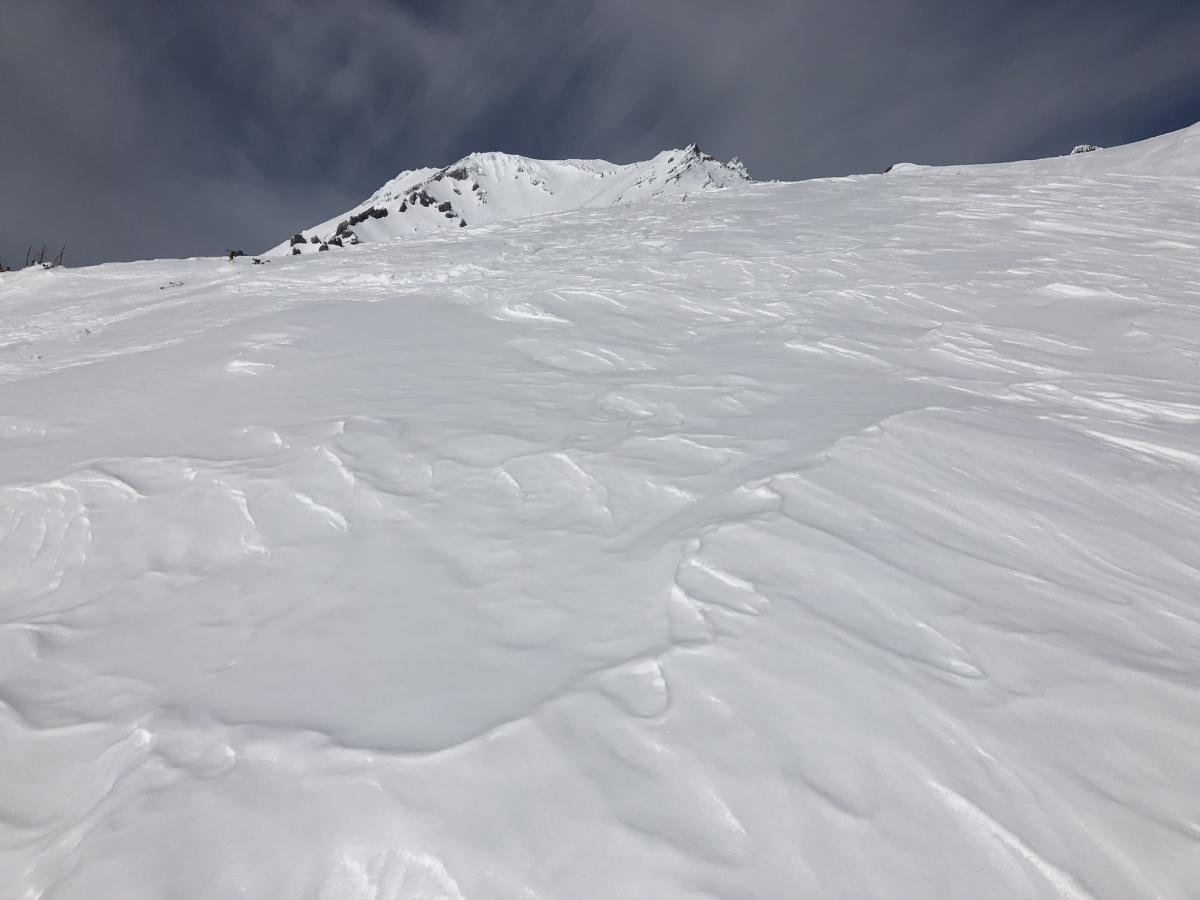 Weather and Current Conditions
Weather Summary
If you missed out on the fun this weekend, you have one last chance to soak it up before another storm blows in. High pressure will remain in place throughout the day. Clear skies, warm temperatures and light winds will continue until late this evening.  
A trough of low pressure to our north is slowly moving towards the forecast area. This will allow scattered clouds to build tonight and tomorrow. The wind will gradually increase as this storm approaches.  There is a chance of snow/rain showers Tuesday night, then snow/rain will fall Wednesday.  Snow levels will start around 6,500 feet Tuesday then drop to 6,000 feet on Wednesday. 
24 Hour Weather Station Data @ 5:00 AM
Two Day Mountain Weather Forecast
Produced in partnership with the Medford NWS
For 7000 ft to 9000 ft
Monday
(5 a.m to 11 p.m.)
Monday Night
(11 p.m. to 5 a.m.)
Tuesday
(5 a.m to 11 p.m.)
Weather
Sunny
Clear
Mostly cloudy
Temperature (°F)
45
30
50
Wind (mi/hr)
East 5-10
Southeast 5-10
Southeast 5-10
Precipitation SWE / Snowfall (in)
/ 0
/ 0
/ 0
For 9000 ft to 11000 ft
Monday
Monday Night
Tuesday
Weather
Sunny
Clear
Mostly cloudy
Temperature (°F)
30
17
31
Wind (mi/hr)
Southeast 10-15
Southeast 0
Southeast 15-20
Precipitation SWE / Snowfall (in)
/ 0
/ 0
/ 0
Season Precipitation for Mount Shasta City
Period
Measured (in)
Normal (in)
Percent of Normal (%)
From Oct 1, 2019 (the wet season)
31.74
33.38
95
Month to Date (since Apr 1, 2020)
2.21
3.88
57
Year to Date (since Jan 1, 2020)
23.33
18.17
128
Disclaimer
This forecast does not apply to Ski Areas or Highways and is for the Mt. Shasta, Castle Lake and Mt. Eddy backcountry. Use this information for guidance only. You may find different conditions in the backcountry and should travel accordingly. This forecast expires on midnight of the date it was posted unless otherwise noted.