You are here
Avalanche Forecast for 2019-03-31 06:25
EXPIRED ON April 1, 2019 @ 6:25 am

Published on March 31, 2019 @ 6:25 am
Issued by Ryan Sorenson - Mount Shasta Avalanche Center
Warm temperatures and sunny conditions remain on Mount Shasta. Low avalanche danger exists below, near and above treeline. Watch out for isolated windslab and loose-wet avalanches in extreme terrain. Normal caution is advised today.
Avalanche Problem 1: Normal Caution
Certain

Very Likely

Likely

Possible

Unlikely

Historic

Very Large

Large

Small
Using normal caution should grant safe passage through avalanche terrain today.  Watch for small, isolated wind slabs along ridgelines. Large overhanging cornice features have formed on some ridgelines around the forecast area.  Isolated loose-wet slides and large rollerballs could form on steep solar aspects late this afternoon. If rollerballs and pinwheels begin to form, it might be time to head over to a different aspect, or back to the barn. Basic principles for safe travel today include:
Always actively watch out for the 5 red flags of avalanche danger. These include wind blowing snow, recent avalanches, cracks/whoomfing, rapid warming,  recent heavy snow. 
It is best to avoid travel directly below overhanging cornices.
Be mindful of the overhead hazard of falling rime ice
Limit time spent traveling under steep and exposed cliff features as these could shed with increasing solar energy.
A helmet is recommended if travelling in steep terrain. 
Large rollerballs were observed on Mount Shasta yesterday. Similar conditions are expected today.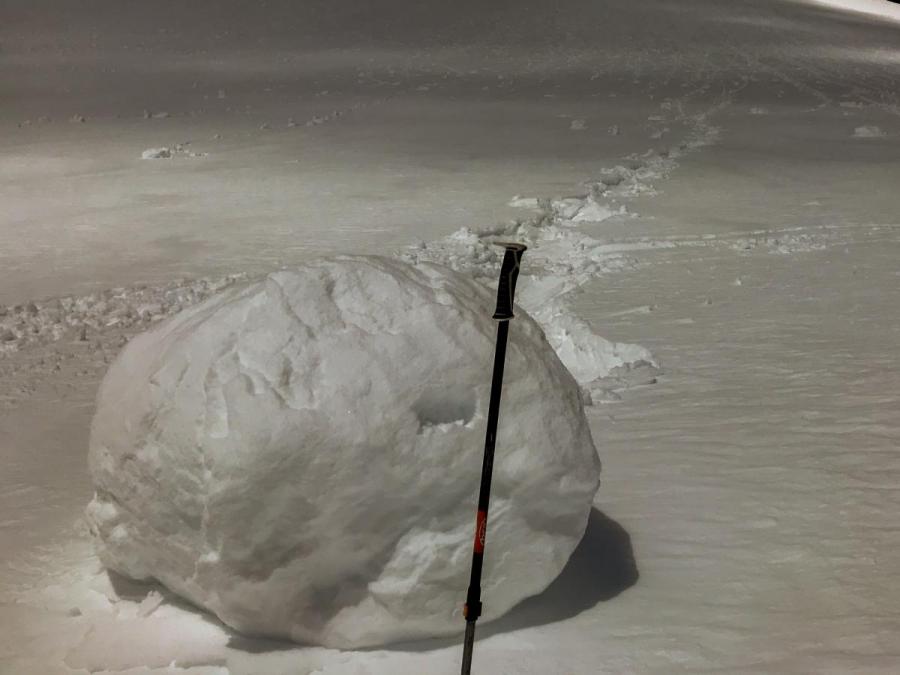 Photo: Large rollerball on south aspect 8,600 feet lower Casaval Ridge.
Forecast Discussion
The fireball will be high in the sky today. The sun can reflect off of snow surfaces intensifying the need for sunscreen and eye protection above treeline. 
Recent Observations
Clear sunny skies were observed on Mount Shasta yesterday. Snow surfaces are smooth and soft. Variable wind and sun crusts have formed in spots.  A deep right side up consolidated snowpack over a number of crusts exists above treeline.  
Notable observations on Mount Shasta:
Winds were calm with some light southwest wind above treeline on the mountain. Wind loading was minimal. 
Small drifts and cornice features have formed on Green Butte Ridge towards westerly aspects. 
Surface penetration: Boot: 3-6 inches, Ski: 2-4 inches @ 10,500 feet Lake Helen
Wind: Calm / Blowing snow: Previous-yes; Active-No  / Temperatures: High 20's F
Rollerballs were observed on sunny aspects during periods of daytime warming
Small to giant cornices adorn ridgelines all across the forecast area. 
Looking up Avalanche Gulch from 9,400 feet Mount Shasta: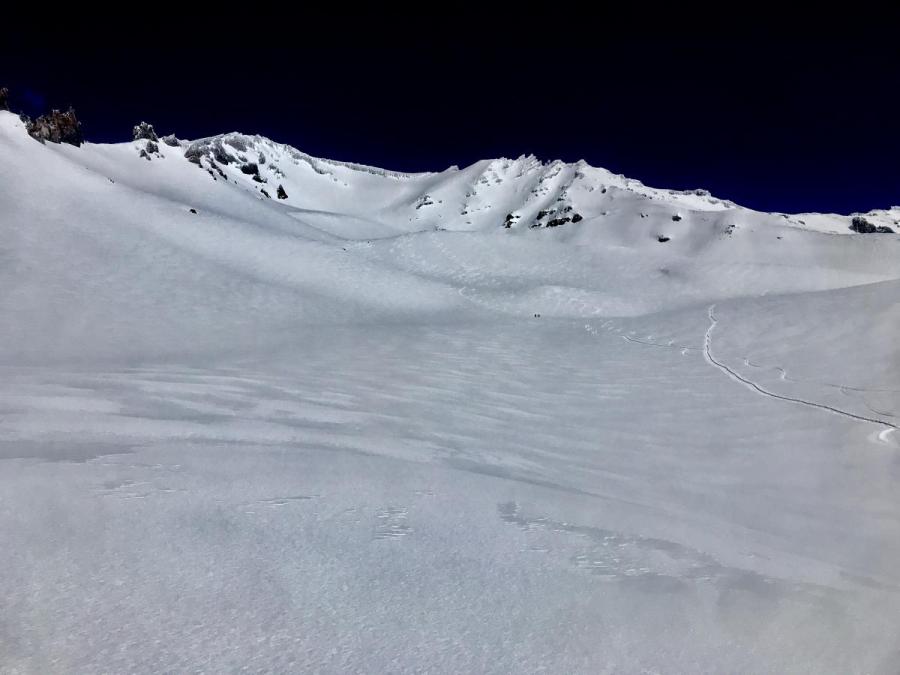 Photo: Nick Meyers
Weather and Current Conditions
Weather Summary
Expect another gorgeous sunny warm day on Mount Shasta with building clouds in the late afternoon. Calm winds this morning will increase slightly out of the west signaling a change in the weather.  A warm front is moving into the area tomorrow morning. A half an inch of water will play out as snow/rain with snow levels near 8,000 feet. Lingering snow showers will remain until Tuesday night with snow levels dipping to 6,300 feet. A short dryer spell is expected on Wednesday then cooler showery conditions will return Thursday. 
24 Hour Weather Station Data @ 6:00 AM
Two Day Mountain Weather Forecast
Produced in partnership with the Medford NWS
For 7000 ft to 9000 ft
Sunday
(5 a.m to 11 p.m.)
Sunday Night
(11 p.m. to 5 a.m.)
Monday
(5 a.m to 11 p.m.)
Weather
Sunny
Increasing clouds in the evening
Rain/snow showers. Snow level 8,000 feet.
Temperature (°F)
45
30
36
Wind (mi/hr)
Southwest 0-5
Southwest 5-10
South 5-10
Precipitation SWE / Snowfall (in)
/ 0
/ 0
/ 2-3
For 9000 ft to 11000 ft
Sunday
Sunday Night
Monday
Weather
Sunny
Increasing clouds in the evening
Snow showers
Temperature (°F)
30
28
30
Wind (mi/hr)
West 10-15
West 0
Southwest 20-25
Precipitation SWE / Snowfall (in)
/ 0
/ 0
/ 2-6
Season Precipitation for Mount Shasta City
Period
Measured (in)
Normal (in)
Percent of Normal (%)
From Oct 1, 2019 (the wet season)
35.22
35.33
100
Month to Date (since Apr 1, 2020)
5.69
5.83
98
Year to Date (since Jan 1, 2020)
26.81
20.12
133
Disclaimer
This forecast does not apply to Ski Areas or Highways and is for the Mt. Shasta, Castle Lake and Mt. Eddy backcountry. Use this information for guidance only. You may find different conditions in the backcountry and should travel accordingly. This forecast expires on midnight of the date it was posted unless otherwise noted.