You are here
Avalanche Forecast for 2019-04-03 05:43
EXPIRED ON April 4, 2019 @ 5:43 am

Published on April 3, 2019 @ 5:43 am
Issued by Nick Meyers - Shasta-Trinity National Forest
Despite lingering, scattered showers, today will serve as the break in our unsettled weather this week. Watch for small, isolated wind slabs above treeline, large cornices along ridgelines and minor loose-wet instabilities. While it's important to keep these hazards in mind, none of them are expected to be a major problem. Normal caution is advised.
Avalanche Problem 1: Normal Caution
Certain

Very Likely

Likely

Possible

Unlikely

Historic

Very Large

Large

Small
Warm temperatures and rain-on-snow has squashed most avalanche danger. Wind transport of any new snow will be minimal.  Major loose-wet instabilities are unlikely. Large cornices remain along ridgelines. Use normal caution. Anytime in the backcountry, maintain the use of safe travel practices. Identify features of concern, ski one at a time, carry rescue gear and know how to use it. Always pay attention to the five red flags of avalanche danger: recent, heavy new snow, wind blowing snow, recent avalanches, cracking/wumphing and rapid warming.
Forecast Discussion
What does April have in store for us? The latest temperture and precipitation models from the NWS Climate Prediction Center...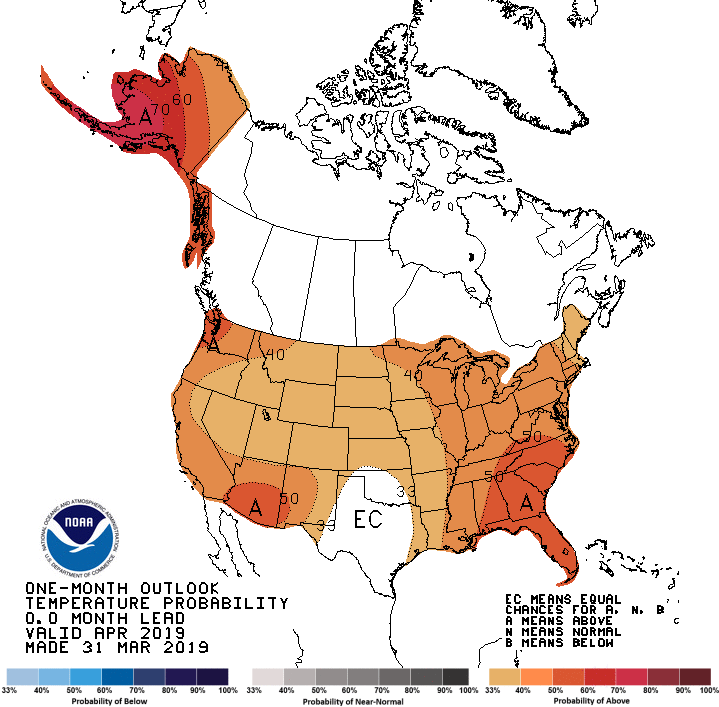 Recent Observations
In the last 24 hours:
TEMP: Near treeline (high/low): 36/29 deg F
PRECIP: 1 inch new snow / .36" SWE (some rain on snow)
WIND: 7 mi/hr average speed / 18 mi/hr max speed
Notes: Poor visibility, rain-on-snow and moist to wet snow surfaces have kept most out of the backcountry lately. Boot penetration has been up to 2 feet deep. No recent avalanches have been observed. Large cornices remain. Isolated loose-wet instabilities exist. Above treeline observations have been limited.
Weather and Current Conditions
Weather Summary
If you have spent anytime in the Pacific Northwest, you're probably feeling right at home here in Siskiyou County this week. Scattered showers, valley fog and low clouds will continue, giving us that socked in feeling. That said, today is the "break" in the action and periods of brief clearing will perhaps infiltrate the showery mix. Overall, we're gearing up for a decent looking storm arriving this weekend. Low snow levels might be a thing of the past now that it's April. More on this storm as it approaches.
24 Hour Weather Station Data @ 3:00 AM
Two Day Mountain Weather Forecast
Produced in partnership with the Medford NWS
For 7000 ft to 9000 ft
Wednesday
Wednesday Night
Thursday (5 a.m to 5 p.m.)
Weather
Rain and snow showers. Chance of precipitation 70%. Snow level near 6,400 feet. SWE: .05" (Snow/Water Equivalent)
Mostly cloudy. A 30% chance of rain and snow showers. Snow level near 6,600 feet. SWE: .06"
Rain and snow showers. Breezy. Chance of precipitation 80%. Snow level near 6,200 feet. SWE: .26"
Temperature (°F)
39
36
37
Wind (mi/hr)
South 5-10
South 5-10
South/Southeast 10-15
Precipitation SWE / Snowfall (in)
/ 1-2
/ 1-3
/ 3-5
For 9000 ft to 11000 ft
Wednesday
Wednesday Night
Thursday (5 a.m to 5 p.m.)
Weather
Snow showers likely. Mostly cloudy. Windy.
Mostly cloudy. A 50% chance of precipitation.
Snow showers. Windy. Chance of precipitation 90%.
Temperature (°F)
24 and falling
22
20
Wind (mi/hr)
Southwest 15-20
Southwest 1-2
South 25-35
Precipitation SWE / Snowfall (in)
/ 1-2
/ 2-4
/ 3-6
Season Precipitation for Mount Shasta City
Period
Measured (in)
Normal (in)
Percent of Normal (%)
From Oct 1, 2018 (the wet season)
35.51
35.69
99
Month to Date (since Sep 1, 2019)
0.29
0.23
126
Year to Date (since Jan 1, 2019)
27.10
20.48
132
Disclaimer
This forecast does not apply to Ski Areas or Highways and is for the Mt. Shasta, Castle Lake and Mt. Eddy backcountry. Use this information for guidance only. You may find different conditions in the backcountry and should travel accordingly. This forecast expires on midnight of the date it was posted unless otherwise noted.