You are here
Conditions Above Treeline - Southside Mt. Shasta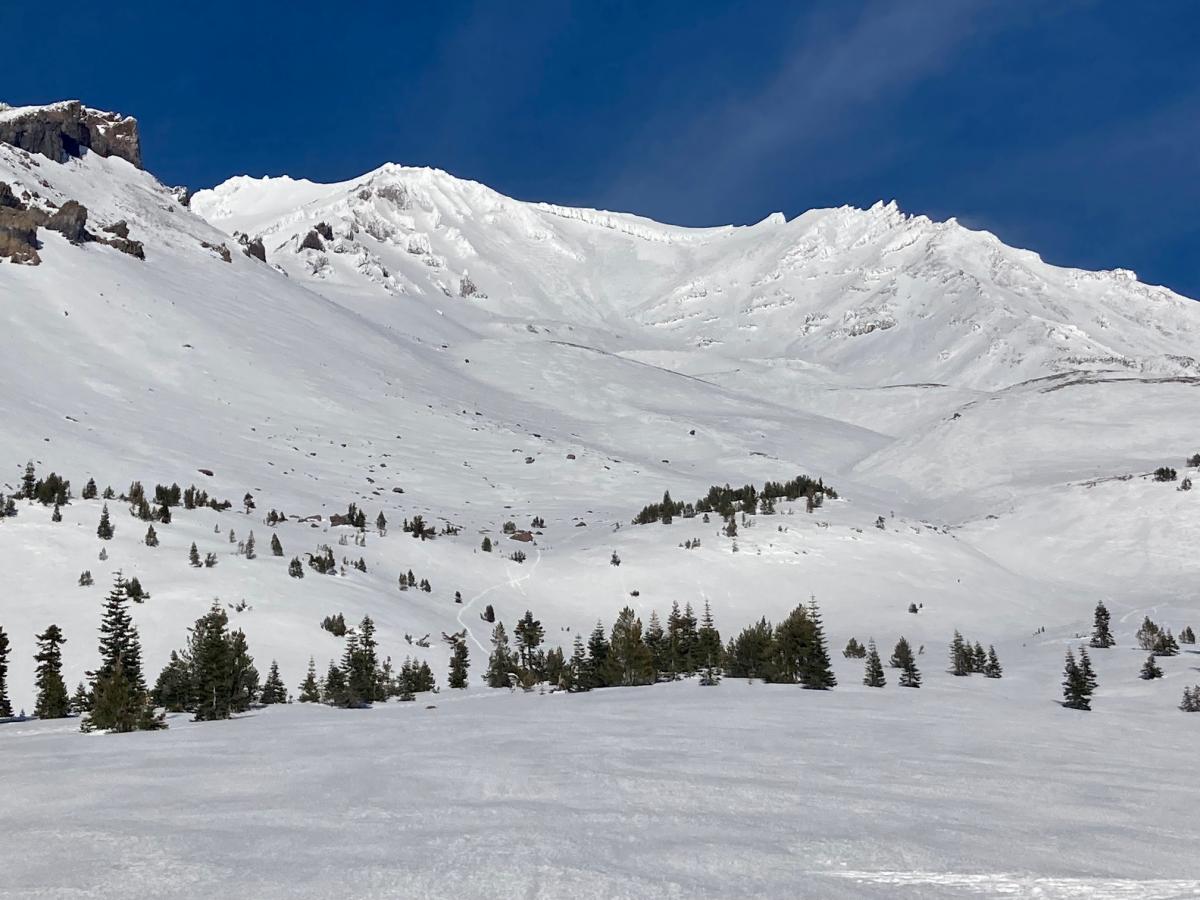 Location Name:
Mount Shasta Wilderness
Date and time of observation:
Thu, 01/06/2022 - 1:30pm
Observation made by:
Forecaster
Location Map
96067
Mount Shasta
,
CA
United States
41° 22' 34.1724" N, 122° 12' 9.7704" W
California US
Snowpack Observations
Details
A wide-ranging snowmobile tour from town to 10,000 feet today, the first good day of visibility all week. Temps were a bit cooler than yesterday. Clear skies near and above treeline allowed for a full above treeline look-see. Clouds and low fog filled the valleys. The recent warming event this past week with fog, light rain, and mist really did a number to the snowpack. It's quite variable out there with some soft, smooth turns possible in select areas, but also a lot of icy surfaces, breakable crusts, undulating sastrugi features and scoured ridges. It's the full smorgasbord, and not a very tasty one. Westerly winds were notable over exposed terrain above treeline. Gray Butte weather station has averaged 17 mi/hr wind speeds out of the west over the past 24 hours, with gusts to 43 mi/hr.
A couple old wind slab avalanches were observed off the east face of Gray Butte. These natural slides looked like they were triggered by a cornice failure above. The terrain is above treeline, steep, part of it a hanging snow field, and gets wind loaded during W-NW wind events. Click here for more photos and guesstimated details.
Some small rock chunks were observed on lower angle terrain below Sargents Ridge.



All southerly facing, RIME plastered rocks will eventually shed their frosty coat, lobbing small to large chunks of ice (pretty much like a rock) down onto climbers below. This hazard should not be underestimated. Wear a helmet. Further, smooth and icy slopes present slide for life conditions on steeper slopes. Carry an ice axe and crampons. Know how to use them. Self-arrest is mandatory if one slips and falls.
Lower down on the mountain, melt runnels dominate the snowpack. Soft, mushy snow and crusts were observed. 
A skier in Giddy Giddy Gulch reported decent, soft and smooth turns in the gully above treeline and breakable crusts near and below treeline.
No signs of recent avalanche danger was observed today. Any avalanche risk will be associated with new snow and wind blowing snow from the small storm tonight. (1.6.22)
Observation Location: Southside Mt. Shasta - Old Ski Bowl - Avalanche Gulch - Giddy Giddy Gulch
Elevation: Town level to 10,000 feet
Date: 20220106
Time: 1230-1630
Observer: N Meyers
Sky Conditions: Clear (CLR) - Low clouds and fog in the valleys
Current Precipitation: Type - NO 
Air Temperature: Last 24 hours at treeline- Min: 11.5 °F / Max: 37.5 °F / Mean: 24 °F
Surface Penetration: 0" - 10"
Total Snow Depth (HS): 77 in
24-hour New Snow Depth (HN24): 0
24-hour New Snow Water Equivalent (HN24W): 0
Wind Direction: W | NW
Wind Speed: Moderate (M), 17-25 mi/hr, small trees sway
Photos
Weather Observations
Details
Clear, mild, low valley fog and clouds. West to northwest wind, moderate, no blowing snow. Small storm incoming tonight.
Statistics
Cloud Cover:
25% of the sky covered by clouds
Air temperature:
Below Freezing
Air temperature trend:
Cooling