You are here
Fresh snow on a dry mountain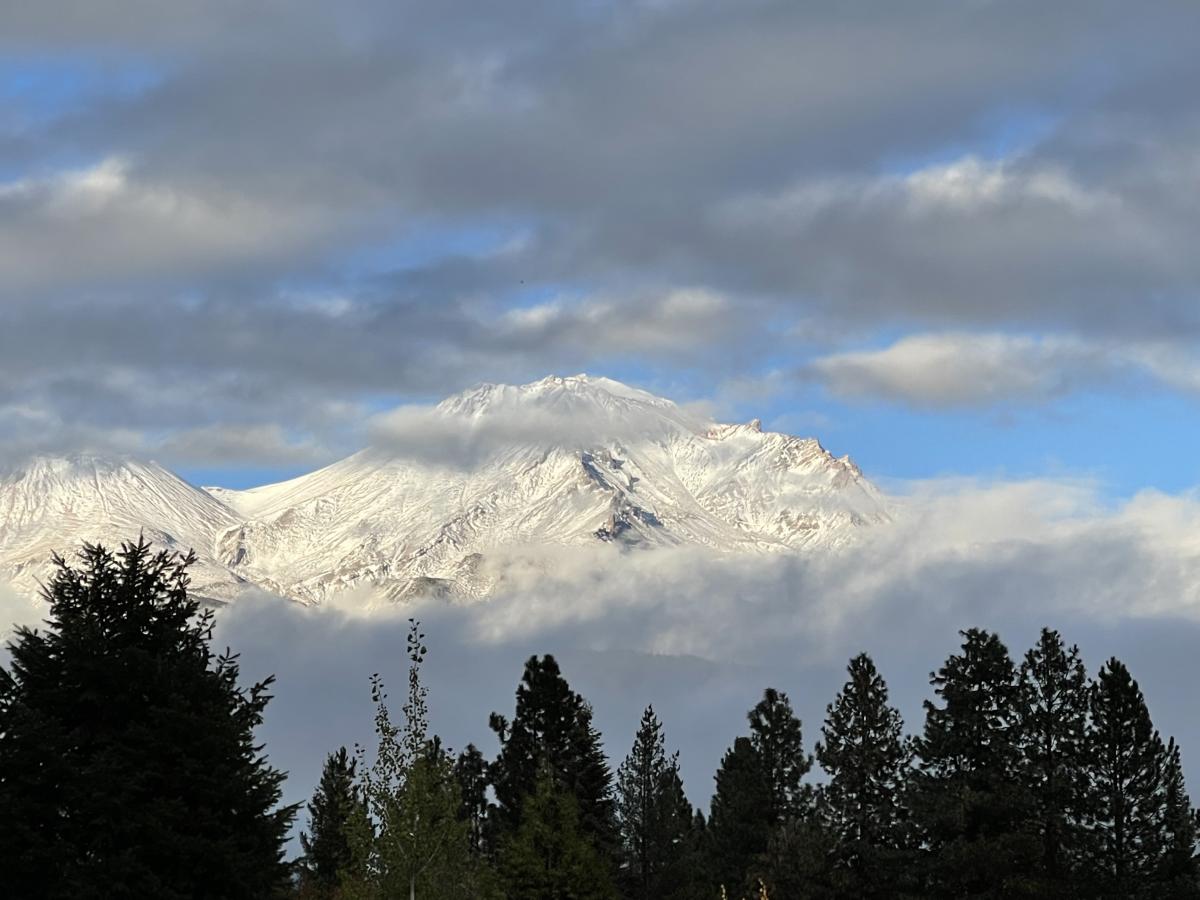 Location Name:
Mount Shasta Wilderness
Date and time of observation:
Wed, 10/20/2021 - 2:30pm
Observation made by:
Forecaster
Location Map
96067
Mount Shasta
,
CA
United States
41° 23' 4.5132" N, 122° 12' 36.5436" W
California US
Snowpack Observations
Details
For the beginning of the week of October 18th, Mt. Shasta had a dusting of snow on Monday. A robust series of storms over the week will continue to bring a wintery mix of snow, rain and strong southwesterly wind. As of Wednesday, October 20th at noon, 6 inches of new snow has fallen at treeline on Mt. Shasta, recorded from our Old Ski Bowl weather station. Aside from Mt. Shasta's glaciers, new snow has fallen on dry, bare ground.  Avalanches are not expected until a reasonable snowpack is established. A tour up forest roads might be the best option for early season skiing right now, but with more snow in the forecast, legit turns could be possible earlier than we think. That said, powder hounds, don't go get yourself a season ending injury from a shallow buried rock. Just a reminder, the gate at Bunny Flat will be closed for the season on Thursday, October 21st.
MSAC staff is beginning snowpack and weather observations in the coming weeks and will provide weekly updates to the website. Daily forecasts will begin December 1st. We monitor the snow all winter long, and you can help.  Submit observations to help MSAC staff start tracking the snowpack as it builds. 
NOW is the time to start prepping your winter kit. Wax the board(s), fire up the snow machine, get out your avalanche rescue gear. Check it over, replace batteries, clean terminals, function check, partner check... CHECK! This stuff is IMPORTANT. Get creative, have fun, practice. For the love of your partner, family, friends, community, kids, pets....don't be a liability in your shred squad. Train like your life depends on it, because it does. With cold and short days ahead, take some time to check out some online learning opportunities. Click HERE for links to regional avalanche workshops or visit avalanche.org for online education tutorials.
Photos
Weather Observations
Details
Statistics