You are here
Giddy Giddy Gulch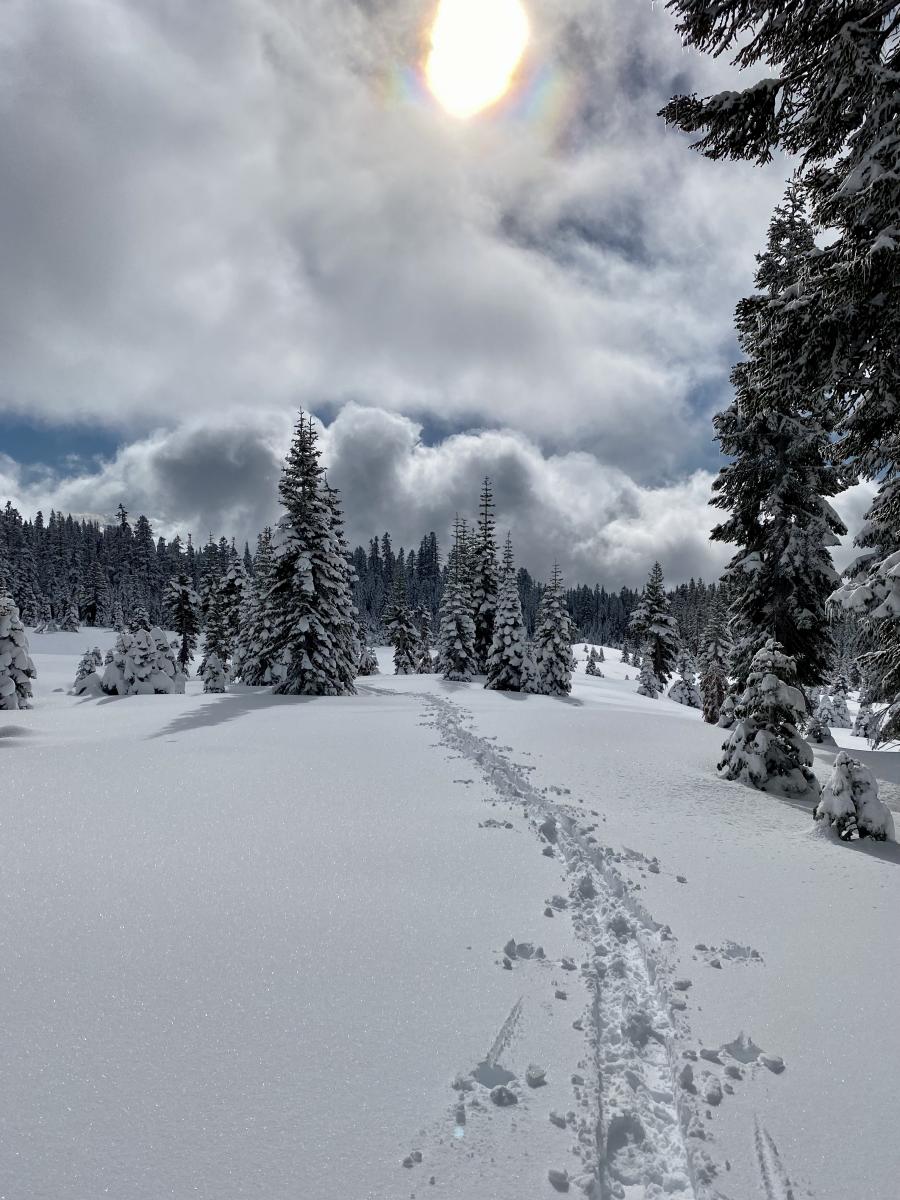 Location Name:
Mt Shasta - Giddy Giddy Gulch
Date and time of observation:
Tue, 12/06/2022 - 1:40pm
Observation made by:
Forecaster
Red Flags:
Recent loading by new snow, wind, or rain
Location Map
Giddy Giddy Gulch
96067
Mount Shasta
,
CA
United States
41° 22' 37.5672" N, 122° 13' 41.2068" W
California US
Snowpack Observations
Details
Today's objective was two-fold. I first wanted to discover how the facets noted during yesterday's observations were behaving within the snowpack. The second goal was to observe how the new snow was affected by wind above treeline. For those not looking to read more, the facets are rounding nicely, and the snow above treeline was not affected by wind to any great amount.
The snow from Bunny Flat to Horse Camp remains unconsolidated and largely unaffected by wind and solar radiation. A handy skintrack (thanks Shasta folks!) made for easy skinning to Horse Camp. From there, breaking trail, ski penetration was between 15 - 25 cm. Ascending the ridge up towards Giddy, I thought I might find wind-affected, potential storm slabs. This wasn't the case however, as I didn't see any of the small cracks visible during yesterday's observations. 
I ascended the far looker's-right side of Giddy a short distance, to about 8,500' and stopped to dig a pit. As expected, the new snow remained unconsolidated and easily accepted a gloved fist when pushed. The new snow I observed was less than other forecasters saw at Castle Lake the day prior, and less than reported at Lake Helen by some local skiers coming out. Likely some of the snow was blown off the ridge and into the Gulch proper.
I was able to observe a very slight failure at the 33 cm layer on ECT-30. However, attempts to replicate this failure with a skier's weight on the snowpack were unsuccessful. Full jumping of a 190 lb skier caused no reaction in the snowpack whatsoever.
Photos
Weather Observations
Statistics
Cloud Cover:
75% of the sky covered by clouds
Air temperature:
Below Freezing