You are here
Green Butte Ridge - Lower Broadway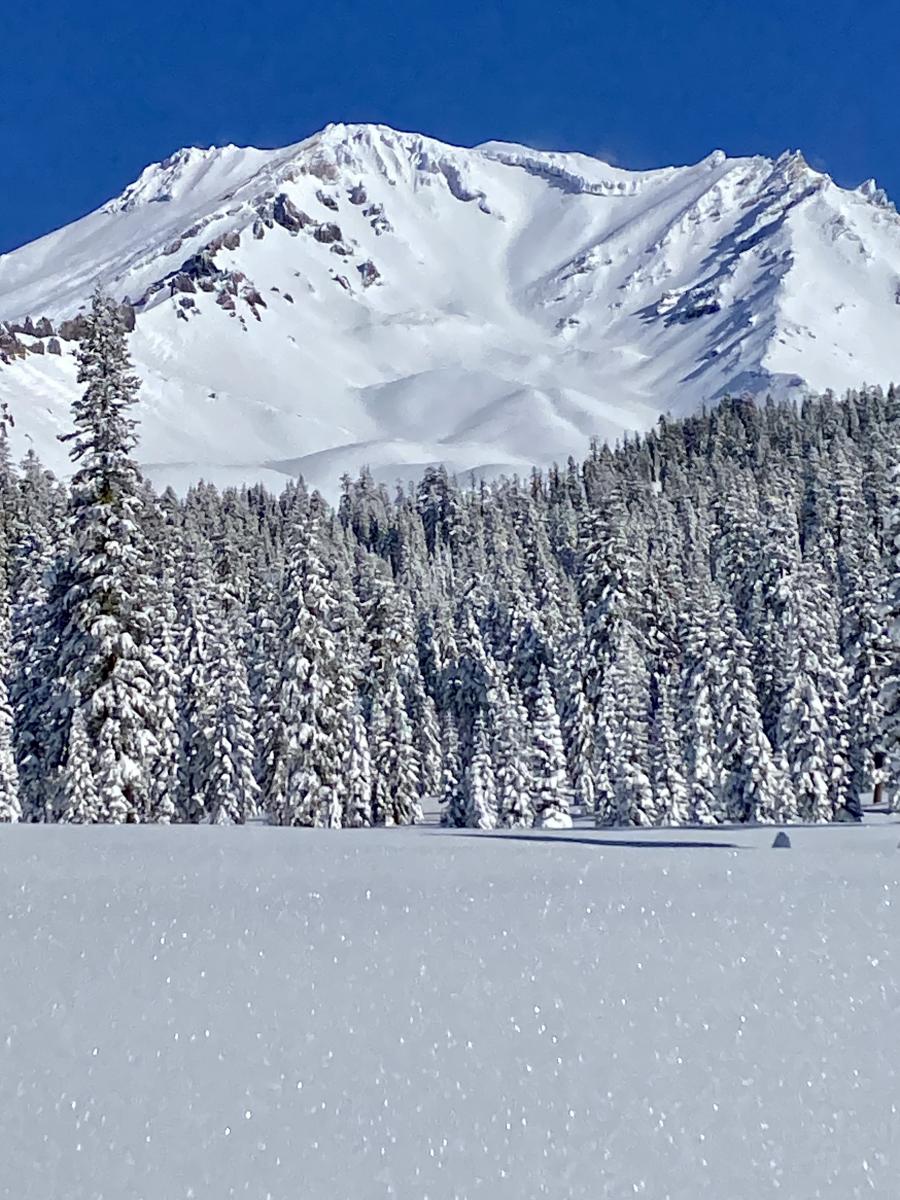 Location Name:
Lower Broadway
Date and time of observation:
Tue, 12/13/2022 - 11:00am
Observation made by:
Forecaster
Location Map
96067
Mount Shasta
,
CA
United States
41° 22' 7.9392" N, 122° 13' 12.8928" W
California US
Snowpack Observations
Details
Today we headed up Green Butte Ridge on Mount Shasta. Our intention was to investigate the weak layer of graupel on different aspects and elevations not previously observed. This weak layer has been present in the snowpack since December 9th. We have ot observed any avalanches on this layer since Sunday, December 11th.
Large surface hoar crystals were observed below and near treeline. When surface hoar becomes buried by a storm, it is a good weak layer. Pay attention to intact surface hoar on the snow surface prior to a storm. If present, it could be the next weak layer. Until then, enjoy the added sparkle while you enjoy the mountain.
On a SE facing slope at 8,200 feet near treeline on Green Butte Ridge, the snowpack is shallower than previously discussed locations, and the buried graupel layer is 50 cm down from the surface. A moderate amount of force was required to get the layer to react in stability tests. The shear quality was Q3: rough and broken, with some crumbly blocks.
Above treeline on a WSW aspect, 8,700 feet, the snowpack is affected by wind, and the height of the snow is less. The weak graupel layer is 35 cm below the surface. Stability tests required a hard amount of force to cause failure. The shear quality was again Q3.
In Sun Bowl on a west facing aspect, the December 9th graupel layer is less discernable and well-bonded.
Above treeline, on observed SW to SE aspects, the snowpack is also well bonded.
Observation Location: Lower Broadway to Sun Bowl
Elevation: 8,100 - 8,600 feet
Date: 20221213
Time: 1100
Observer: Forecaster
Sky Conditions: Clear
Current Precipitation: None
Surface Penetration: Ski penetration (PS) = 9 cm, boot penetration (PF) = 38 cm
Total Snow Depth (HS): 85 - 105 cm
24-hour New Snow Depth (HN24): 0 cm
24-hour New Snow Water Equivalent (HN24W): 0 cm
Wind Direction: N/A
Wind Speed: Calm
Column & Block Tests:
Photos
Weather Observations
Statistics
Air temperature trend:
Warming