You are here
NE Bowl - Gray Butte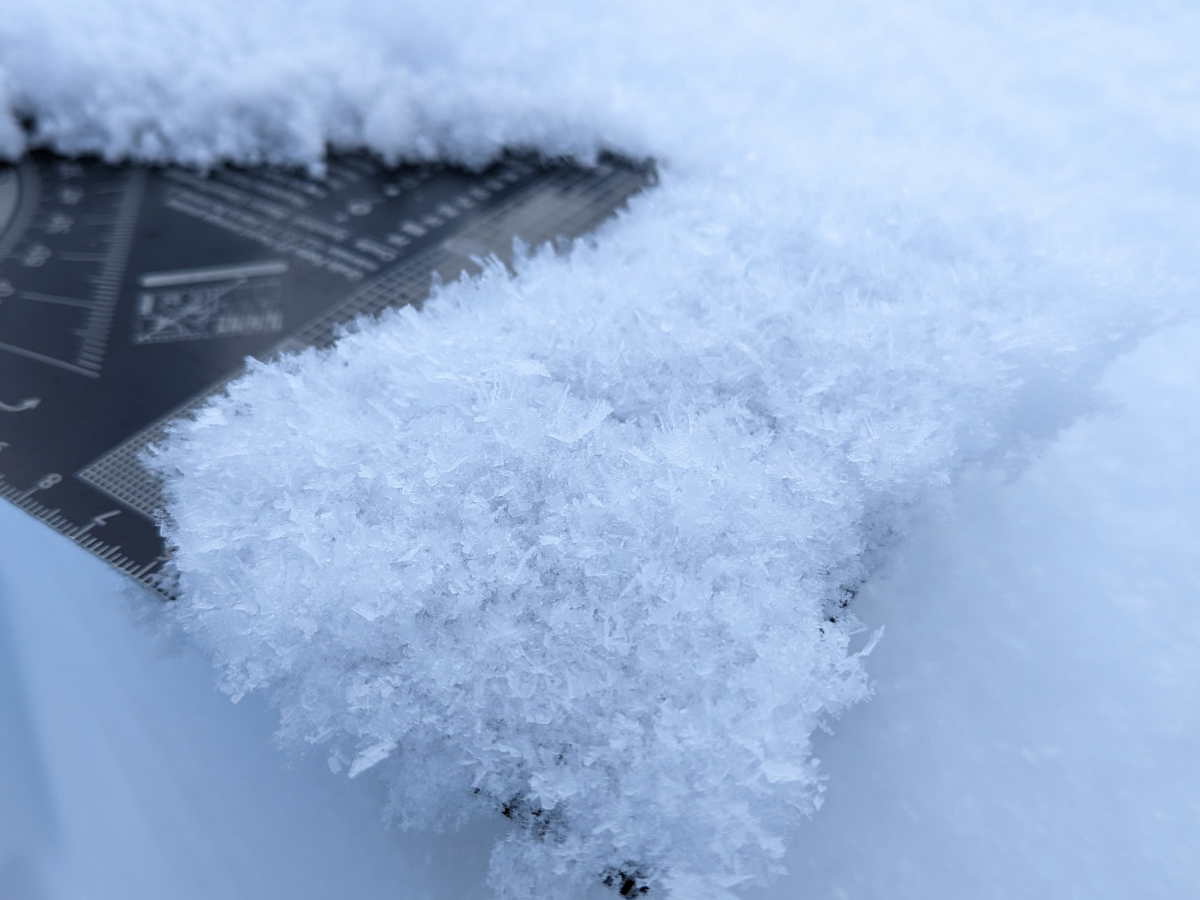 Location Name:
NE Bowl - Gray Butte
Date and time of observation:
Mon, 12/12/2022 - 1:50pm
Observation made by:
Forecaster
Location Map
96067
Mount Shasta
,
CA
United States
41° 20' 53.1852" N, 122° 11' 23.388" W
California US
Snowpack Observations
Details
Today, I went to the northeast facing bowl on Gray Butte to look further at the graupel weak layer. This layer has caused two good sized D2 avalanches over the past two days on other aspects of Gray Butte (see avalanche reports HERE and HERE). I dug a snowpit on a northerly aspect around 7,800' near the eastern ridgeline of the bowl. The graupel layer was intact 31 inches (80 cm) below the surface. In stability tests, it was moderately stubborn and required some effort to get this weak layer to fail. When it did fail though, it propagated easily across the test columns. I completed a full snowpit profile which is provided in the observation images. Mt. Shasta Ski Park (MSSP) ski patrol reported observing a slab avalanche of unknown size to the east of the ski park boundary. This avalanche did not appear to have occurred today.
A quarter of an inch surface hoar was observed across the snow surface on northerly aspects. The weather was thin fog and dead calm, giving everything a "spooky" feeling. On the return to the MSSP, I descended the lower angle south side of Gray Butte and found good snow with no instabilities.
Observation Location: NE Bowl, Gray Butte
Elevation: 7,810'
Date: 20221212
Time: 1350
Observer: M. Madden
Sky Conditions: Obscured (X)
Current Precipitation: Type - NO
Air Temperature: [?] 22°F
Total Snow Depth (HS): 71 inches (180 cm)
24-hour New Snow Depth (HN24): None
Wind Direction:  N/A
Wind Speed: Calm (C), 0 mi/hr
Column & Block Tests:

Slope Angle & Aspect: 30º, N
PST 32/100 (End) ↓ 80 cm
ECTN#21 ↓ 80 cm BRK
CTM#16 SP ↓ 80 cm
CTH#23 BRK ↓ 80 cm
Photos
Weather Observations
Statistics