You are here
Parks Creek Summit Area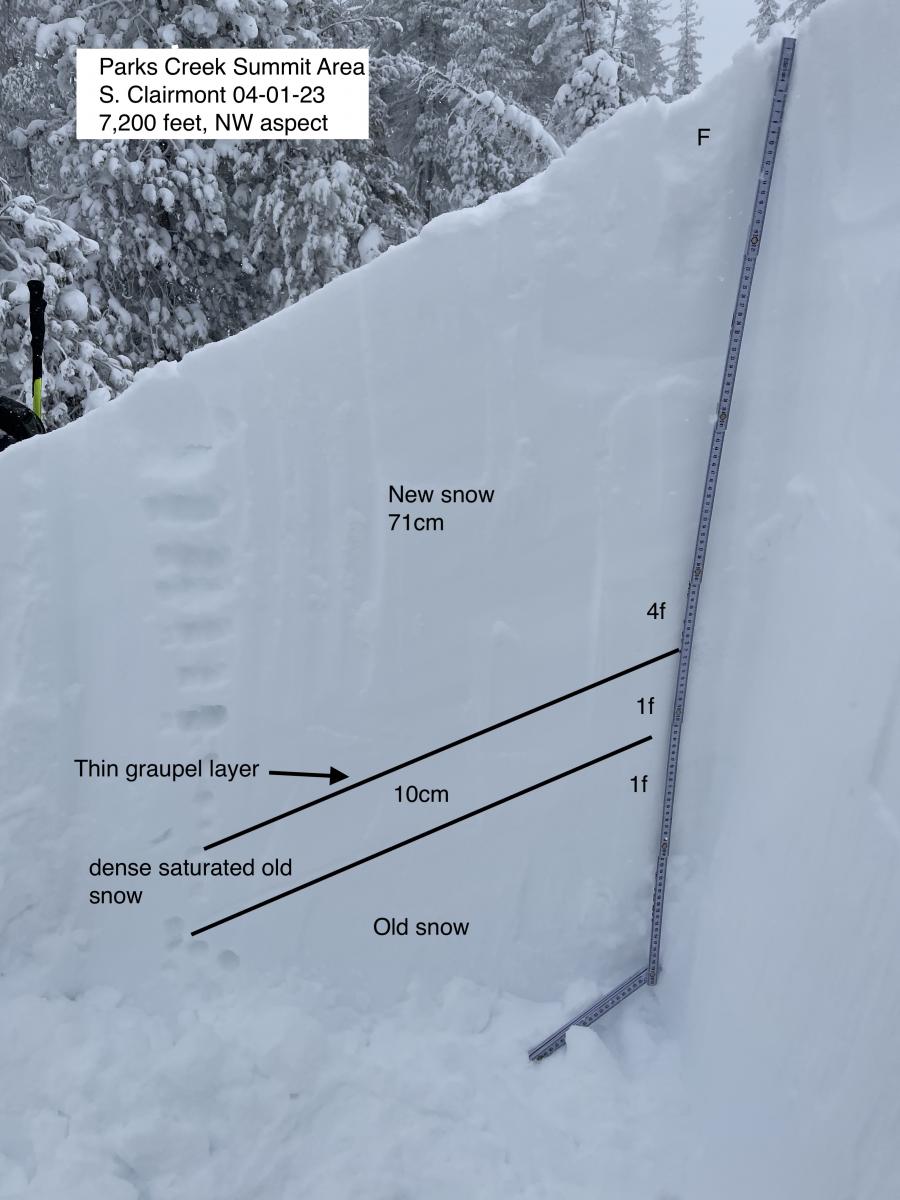 Location Name:
Parks Creek Summit Area
Date and time of observation:
Sat, 04/01/2023 - 12:00pm
Observation made by:
Forecaster
Location Map
96067
Mount Shasta
,
CA
United States
41° 21' 51.354" N, 122° 33' 25.3332" W
California US
Snowpack Observations
Details
Today I went to the Eddy mountains to assess snowpack stability, look for recent avalanche activity, and determine the overall distribution of the recently active graupel weak layer.

Snow was encountered about 1.75 miles up the 17 Road. The snow continued to be patchy, with large stretches of pavement for at least a couple miles until about 5,000 feet. Snow was falling as low as 4,800 feet, but didn't start accumulating till 6,000 feet. The sky remained fully obscured, with moderate snowfall continuing throughout the outing. A surface crust was present on all terrain except for the most shaded, northerly aspects. At 7,300 feet, winds remained light out of the west. No wind transport was observed, however, north facing cornices had grown slightly in the last couple of days.

A pit was dug at 7,200 feet on a northwest aspect in search of the recently active weak layer. Around 72 cm of new snow sat on top of a very thin graupel layer. Below the graupel layer was very dense old snow, on top of less dense melt form. Knowing that this graupel layer had resulted in multiple large naturals across the forecast area, I wanted to know its current stability at this location. Tests resulted in no propagation (ECTX) and no failure (CTN). On a shovel shear test, the weak layer did fail with moderate pressure (Q2/Q3). In addition to test results, no new signs of recent avalanche activity were found. Overall, this weak layer seems less reactive today in this area, compared to observations earlier this week.

 
Observation Location: Parks Creek summit area, Eddy Mountains
Elevation: 7,300 feet
Date: 20230401
Time: 1200
Observer: S. Clairmont
Sky Conditions: Obscured (X)
Current Precipitation: Type - SN, Rate - S-1
Air Temperature: 25 °F
Surface Penetration: Ski penetration (PS) = 6 in (15 cm)
24-hour New Snow Depth (HN24): 2 in (5 cm)
Wind Direction: W
Wind Speed: Light (L), 1-16 mi/hr, twigs in motion
Column & Block Tests:

Slope Angle & Aspect (30º, NW)
ECTX
Shovel shear failure, down 71 cm
Photos
Weather Observations
Statistics
Cloud Cover:
100% of the sky covered by clouds
Accumulation rate:
Less than 1 in. per hour
Air temperature:
Below Freezing
Air temperature trend:
Static