You are here
Wind and New Snow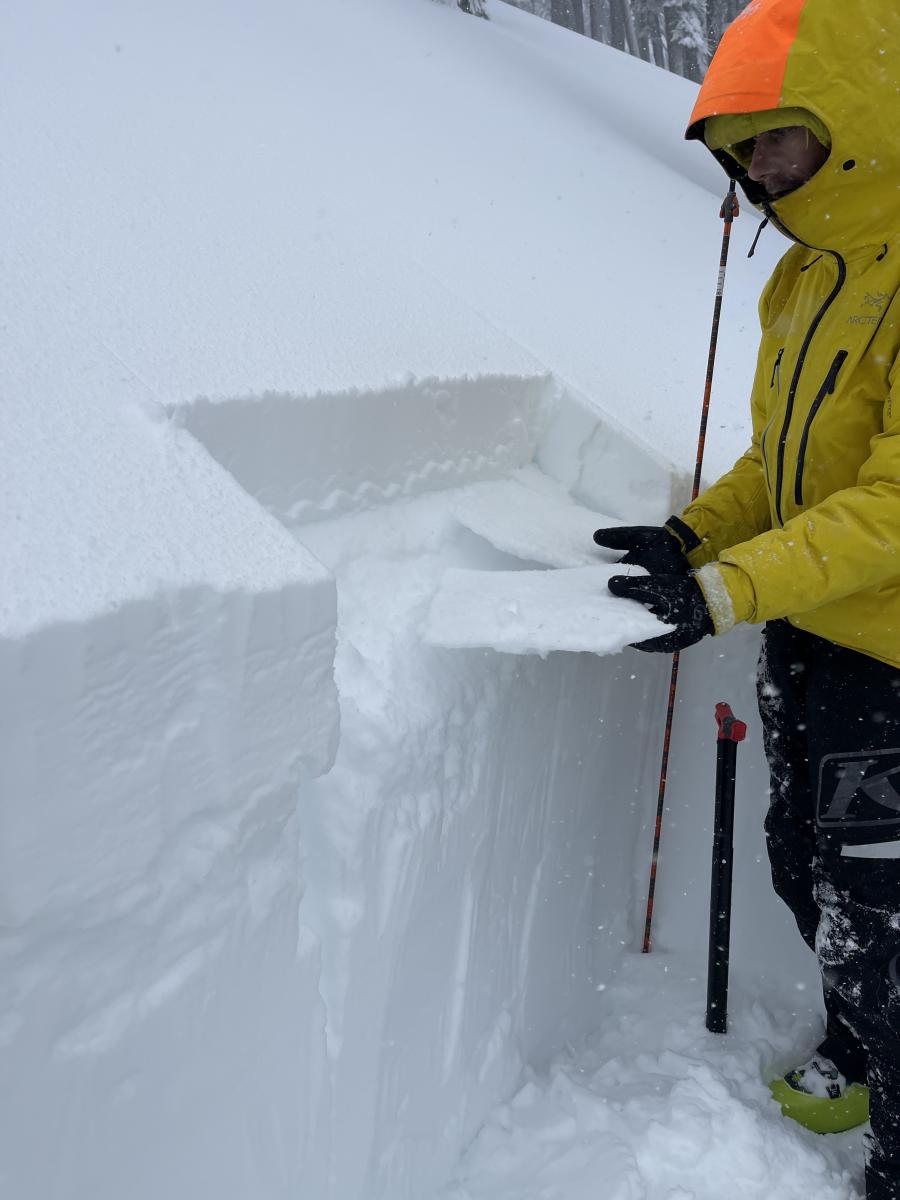 Location Name:
Gray Butte
Date and time of observation:
Wed, 01/04/2023 - 1:00pm
Observation made by:
Forecaster
Red Flags:
Recent loading by new snow, wind, or rain
Location Map
96067
Mount Shasta
,
CA
United States
41° 20' 57.7176" N, 122° 11' 33.8316" W
California US
Snowpack Observations
Details
Todays objective was to get on the mountain, assess current weather trends with the intensifying storm, and look for yesterdays observed surface crust with the new snow. Nick and I chose to go up to the summit of Gray Butte where we could observe N-S-E-W aspects. 

Leaving the parking lot at Mount Shasta Ski Park, it was snowing moderately with light winds out of the southeast. As we ascended near the summit of Gray Butte, winds elevated to moderate consistently out of the southeast. Small wind drifts and cornices became obvious at higher elevations. At the summit (near tree line terraij), southerly aspects were patchy with light new snow and old surface crust. Northerly aspects had significantly more snow with obvious wind transport texture. Cornices were growing over the west bowl of Gray Butte and the northeast aspect of the summit. There is likely to be crossloading on easterly aspects as well. 

After leaving the summit, a pit was dug in the west face of Gray Butte to assess the stability of new snow over the old surface crust (20230102). The pit was dug at an elevation of 7500 feet (below treeline), with a west aspect. we found 8 inches (20 cm) of new snow on top of the ~4mm surface crust, with old snow below. Upon performing an ECT, failure and full propagation occured on isolation of the column (Q1). Failure plane was directly on top of the old surface crust.
This ECT result could provide insight into what stability will be like in the backcountry these next few days. 
Observation Location: Gray Butte summit and west face. 
Elevation: 8100 feet
Date: 20230104
Time: 1300 
Observer: S. Clairmont and N. Meyers
Sky Conditions: Overcast (OVC)
Current Precipitation: Type - SN, Rate - S1
Air Temperature: 25°F
Total Snow Depth (HS): 67 in (170 cm)
24-hour New Snow Depth (HN24): 2 in (5 cm)
Wind Direction: SE
Wind Speed: Moderate (M), 17-25 mi/hr, small trees sway
Column & Block Tests:

Slope Angle & Aspect: 37º, W 
ECTPV ↓ 8 in (20 cm)
Photos
Videos
Weather Observations
Statistics
Cloud Cover:
100% of the sky covered by clouds
Accumulation rate:
Less than 1 in. per hour
Air temperature:
Below Freezing
Air temperature trend:
Static
Wind Direction:
Southeast