Mount Shasta Avalanche and Climbing Information
Welcome the Mt. Shasta avalanche and climbing information website.
September 28, 2023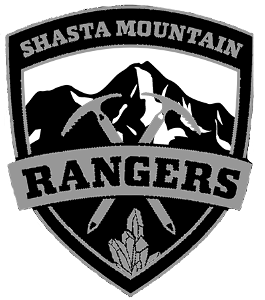 Greetings Team! Congrats... You have landed at the best place on the internet for Mount Shasta adventure information.
After a couple months of warm temps and dwindling snow, the upper elevations of Mount Shasta finally have a snowy appearance! With the change of seasons, climbers should expect a change of weather pattern. Temperatures on the upper mountain have begun to drop, and the summit is now consistently below freezing. There is snow on the ground above 9,000 feet, but dont be fooled, this is not enough snow to consider skiing. In fact, this snow will likely create more difficult climbing conditions in the coming days. Shallow snow on top of dirt and loose rock make slips and falls easier than ever. Clear Creek is the route most climbers are choosing this time of year.
Weather for the weekend will remain relatively unstable. No major storm system is on the  horizon, however, rain and snow at upper elevations will be possible throughout the weekend.There is a slight chance of thunderstorms on Friday night. Winds will be moderate to strong out of the north, slowly weakening by Sunday. Freezing levels will linger at 8,000 through the weekend.
Clear Creek is typically the go-to route for first time summit seekers this time of year. Again, conditions will be changing on this route come next week. Expect winter-like weather. A few inches of snow on top of loose scree can be tedious and slick to climb. An ice axe and crampons might be necessary. We also recommend using trekking poles, wearing a helmet for summit day, and having a sturdy pair of hiking boots. When collecting water from the Clear Creek spring, please be respectful of the surrounding alpine environment by keeping those lug sole boots on durable surfaces.
Mount Shasta is a 14,000 foot storm magnet. Do not underestimate it. If you start to see weather approaching, stop climbing and reassess the hazard. Some routes remain climbable, although snow coverage is virtually nonexistent. Climbers should plan on walking on rock and dirt for the majority of Mount Shasta, until next week that is.
If aspiring to climb the mountain, plan ahead and prepare by: Carry a GPS or navigation device you are familiar with. Have a solid understanding of where you are traveling before setting out. Tell someone where you are going. Pack the appropriate gear and layers for the weather. Nights in the Fall are getting cold. Do not rule out the risk of rock fall in steep terrain and bring a helmet. As always, respect the environment and do your part in leaving-no-trace. Pack it in, pack it out. Leave the mountain better than you found it.  
Glaciated routes are displaying exposed ice, rock, and crevasses. Snow bridges are becoming weak. Climbing remains possible for those properly skilled and equipped. Most of the remaining snow fields sit above large boulder fields where a slip and fall without self-arrest can be ugly, if not fatal. Please do your part in recreating responsibly. 
The current weather and seasonal trends create risk of specific hazards that you should consider:
1. Rockfall: Rockfall is a common occurrence on the upper mountain of Mount Shasta, resulting in multiple injuries this season. As you travel on the upper mountain, be cognizant of the loose rock around you. Anything you dislodge could hit a climber below. Keep your head up and wear a helmet.  
2. Glaciers: Warm temperatures are melting glacial routes. Snow bridges are weakening daily, and crevasse fall is a concern. If you are climbing a glaciated route, your best bet is to start during the coldest temperatures to increase the stability of these bridges. Glacier travel means having a rope team rigged for crevasse rescue, carrying a probe, and glissading with extreme caution.
3. Slips and Falls: This can happen on any steep snow or rock slope on Mount Shasta. With new snow blanketing the rock and dirt up high, taking a nasty fall is easier than ever. Know how to properly self-arrest when traveling on snow.
For lingering Avalanche Gulch climbers, the standard route from Helen Lake is no longer a straightforward climb. Gaining the Red Banks from the Left or Right of the Heart will involve increased exposure and technical scrambling amongst loose rock in steep terrain. This route is NOT RECOMMENDED until next season. Aspiring climbers need excellent route navigation and technical ability if choosing to climb.      
Short Hill and Misery Hill are fully melted out, with only rock exposed. Walk with caution while traversing to Short Hill. The rock in this area is very loose and could fall on other climbers below. Build yourself a margin of safety by climbing early and setting yourself a turnaround time of noon or earlier. Do not climb into bad weather and have the skills and knowledge needed for the route. Always carry navigation tools and know how to use them.
Housekeeping:
Camping at Lake Helen: This route is not recommended. If you must go, camp on the dirt sites. Remember to pee and/or use your wag bag on the far east side of the Helen Lake moraine. Collect snow for water uphill, to the north of camp. Thousands of climbers camp here; cleanliness will prevent illness! On another note, wind can often be very strong around camp and the upper mountain. Anchor your tent well. Before heading up the mountain, walk through your camp and collect any micro trash left behind.  We greatly appreciate your help in maintaining the natural and cultural integrity of this landscape.
Self-Care: Sun exposure is intense. Snow blindness is a thing. Keep your skin covered and apply sunscreen liberally and often to any exposed skin. Wear DARK sunglasses and a hat.
Human Waste: We have been finding it on the mountain. Remember, you are required to pack out your waste within the Mount Shasta Wilderness area. If a Climbing Ranger catches you leaving human waste on the mountain, you will receive a federal citation. Be sure to bring up a wag bag, provided FREE at all trailheads. Moreover, we can all agree that encountering free-range human feces is gross!
View Full Report
News & Announcements

Upcoming Events
Support the Mount Shasta Avalanche Center