You are here
Avalanche Advisory for 2018-03-02 06:23
EXPIRED ON March 3, 2018 @ 6:23 am

Published on March 2, 2018 @ 6:23 am
Issued by Nick Meyers - Shasta-Trinity National Forest
A WINTER STORM WARNING issued by the NWS Medford continues and is in effect until 4 AM PST Saturday. Wind slabs, storms slabs and/or cornice fall avalanche problems are likely. Travel in or below avalanche terrain is not recommended. If you are able to make it into the backcountry today, travel on slopes less than 30 degrees without expsoure to steeper terrain above. Poor visibility could make navigation difficult.

Avalanche Problem 1: Wind Slab
Certain

Very Likely

Likely

Possible

Unlikely

Historic

Very Large

Large

Small
Wind Slabs are most reactive during a wind/storm event and the first day or two after it has ended.in features. Look for convex pillows of wind-drifted snow on the NW-N-NE-E-SE aspects of ridges and other terrain features. The wind slab may have a chalky look and feel. Wind slabs can be very hard, and may present a hollow drum like sound as you traverse across slope.  Avoid by sticking to sheltered or wind-scoured areas.
Avalanche Problem 2: Cornice
Certain

Very Likely

Likely

Possible

Unlikely

Historic

Very Large

Large

Small
Cornices develop whenever snow is available for transport and the wind is sufficiently strong to move the snow. Cornices form on the downwind (leeward) side of sharp terrain features. Ridges above treeline are the most common locations. Weather and terrain awareness are the best tools for recognizing potential cornice problems. Cornices can never be trusted; avoiding them is necessary for safe backcountry travel. While moving along ridge lines, stay well back from areas with cornice formation.
Avalanche Problem 3: Storm Slab
Certain

Very Likely

Likely

Possible

Unlikely

Historic

Very Large

Large

Small
Storm Slabs form in sheltered areas where new snow falls with light winds. They can occur on any steep open slope, and are often found on several aspects at the same time. They are easiest to trigger during periods of heavy snow and typically stabilize within a day or two after the storm cycle has ended. Natural activity on indicator slopes are often the best clues that a Storm Slab problem exists. Reduce your risk from storm slabs by waiting a day or two after a storm before venturing into steep avalanche terrain.
Advisory Discussion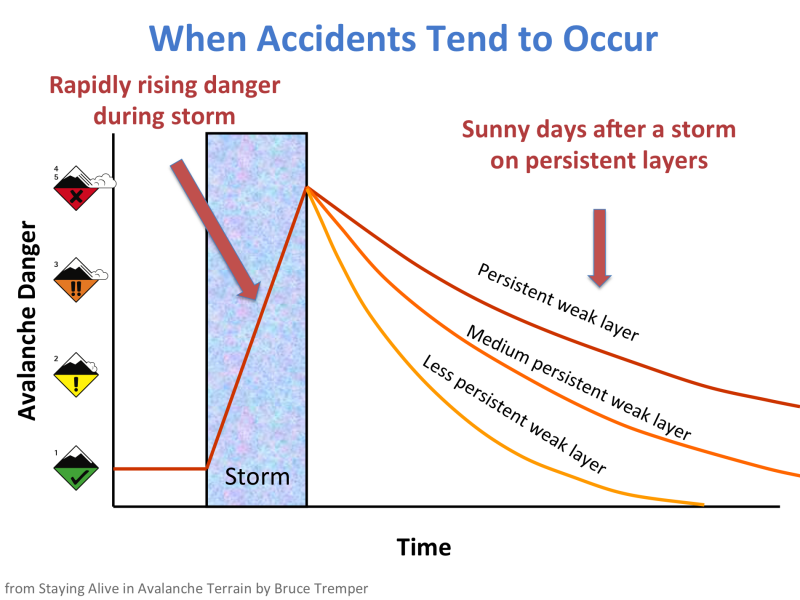 This graph illustrates our situation well with the spike in avalanche danger in relation to a storm. We are still in the midst of a strong winter storm that is bringing rapid snow accumulation and high winds. Until the snow settles out, the avalanche danger will remain elevated.
Recent Observations
The Everitt Memorial Highway and Castle Lake roads are closed as of yesterday afternoon.
Snowmobile allowed access up the 31 road to the powerline road, and up to Bunny Flat and the Old Ski Bowl
Snow measured at 1300-1400 hours: Bear Springs, 5,500 feet - 14" on bare ground / Bunny Flat, 6,950 feet - 17 inches / Old Ski Bowl, 8,000 feet - 21 inches.
Visibility was very poor with periods of light to moderate snow. Strong, gusty winds observed near and above treeline.
Warming period during the day made for moist surface snow below 6,500 feet. Above, snow was dryer. Temperature at Bunny Flat was 25 deg F at 1345 hrs.
Most new snow below 6,500 feet sits on bare ground.
Unable to observe above treeline terrain due to whiteout conditions. One report from local sledders observed "giant wind formations".
Stability tests at a 8,100 foot, low angle test pit location revealed nothing notable. New snow is right side up. Observed two density changes at 30cm and 45cm down from surface. Any layers of concern for storm or wind slab avalanches will lie within new snow or at old snow/new snow interface.
From the Mt Shasta Ski Park: 18-24 inches of loaded snow on top of an ice bed layer crusted with dirt on the east side of Coyote. The cornice is developing and more wind exposed areas are forming a firm slab. Winds variable, 15-45 mi/hr, SW. Temp: 25 def F at 1045 hrs.
Weather and Current Conditions
Weather Summary
A WINTER STORM WARNING remains in effect from 10AM this morning to 4AM PST Saturday. An upper low will bring continued cold and showery winter weather into Saturday. Gusty winds will sustain on Mount Shasta, near and above treeline. For the weekend, showers may linger into Saturday and diminish Sunday. Conditions begin to dry out for early next week. The next system is poised to arrive on the west coast around Wednesday or Thursday, bringing moderate precipitation.
24 Hour Weather Station Data @ 4:00 AM
Two Day Mountain Weather Forecast
Produced in partnership with the Medford NWS
For 7000 ft to 9000 ft
Friday
Friday Night
Saturday
Weather
Breezy. Mostly cloudy. Snow showers likely this morning, then snow showers this afternoon. Chance of snow 80 percent.
Snow showers. Chance of snow 90 percent.
Chance of snow showers in the morning, then snow showers likely in the afternoon. Chance of snow 60 percent.
Temperature (°F)
22
17
25
Wind Direction
S
S
S
Wind Speed (mi/hr)
15-20 mi/hr
10-15 mi/hr
5-10 mi/hr
Expected Snowfall (in)
3-7
3-7
2-3
For 9000 ft to 11000 ft
Friday
Friday Night
Saturday
Weather
Snow showers. Windy. Chance of precipitation is 80%.
Snow showers. Windy Chance of precipitation is 90%.
Snow showers likely. Mostly cloudy and cold. Chance of precipitation is 60%.
Temperature (°F)
6
5
6
Wind Direction
SW
SW
W
Wind Speed (mi/hr)
30-40 mi/hr
20-30 mi/hr
10-20 mi/hr
Expected Snowfall (in)
4-8
4-8
2-4
Season Precipitation for Mount Shasta City
Period
Measured (in)
Normal (in)
Percent of Normal (%)
From Oct 1, 2017 (the wet season)
11.97
29.76
40
Month to Date (since Dec 1, 2018)
1.08
0.26
415
Year to Date (since Jan 1, 2018)
6.14
14.55
42
Disclaimer
This advisory does not apply to Ski Areas or Highways and is for the Mount Shasta, Castle Lake and Mount Eddy backcountry. Use this information for guidance only. You may find different conditions in the backcountry and should travel accordingly. This advisory expires on midnight of the date it was posted unless otherwise noted.