You are here
Avalanche Advisory for 2018-03-28 05:19
EXPIRED ON March 29, 2018 @ 5:19 am

Published on March 28, 2018 @ 5:19 am
Issued by Aaron Beverly - Mount Shasta Avalanche Center
Avalanche danger is LOW at all elevations. Melt-freeze cycles have begun. Exercise normal caution and watch for small isolated wind slabs above treeline and loose wet activity near and below treeline. Be wary of falling rime ice.
Avalanche Problem 1: Normal Caution
Certain

Very Likely

Likely

Possible

Unlikely

Historic

Very Large

Large

Small
Generally safe avalanche conditions exist in the backcountry. LOW avalanche danger does not mean NO avalanche danger:
Wind continued to blow snow above treeline yesterday. Watch for small isolated wind slabs on SW-SE aspects where areas of drifting have occurred and firm layers of surface snow overlie softer layers.
Warm weather and solar radiation may cause small loose wet avalanches on S/E facing slopes. To avoid, travel when the snow surface is colder and stronger. Plan your trips to avoid crossing on or under very steep sunlit slopes.
Small cornices exist on easterly aspects. Increasing temperatures may weaken these causing them to fall. Avoid traveling on top or below them.
Advisory Discussion
Melt-freeze cycles are beginning. Corn snow will soon follow. Overall snowpack stability is good and will increase throughout the week.
There is plenty of rime ice caked on crags and cliffs near ridgetops (Red Banks and Trinity Chutes). Warming temperatures and solar radiation may cause this ice to dislodge. If climbing near these areas, stay vigilant, wear a helmet, and be practiced in your skills of dodgeball.
Recent Observations
Yesterday's high reached 53 degrees at the Old Ski Bowl. Gray Butte continues to report light variable winds, though strong N-NE winds were observed above treeline. Some wind transport of snow was seen towards S-SW aspects, though no wind loading or wind slabs were observed. Blowing snow was sublimating. Sastrugis predominate snow surfaces above treeline in the Old Ski Bowl. See picture below.
Roller balls were observed near and below treeline on steep sun exposed aspects.
Moist snow surfaces down at least 5 cm (2 in) were encountered up to 9500 ft on Mount Shasta.
Height of snow around Castle Lake is 25-65 cm (10-25 in). Middle Peak offers a usable snowpack to an optimistic skier. Travel over lake ice is not recommended.
Snow Surface Conditions 9500 ft, Old Ski Bowl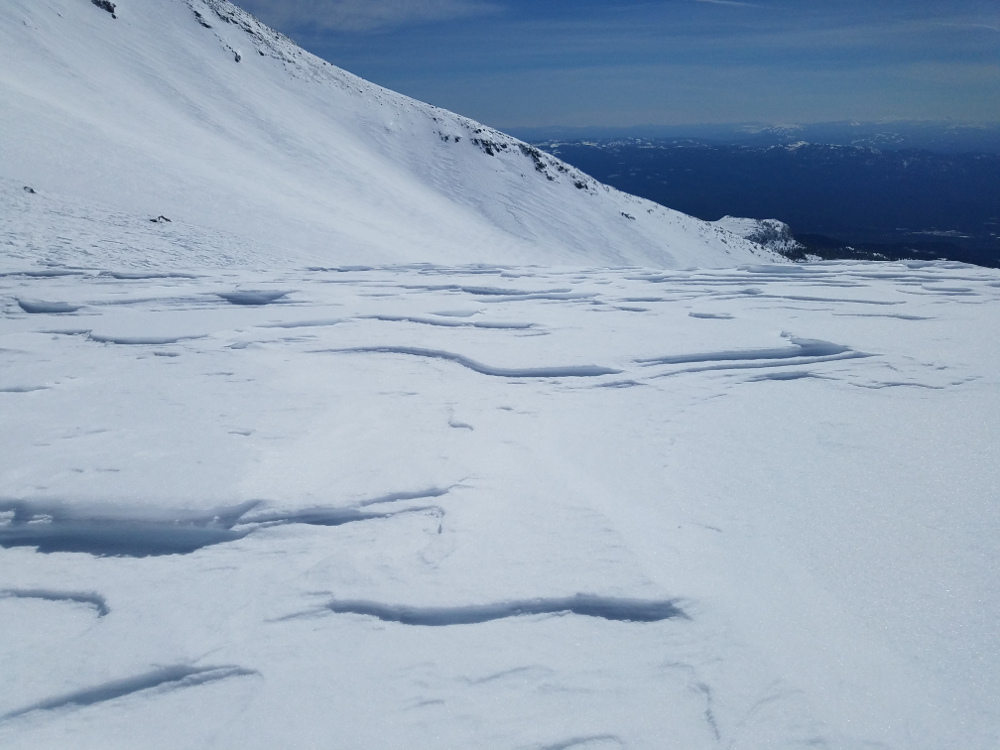 Weather and Current Conditions
Weather Summary
Late spring-like conditions will continue through the weekend. Expect daily highs to be in the 50's and nightly lows to be near freezing at 7000 ft. Above treeline today, N winds will average 20-25 mi/hr.
The ridge of high pressure impacting Northern California should begin breaking up early Saturday setting things up for more precipitation next week.
24 Hour Weather Station Data @ 5:00 AM
Two Day Mountain Weather Forecast
Produced in partnership with the Medford NWS
For 7000 ft to 9000 ft
Wednesday
Wednesday Night
Thursday
Weather
Sunny.
Mostly clear.
Sunny.
Temperature (°F)
55
33
59
Wind Direction
N
N
N
Wind Speed (mi/hr)
5-10 mi/hr
5-10 mi/hr
5-10 mi/hr
Expected Snowfall (in)
0
0
0
For 9000 ft to 11000 ft
Wednesday
Wednesday Night
Thursday
Weather
Sunny.
Mostly clear.
Sunny.
Temperature (°F)
32
32
33
Wind Direction
N
N
NW
Wind Speed (mi/hr)
20-25 mi/hr
20-25 mi/hr
10-15 mi/hr
Expected Snowfall (in)
0
0
0
Season Precipitation for Mount Shasta City
Period
Measured (in)
Normal (in)
Percent of Normal (%)
From Oct 1, 2017 (the wet season)
15.95
34.93
46
Month to Date (since Oct 1, 2018)
5.06
5.43
93
Year to Date (since Jan 1, 2018)
10.12
19.72
51
Disclaimer
This advisory does not apply to Ski Areas or Highways and is for the Mount Shasta, Castle Lake and Mount Eddy backcountry. Use this information for guidance only. You may find different conditions in the backcountry and should travel accordingly. This advisory expires on midnight of the date it was posted unless otherwise noted.