You are here
Avalanche Advisory for 2018-03-29 05:34
EXPIRED ON March 30, 2018 @ 5:34 am

Published on March 29, 2018 @ 5:34 am
Issued by Nick Meyers - Shasta-Trinity National Forest
Avalanche danger is LOW at all elevations and aspects. Melt-freeze cycles are in the making. Exercise normal caution and watch for small, isolated wind slabs above treeline and loose wet activity near and below treeline. Be wary of falling rime ice on the upper mountain.
Avalanche Problem 1: Normal Caution
Certain

Very Likely

Likely

Possible

Unlikely

Historic

Very Large

Large

Small
Generally safe avalanche conditions exist in the backcountry. LOW avalanche danger does not mean NO avalanche danger:
Wind continued to blow snow above treeline yesterday in the AM hours. Watch for small isolated wind slabs on SW-SE aspects where areas of drifting have occurred and firm layers of surface snow overlie softer layers.
Warm weather and solar radiation may cause small loose wet avalanches on S/E facing slopes. To avoid, travel when the snow surface is colder and stronger. Plan your trips to avoid crossing on or under very steep sunlit slopes.
Small cornices exist on easterly aspects. Increasing temperatures may weaken these causing them to fall. Avoid traveling on top or below them.
Advisory Discussion
Mount Shasta has made a drastic swing toward Spring over the week. Birds are chirpin', bugs are hatchin', grasses are greenin' and by golly it has been warm out! It's that time of year when flip flops and brew dogs are a common site at local backcountry trailheads. It's also that time of year when anything goes: Hot and sunny days associated with loose wet avalanches could be followed by late season snow and/or rain with extreme wind and new wind slabs or storm slabs. It is true that Spring is the best time to climb the mountain as the days are longer, the avalanche danger and rockfall potential is low, and a melt/freeze snowpack in the making. The bottom line: Check the weather and be prepared for the possibility of winter conditions. Lastly, there is plenty of rime ice caked on crags and cliffs near ridgetops (Red Banks and Trinity Chutes). Warming temperatures and solar radiation may cause this ice to dislodge. If climbing near these areas, stay vigilant, wear a helmet.
Recent Observations
Yesterday's high reached 50 degrees F at 7,800 feet on Mount Shasta and overnight low's bottomed out at 36 degrees F. Gray Butte continues to report light & variable winds, though giant plumes of snow were visible from town, blowing off Casaval Ridge to the southeast in the early morning hours yesterday. Thus, wind transport of snow has been observed, but wind loading has been slim to none. Blowing snow was primarily sublimating. Sastrugi predominates snow surfaces above treeline. Soft snow conditions are the soup de jour below treeline. Expect to find transitional snow near treeline. Insignificant roller balls were observed near and below treeline on steep sun exposed aspects. Height of snow around Castle Lake is 25-65 cm (10-25 in). Middle Peak offers a usable snowpack to an optimistic skier. Travel over lake ice is not recommended.
Snow Surface Conditions 9500 ft, Old Ski Bowl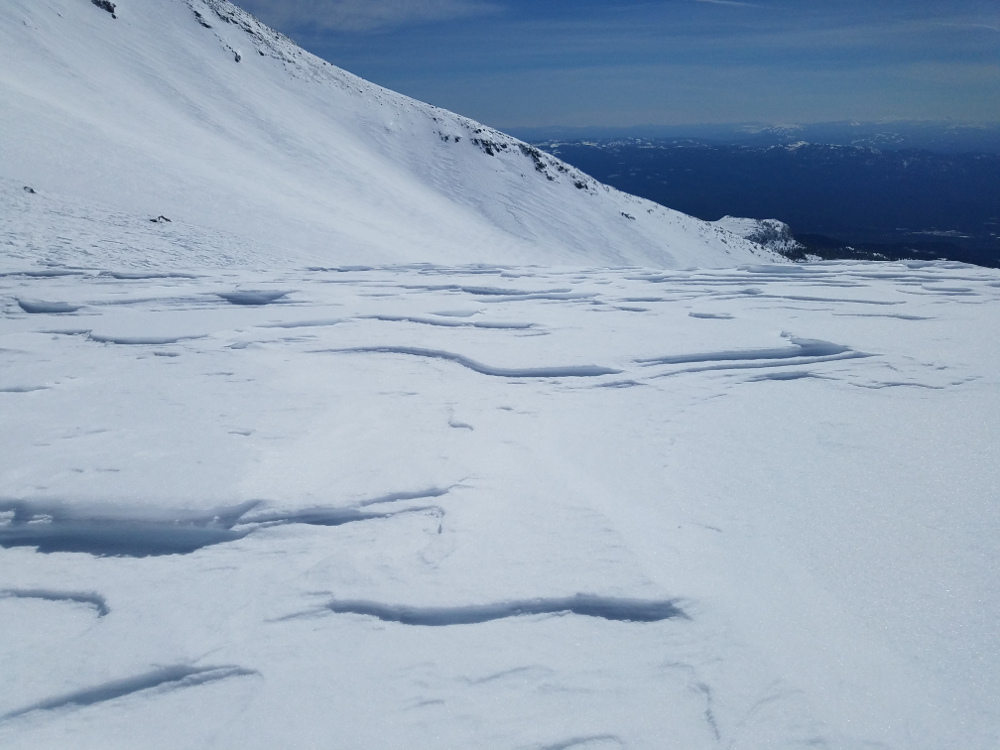 Weather and Current Conditions
Weather Summary
An area of high pressure builds offshore. Today will again be warmer than yesterday. This trend will continue for the rest of the week, and conditions will feel more like late spring than early spring. The weekend forecast remains a wild card as models conflict. Precipitation is doubtful and the most likely scenario is just a few degrees cooler temperatures. Next week, a pattern change could bring some April showers to the area. More on that as it plays out.
24 Hour Weather Station Data @ 4:00 AM
Two Day Mountain Weather Forecast
Produced in partnership with the Medford NWS
For 7000 ft to 9000 ft
Thursday
Thursday Night
Friday
Weather
Sunny.
Mostly clear.
Partly cloudy.
Temperature (°F)
59
37
58
Wind Direction
N
NW
W
Wind Speed (mi/hr)
0-5 mi/hr
0-5 mi/hr
0-5 mi/hr
Expected Snowfall (in)
0
0
0
For 9000 ft to 11000 ft
Thursday
Thursday Night
Friday
Weather
Sunny.
Mostly clear.
Partly cloudy.
Temperature (°F)
33
33
34
Wind Direction
N/NW
W/NW
W
Wind Speed (mi/hr)
10-15 mi/hr
5-10 mi/hr
5-10 mi/hr
Expected Snowfall (in)
0
0
0
Season Precipitation for Mount Shasta City
Period
Measured (in)
Normal (in)
Percent of Normal (%)
From Oct 1, 2017 (the wet season)
15.95
35.07
45
Month to Date (since Oct 1, 2018)
5.06
5.57
91
Year to Date (since Jan 1, 2018)
10.12
19.86
51
Disclaimer
This advisory does not apply to Ski Areas or Highways and is for the Mount Shasta, Castle Lake and Mount Eddy backcountry. Use this information for guidance only. You may find different conditions in the backcountry and should travel accordingly. This advisory expires on midnight of the date it was posted unless otherwise noted.