You are here
Avalanche Forecast for 2019-02-21 05:03
EXPIRED ON February 22, 2019 @ 5:03 am

Published on February 21, 2019 @ 5:03 am
Issued by Nick Meyers - Shasta-Trinity National Forest
A primarily stable and wind scoured snowpack will be found in the Mount Shasta backcountry. Keep on the watch for larger old wind slabs and smaller new slabs in steep terrain, partially protected from the wind. Areas where wind speeds have been the highest, expect firm, icy and potentially "slide-for-life" snow surfaces. Even though temperatures will remain cold, beware of falling rime ice during sunny days. North wind will persist with frigid wind chill near and above treeline.
Avalanche Problem 1: Wind Slab
Certain

Very Likely

Likely

Possible

Unlikely

Historic

Very Large

Large

Small
Northwest winds over the past two days have really done a number to our former powder paradise. Soft to firm wind slabs, large cornices, wind scoured surfaces and huge, wild snow drift sculptures remain near and above treeline. Most remaining wind slabs should be difficult to trigger, but some human-triggered wind slabs may still remain possible today. Unsupported slopes, gullies, couloirs, cliffy areas and other complex or extreme terrain represent the best places to find a lingering wind slab. Yesterdays couple inches of new snow may provide for fresh wind slabs today, but these should remain small in most places due to the limited amount of new snow.
Identify specific terrain where wind slabs may exist
Use clues like blowing snow, cornices above a slope, firm/hollow sounding snow and other wind created textures.
Soft, more consistent snow can be found in northerly and/or shaded/protected areas, hosting the best recreation conditions and fewer chances for encountering wind slabs and/or firm, scoured surfaces.
Forecast Discussion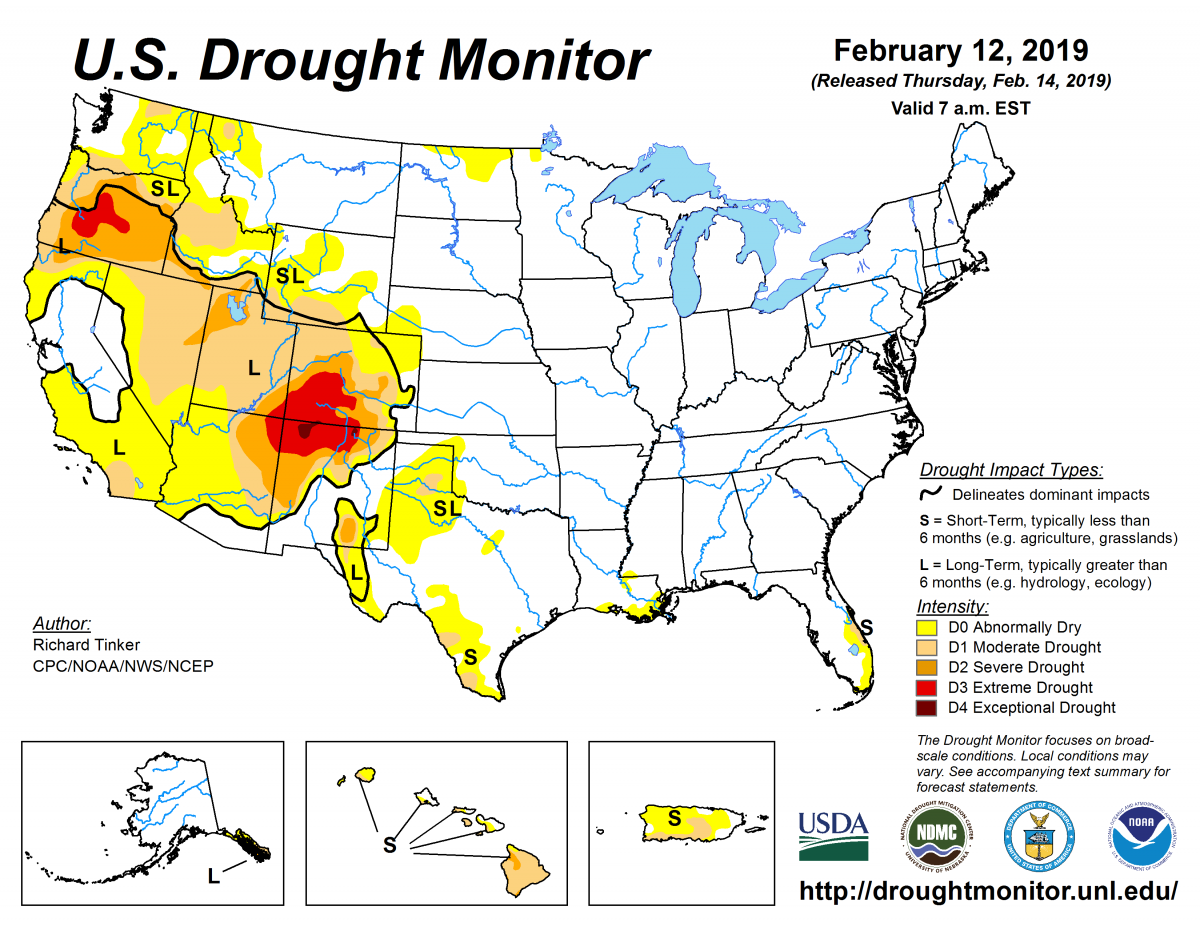 Additional climate information can be found at the NWS Climate Predication Center: https://www.cpc.ncep.noaa.gov/
Recent Observations
Snow flurries is an appropriate way to describe yesterday's weather. Below treeline, periods of rather pleasant, light snowfall fell periodically throughout the day with minimal accumulation. Early afternoon at Bunny Flat, only about a quarter to half inch of new snow was measured. And then near dark, the heavens fell down and a short period of heavy snowfall blanketed town and the surrounding hills with a couple inches of fresh snow. On the mountain, it's been windy. Nearly two days of incessant northwesterly wind, averaging 15 mi/hr with gusts to 55 mi/hr has been recorded on Gray Butte, 8,000 feet. Similar winds have been observed in Avalanche Gulch and off all ridgelines near and above treeline.

Snow surfaces are standard Shasta variable. You'll get a bit of everything out there from protected powder pockets, wild wind drifts, scoured and hard, breakable and insert any other word you like here to describe less than ideal surface conditions.

On Mount Shasta recently:
Small, minor skier triggered cracking and dinner plate size chunks of slab breaking off in low angle terrain
Firm slab surfaces with hollow snow below felt with ski poles near treeline
Ongoing wind transport of snow near ridgelines
No major signs of slab instabilities
Weather and Current Conditions
Weather Summary
Take the time to re-group after that fantastic couple weeks of cold temperatures, fresh snow and powder in your face. No bad news for winter enthusiasts...a short break in the winter action begins today, before more on the way. Despite clear skies, north/northwesterly wind and frigid temperatures will keep things feeling wintery as the next system approaches. Our short lived break will end this weekend with the weather becoming active again starting Friday afternoon.  Additional rain and snow are in the making with a notable atmospheric river for Sunday. No promises on this one...we'll have to see how it shapes up, but don't plan on any spring related activities yet. For today...clear, cold and windy in higher terrain.
24 Hour Weather Station Data @ 4:00 AM
Two Day Mountain Weather Forecast
Produced in partnership with the Medford NWS
For 7000 ft to 9000 ft
Thursday
(5 a.m to 11 p.m.)
Thursday Night
(11 p.m. to 5 a.m.)
Friday
(5 a.m to 11 p.m.)
Weather
Isolated snow showers before 10am, becoming mostly sunny
Mostly clear
Mostly sunny
Temperature (°F)
23
10
29
Wind (mi/hr)
North 10-15
North 5-10
North 5-10
Precipitation SWE / Snowfall (in)
/ 0
/ 0
/ 0
For 9000 ft to 11000 ft
Thursday
Thursday Night
Friday
Weather
Isolated snow showers before 10am becoming mostly sunny and cold
Mostly clear, windy
Mostly sunny, windy
Temperature (°F)
6
6
16
Wind (mi/hr)
North 25-35
North 0
North 15-25
Precipitation SWE / Snowfall (in)
/ 0
/ 0
/ 0
Season Precipitation for Mount Shasta City
Period
Measured (in)
Normal (in)
Percent of Normal (%)
From Oct 1, 2019 (the wet season)
21.76
27.33
80
Month to Date (since Apr 1, 2020)
7.83
5.06
155
Year to Date (since Jan 1, 2020)
13.35
12.12
110
Disclaimer
This forecast does not apply to Ski Areas or Highways and is for the Mt. Shasta, Castle Lake and Mt. Eddy backcountry. Use this information for guidance only. You may find different conditions in the backcountry and should travel accordingly. This forecast expires on midnight of the date it was posted unless otherwise noted.