You are here
Avalanche Forecast for 2019-02-22 06:11
EXPIRED ON February 23, 2019 @ 6:11 am

Published on February 22, 2019 @ 6:11 am
Issued by Nick Meyers - Shasta-Trinity National Forest
Expect variable snow surfaces and low avalanche risk for Mount Shasta and local area backcountry today. The avalanche danger is low for all elevations and aspects. Use normal caution. Keep your head up for isolated wind slabs in some terrain as well as icy ridgelines and falling rime ice at upper elevations. Fresh snow and W/SW wind will increase throughout the weekend. Expect rising avalanche danger over the coming days.
Avalanche Problem 1: Normal Caution
Certain

Very Likely

Likely

Possible

Unlikely

Historic

Very Large

Large

Small
Use the ideas of normal caution to safely navigate the winter landscape today.
Ski and ride one at a time in avalanche terrain. Limit the number exposed to a potential avalanche.
Don't regroup in avalanche paths or in run out zones. Stay out of harm's way.
Identify areas of concern and avoid them if necessary.
Don't expose other to risk.
Carry rescue equipment (beacon, shovel and probe) and know how to use them. Practice!
Remaining wind slabs and cornices along ridgelines have been difficult to trigger and remain unlikely. Regardless, keep an eye out and use normal caution. Unsupported slopes, gullies, couloirs, cliffy areas and other complex or extreme terrain represent the best places to find a lingering wind slab. If in doubt, bail out!
Forecast Discussion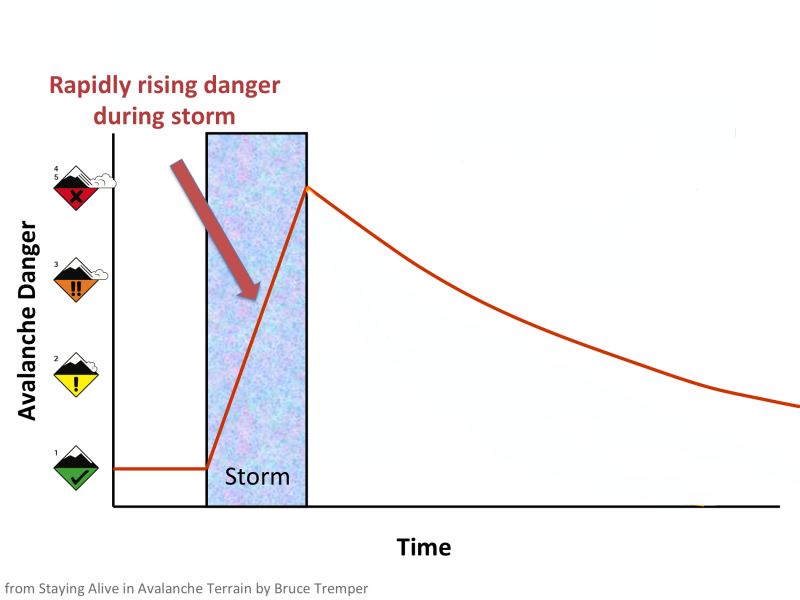 Low danger will continue today. With an incoming storm hosting heavy snow and wind this weekend, we know your inner powder hound is barking...just be sure to heel to rising avalanche danger, or stay on the porch. Woof, woof.

 
Recent Observations
Yesterday was clear and blue, a holdover day with not much change in snow surfaces or avalanche risk. 
The road continues to be closed to Castle Lake, though one can skin up the 39N34 road from the gate. We expect the road to open soon.
Light to moderate and variable wind on Gray Butte
Strong wind at Castle Lake along ridgelines, blowing snow
Variable snow surfaces: firm and scoured, wind packed powder, dust on crust, soft powder in protected areas
No signs of slab instabilities
Weather and Current Conditions
Weather Summary
Get ready folks, winter is far from over, at least for the foreseeable future. A crescendo of snow and wind can be expected into the weekend as the region switches back over into an active and wet weather pattern.  An atmospheric river has been mentioned in weather discussions and depending on snow levels, can be a blessing or curse for winter recreation. For this liquid stream moving in Sunday, temps appear to be modest and snow levels should check in around 3,000 to 4,000 feet. Not to shabby. Sunday through Tuesday, over 2.5 inches of water is forecast, which means several feet of additional snow in the high country. Let's pump the brakes on all this for now, because it's Friday.  For today, mostly sunny skies will give way to increasing clouds this afternoon. Temps are a touch warmer than yesterday. Our north wind has died off and become light and variable, though not for long. Count on winds to line back up and increase out of the north today, swinging around to the west tonight and southwest tomorrow. 
24 Hour Weather Station Data @ 4:00 AM
Two Day Mountain Weather Forecast
Produced in partnership with the Medford NWS
For 7000 ft to 9000 ft
Friday
(5 a.m to 11 p.m.)
Friday Night
(11 p.m. to 5 a.m.)
Saturday
(5 a.m to 11 p.m.)
Weather
Mostly sunny
Partly cloudy, increasing clouds
Chance of snow, mostly cloudy. Increasing snow and wind into Sunday
Temperature (°F)
29
17
28
Wind (mi/hr)
North 5-10
West 5-10
Southwest 5-10
Precipitation SWE / Snowfall (in)
/ 0
/ 0
/ 1-3
For 9000 ft to 11000 ft
Friday
Friday Night
Saturday
Weather
Mostly sunny, windy
Partly cloudy, increasing clouds, windy
Chance of snow, mostly cloudy, increasing snow and wind into Sunday.
Temperature (°F)
16
14
15
Wind (mi/hr)
North 20-30
Northwest 0
West 20-30
Precipitation SWE / Snowfall (in)
/ 0
/ 0
/ 2-4
Season Precipitation for Mount Shasta City
Period
Measured (in)
Normal (in)
Percent of Normal (%)
From Oct 1, 2019 (the wet season)
21.81
27.60
79
Month to Date (since Apr 1, 2020)
7.88
5.33
148
Year to Date (since Jan 1, 2020)
13.40
12.39
108
Disclaimer
This forecast does not apply to Ski Areas or Highways and is for the Mt. Shasta, Castle Lake and Mt. Eddy backcountry. Use this information for guidance only. You may find different conditions in the backcountry and should travel accordingly. This forecast expires on midnight of the date it was posted unless otherwise noted.