You are here
Avalanche Forecast for 2019-03-14 05:53
EXPIRED ON March 15, 2019 @ 5:53 am

Published on March 14, 2019 @ 5:53 am
Issued by Nick Meyers - Shasta-Trinity National Forest
Natural and human-triggered avalanches are unlikely. Watch for unstable snow in isolated terrain. Exercise normal caution.
Rime ice is plastered onto many trees below and near treeline, and onto exposed rocks in the alpine. Sunny days will allow rime to cut loose onto unsuspecting skiers and climbers below. Stay out from underneath rime plastered trees and exposed, rocky ridgelines during the warmest time of the day. A helmet is always a good idea.
Avalanche Problem 1: Normal Caution
Certain

Very Likely

Likely

Possible

Unlikely

Historic

Very Large

Large

Small
Natural and human-triggered avalanches are unlikely. Always watch for unstable snow in isolated areas and/or extreme terrain. Strong, easterly winds will die off and become light with moderate gusts. Exercise normal caution:
Have a plan, but be able to adjust based on the conditions you meet and the skills you have.
Wear a helmet if below rime plastered rocks. Large chunks of rime can cause serious injury.
Travel one at a time on and below steep slopes.
Bring the gear and skills necessary for avalanche rescue.
Forecast Discussion
It's the middle of March, the sun is gaining traction higher in the sky and the spring corn season is right around the corner. We may see our first harvest over the next several days. It won't be long before it's necessary to start thinking about loose-wet related avalanche instabilities. For the moment, overhead hazard in the form of falling rime ice is a concern on these warm, sunny days. All rock features on the mountain are completely plastered in rime ice. Below treeline, we've observed some impressive rime plastered trees. Expect rime chunks to come raining down from above in the near future.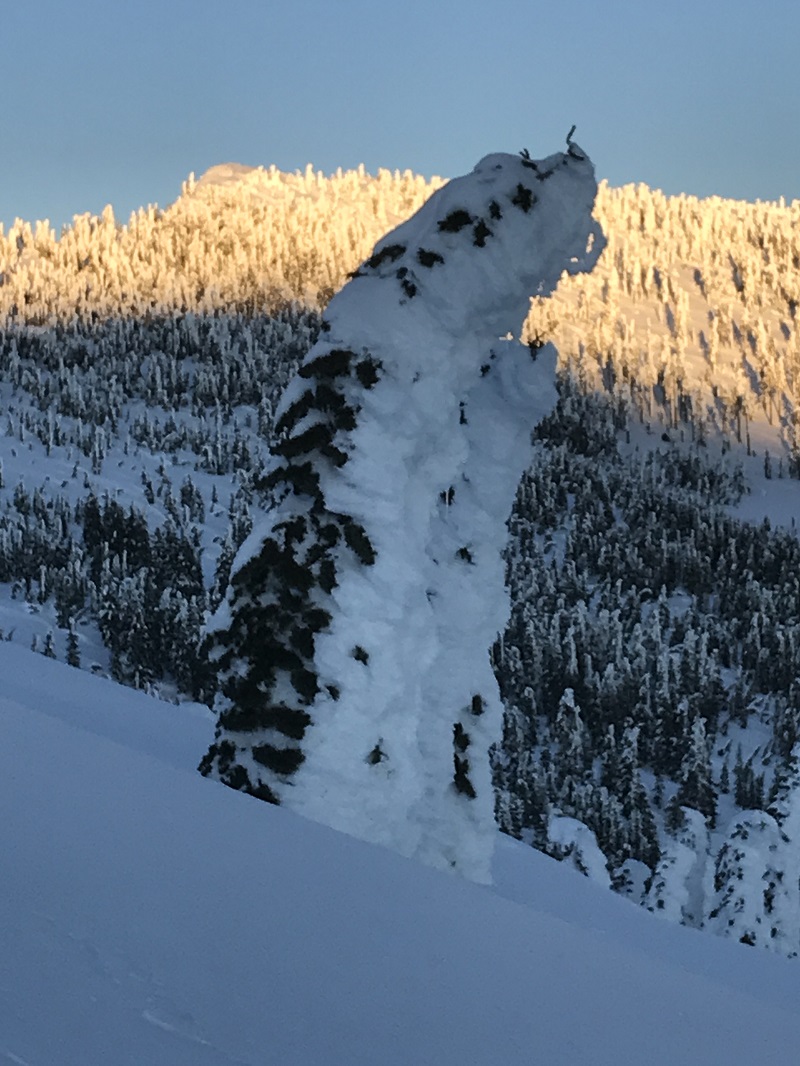 Incredible rime formations, up to 2 feet thick, are plastered onto trees and rocks.  During warm, sunny days, these chunks will begin to crumble. [Photo: N Meyers, 3.13.19]
Recent Observations
Mother nature has indeed sowed us a bountiful corn harvest, but for now, we must wait. Sun and wind has been taking a toll on our once fresh powder snow. Indeed some will find soft, powder like surfaces near and below treeline on shadier aspects. It won't take long above treeline to get into wind affected and variable sastrugi features. Southerly slopes have been cooked, blown and capped by a half inch thick breakable crust that was widespread out east of Mount Shasta yesterday. Rime plastered trees were a sight to be seen, ghostly remnants of brutal storms past. Avalanche danger was difficult to come by despite high winds over exposed terrain.

In the last 24 hours at 8,000 feet on Mount Shasta:
Temp Avg: 20.5 deg F / Temp Max: 28.5 / Temp Min: 11
Wind Avg: 5 mi/hr / Wind Max: 25 / Wind Min: 2
Weather and Current Conditions
Weather Summary
Today is going to be a nice day characterized by calm winds and full sun.  High pressure will host a dry forecast through Tuesday afternoon next week. Daytime high temperatures will crescendo each day throughout the weekend. Easterly winds will remain light, with moderate gusts. 
24 Hour Weather Station Data @ 3:00 AM
Two Day Mountain Weather Forecast
Produced in partnership with the Medford NWS
For 7000 ft to 9000 ft
Thursday
(5 a.m to 11 p.m.)
Thursday Night
(11 p.m. to 5 a.m.)
Friday
(5 a.m to 11 p.m.)
Weather
Mostly sunny
Partly cloudy
Sunny
Temperature (°F)
42
25
47
Wind (mi/hr)
Northeast 0-5
Northeast 0-5
Northeast 0-5
Precipitation SWE / Snowfall (in)
/ 0
/ 0
/ 0
For 9000 ft to 11000 ft
Thursday
Thursday Night
Friday
Weather
Mostly sunny
Partly cloudy
Sunny
Temperature (°F)
21
21
24
Wind (mi/hr)
Northest 5-10
East 0
East 0-5
Precipitation SWE / Snowfall (in)
/ 0
/ 0
/ 0
Season Precipitation for Mount Shasta City
Period
Measured (in)
Normal (in)
Percent of Normal (%)
From Oct 1, 2019 (the wet season)
31.74
32.59
97
Month to Date (since Apr 1, 2020)
2.21
3.09
72
Year to Date (since Jan 1, 2020)
23.33
17.38
134
Disclaimer
This forecast does not apply to Ski Areas or Highways and is for the Mt. Shasta, Castle Lake and Mt. Eddy backcountry. Use this information for guidance only. You may find different conditions in the backcountry and should travel accordingly. This forecast expires on midnight of the date it was posted unless otherwise noted.