You are here
Avalanche Forecast for 2019-03-15 06:07
EXPIRED ON March 16, 2019 @ 6:07 am

Published on March 15, 2019 @ 6:07 am
Issued by Nick Meyers - Shasta-Trinity National Forest
A combination of old powder, breakable crust and wind affected snow surfaces will be found in the Mount Shasta area backcountry. Natural and human-triggered avalanches are unlikely. Watch for unstable snow in isolated terrain. Exercise normal caution. Any climbers or skiers heading onto the upper mountain, watch for falling rime ice during the warmest time of day. Large tree bombs are also possible on your approach. Wear a helmet!
Avalanche Problem 1: Normal Caution
Certain

Very Likely

Likely

Possible

Unlikely

Historic

Very Large

Large

Small
Natural and human-triggered avalanches are unlikely. Always watch for unstable snow in isolated areas and/or extreme terrain. Winds have been light and variable with a few moderate gusts out of the E/NE over the past 24 hours. Exercise normal caution:
Have a plan, but be able to adjust based on the conditions you meet and the skills you have.
Wear a helmet if below rime plastered rocks. Large chunks of rime can cause serious injury.
Travel one at a time on and below steep slopes.
Bring the gear and skills necessary for avalanche rescue.
Forecast Discussion
The Spring Equinox is next week on Wednesday the 20th, when the Sun shines directly on the equator and the length of night and day are nearly equal -- 12 hours -- all over the world. Equinox, derived from Latin, means "equal night".  Start thinking about instabilities associated with springtime, such as loose-wet avalanches.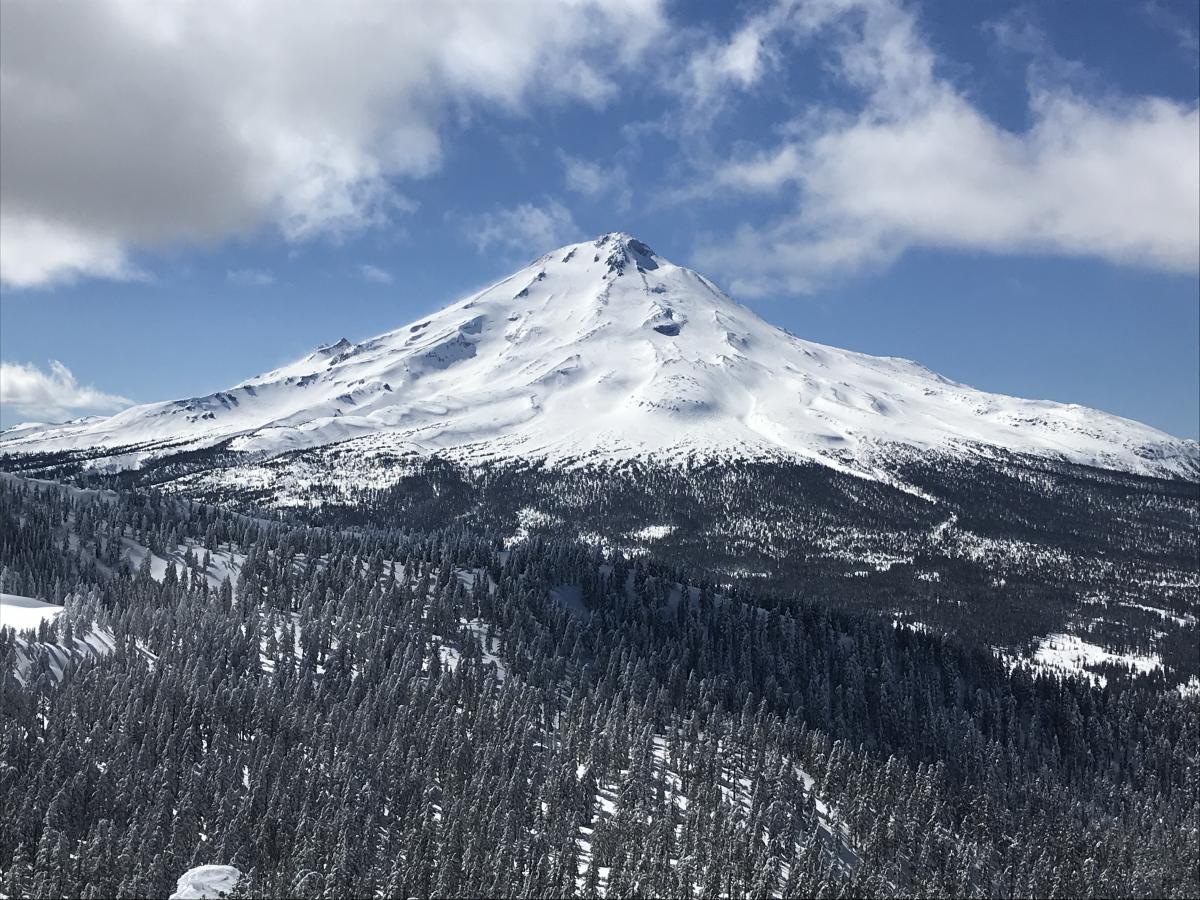 A shot of the east side. Access for climbers this spring will be delayed due to a deep winter snowpack. Miles of snow covered roads restrict access and either motorized assistance or a healthy set of legs will be necessary to get to the Clear Creek, Brewer Creek and Northgate trailheads in the foreseeable future. [Photo: Meyers]
Recent Observations
Deep snow from bountiful winter weather continues to settle out. Snowpack totals out there are DEEP. We still have 180 inches of snow on the ground at treeline on Mount Shasta and an average of 107 inches on the west side in the Eddies.  Recent days have hosted full sun and spring feels like it's knocking on the door. We have not observed or heard of any avalanche activity recently. Backcountry snow surfaces can be placed into one of three categories: lingering powder, breakable crust and/or wind hammered. Spring corn snow is still in the cooker and we might see southerly slopes ready for harvest in a couple days.  Trees and rocks above 7,500 feet continue to hold onto thick rime ice.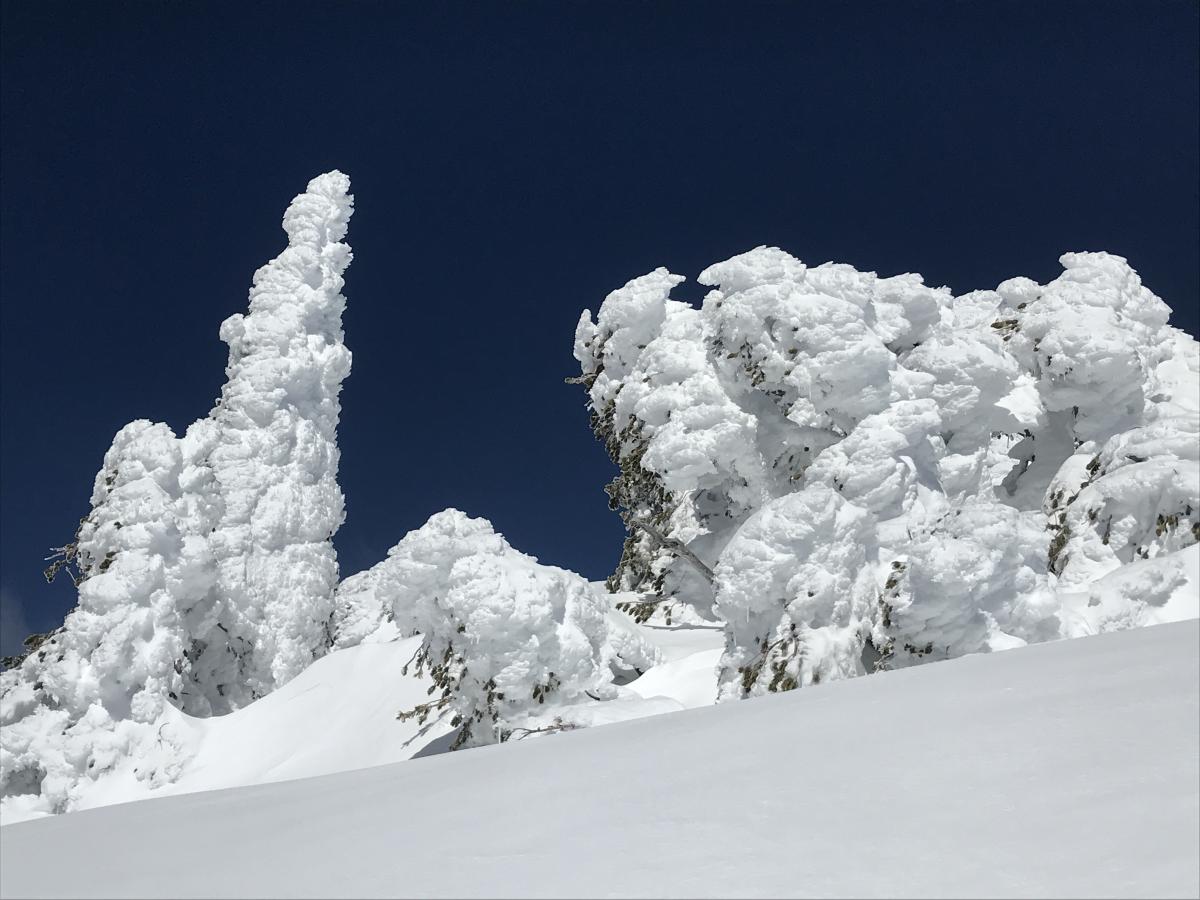 Rime ice forms when supercooled water droplets freeze onto surfaces (trees/rocks)/weather stations) below the freezing point (32 F). Because the droplets are small, they freeze almost instantly creating a mixture of tiny icy particles and trapped air. Rime is common on windward upper slopes of mountains that are enveloped by supercooled clouds. These rime deposits take the form of long plumes of ice oriented into the direction of the wind. Because of the rapid freezing of each individual supercooled droplet, there is relatively poor cohesion between neighboring ice particles and thus, may be easily shattered or bust loose from objects they form on. Rime is a problem when these large chunks fall off on warm days onto climbers and skiers below. [Photo: Meyers / Location: Ash Creek Butte]
Weather and Current Conditions
Weather Summary
All in all, it's going to be gorgeous this weekend. High and dry weather through Sunday with low level easterly flow is on tap. Winds will remain mostly calm and variable. Daytime high temps will rise by a degree or two each day through Monday and then begin to cool off. Our next best chance at precipitation will be next Tuesday evening or Wednesday.
24 Hour Weather Station Data @ 4:00 AM
Two Day Mountain Weather Forecast
Produced in partnership with the Medford NWS
For 7000 ft to 9000 ft
Friday
(5 a.m to 11 p.m.)
Friday Night
(11 p.m. to 5 a.m.)
Saturday
(5 a.m to 11 p.m.)
Weather
Sunny
Clear
Sunny
Temperature (°F)
47
23
49
Wind (mi/hr)
Northeast 0-5
East 0-5
North 0-5
Precipitation SWE / Snowfall (in)
/ 0
/ 0
/ 0
For 9000 ft to 11000 ft
Friday
Friday Night
Saturday
Weather
Sunny
Clear
Sunny, breezy
Temperature (°F)
24
24
25
Wind (mi/hr)
Variable 0-5
South 0
Southwest 5-10
Precipitation SWE / Snowfall (in)
/ 0
/ 0
/ 0
Season Precipitation for Mount Shasta City
Period
Measured (in)
Normal (in)
Percent of Normal (%)
From Oct 1, 2019 (the wet season)
31.74
32.80
97
Month to Date (since Apr 1, 2020)
2.21
3.30
67
Year to Date (since Jan 1, 2020)
23.33
17.59
133
Disclaimer
This forecast does not apply to Ski Areas or Highways and is for the Mt. Shasta, Castle Lake and Mt. Eddy backcountry. Use this information for guidance only. You may find different conditions in the backcountry and should travel accordingly. This forecast expires on midnight of the date it was posted unless otherwise noted.