You are here
Avalanche Forecast for 2019-03-16 05:47
EXPIRED ON March 17, 2019 @ 5:47 am

Published on March 16, 2019 @ 5:47 am
Issued by Nick Meyers - Shasta-Trinity National Forest
Low danger continues for all elevations and aspects. Climbers, sliders and riders, watch out for falling rime ice from trees below and near treeline and from rocks above treeline. These chunks of ice are no joke. Wear a helmet and heads up!
Small loose-wet point releases, roller balls and pinwheels are possible during mid-afternoon hours on southerly facing slopes. Consequential avalanches are unlikely and normal caution is advised.
Avalanche Problem 1: Normal Caution
Certain

Very Likely

Likely

Possible

Unlikely

Historic

Very Large

Large

Small
Natural and human-triggered avalanches are unlikely today. Small, loose wet instabilities are possible on southerly facing slopes. Roller balls, pinwheels and/or small loose-wet slides might be encountered, but are not expected to be large enough to bury a person. Always watch for unstable snow in isolated areas and/or extreme terrain. 

Normal caution means:
Have a plan, but be able to adjust based on the conditions you meet and the skills you have.
Wear a helmet if below rime plastered rocks. Large chunks of rime can cause serious injury.
Travel one at a time on and below steep slopes.
If you see roller balls or pinwheels, it might be time to head on over to a different aspect.
Bring the gear and skills necessary for avalanche rescue.
Forecast Discussion
Expect another five star day in the backcountry today.  Apres ski parking lot celebrations and flip flops to ensue here soon. It's that time of year. Please remember to pick up your trash, your dog poop and be respectful toward the many different user groups one will find at the Bunny Flat trailhead. Skiers: Snowmobilers are allowed to be there too. Snowmobilers: Don't be a pit squid. Do your braaping away from Bunny Flat. Everyone: Looking for that Wilderness experience? It's not in the parking lot.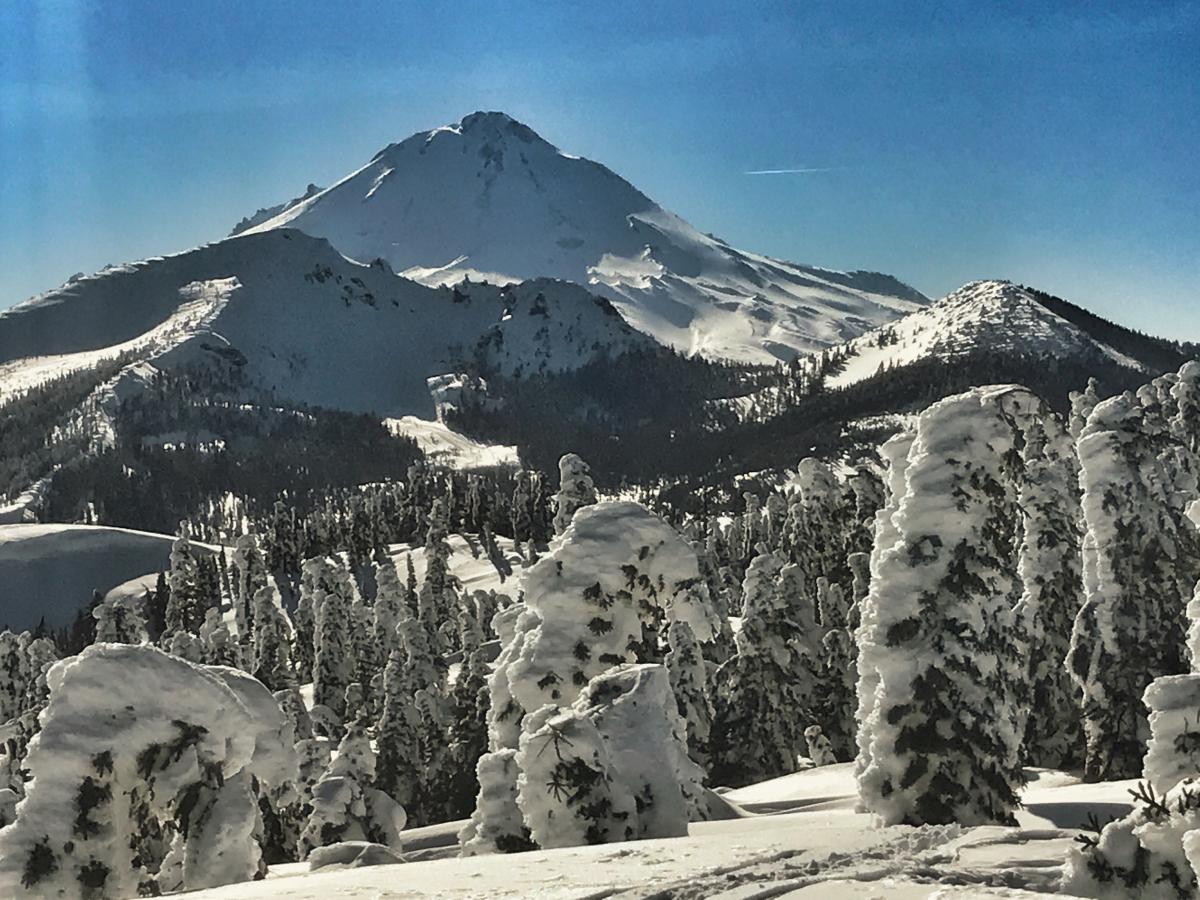 One of the finest views in the land! Looking toward Ash Creek Butte and the east side of Mount Shasta from a ridgeline along the northeast crest. The northeast crest is a geographical feature that extends from Mount Shasta towards Medicine Lake and holds deep, cold snow with groomed snowmobile trails for access along the way.  This area is part of the Tri-Forest Snowmobile Trail system. Get a free map of this area and upload with the Avenza App. [Photo: Meyers]
Recent Observations
Yesterday's weather was stellar. Candlelight ceremonies could have been held on ridgetops. Winds were calm and temps rose into the mid 40's F. The incessant storm snow of winter past continues to settle out by inches each day. Rime ice is actively releasing off trees and rocks, as well as heavy dripping during those warm portions of the day on southerly aspects. A few slopes out there are cooking up some decent, under ripe, mushy corn snow. Firm, wind packed snow still remains, as does a few areas of dryer powder in shady areas and some breakable crust here and there. In general, snow surfaces are smooth. A small, loose-wet point release was observed above treeline on Mount Shasta yesterday. Other than that, no other instabilities have been reported. Snow depths around the forecast area range from 100 to 180 inches of snow above 6,500 feet. Mount Shasta City is 96% of normal for precipitation during the wet season, October through April.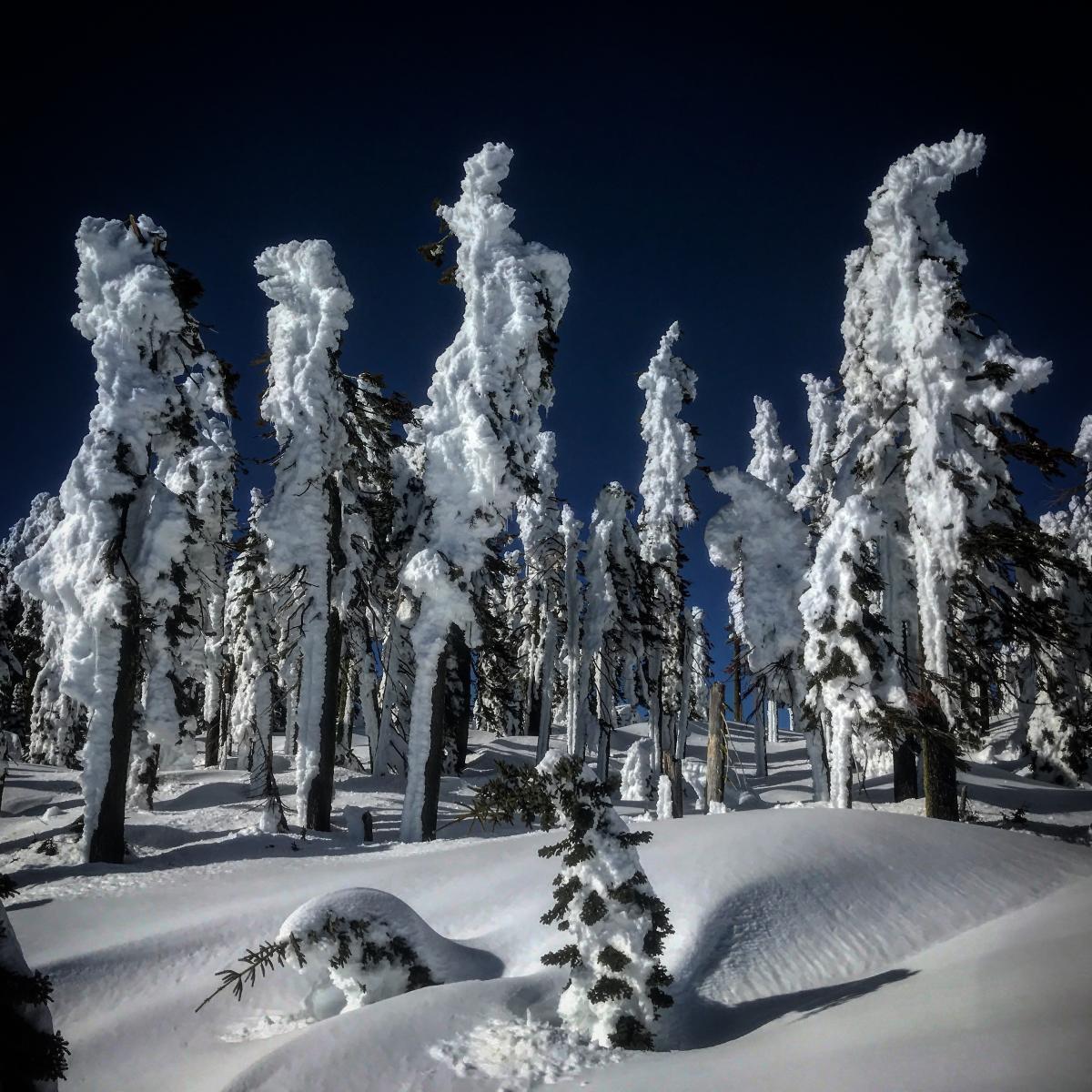 The great rime forest. You might think we just don't have anything better to talk about... But indeed, these hard chunks of rime ice are the real deal folks and we keep mentioning for good reason: one of these babies could knock you out. Seriously. Some of the warmest weather of the year this weekend will cause chunks to cut loose. Bombs away! [Photo: Meyers]
Weather and Current Conditions
Weather Summary
Although we hope for a few more storms this season, one might say that "spring has sprung" here in Mount Shasta. Winter puffies are becoming a bit overkill for the layering system as warm California sun has been shining bright, and will continue to do so this weekend. Winds will remain light and variable. Temperatures are steadily rising each day and Sunday will see some of the warmest weather of the year. Eventually, a wetter and cooler regime will resume next week. For now, get out and get a little color on those cheekies!
24 Hour Weather Station Data @ 3:00 AM
Two Day Mountain Weather Forecast
Produced in partnership with the Medford NWS
For 7000 ft to 9000 ft
Saturday
(5 a.m to 11 p.m.)
Saturday Night
(11 p.m. to 5 a.m.)
Sunday
(5 a.m to 11 p.m.)
Weather
Sunny, becoming partly cloudy
Partly cloudy
Sunny
Temperature (°F)
49
29
50
Wind (mi/hr)
Variable 0-5
East 5-10
Variable 0-5
Precipitation SWE / Snowfall (in)
/ 0
/ 0
/ 0
For 9000 ft to 11000 ft
Saturday
Saturday Night
Sunday
Weather
Sunny, becoming partly cloudy
Partly cloudy
Sunny
Temperature (°F)
27
25
25
Wind (mi/hr)
Southwest 5-10
Southwest 0
Southwest 5-10
Precipitation SWE / Snowfall (in)
/ 0
/ 0
/ 0
Season Precipitation for Mount Shasta City
Period
Measured (in)
Normal (in)
Percent of Normal (%)
From Oct 1, 2019 (the wet season)
31.74
33.00
96
Month to Date (since Apr 1, 2020)
2.21
3.50
63
Year to Date (since Jan 1, 2020)
23.33
17.79
131
Disclaimer
This forecast does not apply to Ski Areas or Highways and is for the Mt. Shasta, Castle Lake and Mt. Eddy backcountry. Use this information for guidance only. You may find different conditions in the backcountry and should travel accordingly. This forecast expires on midnight of the date it was posted unless otherwise noted.