You are here
Avalanche Forecast for 2019-03-21 05:58
EXPIRED ON March 22, 2019 @ 5:58 am

Published on March 21, 2019 @ 5:58 am
Issued by Nick Meyers - Shasta-Trinity National Forest
Moderate avalanche danger exists due to fresh, new wind slabs near and above treeline. Human triggered avalanches are possible in steep, leeward terrain. Low danger remains below treeline.
Avalanche Problem 1: Wind Slab
Certain

Very Likely

Likely

Possible

Unlikely

Historic

Very Large

Large

Small
Wind slab avalanches will be possible today, near and above treeline, due to 3 to 4 inches of recent fresh snow and moderate southeasterly winds. Slab size is expected to be small in many areas, and larger (enough to bury you) in isolated areas. Slabs up to 2 feet deep have been observed. Use your ski pole to probe for wind pillows and/or suddenly deeper snow along the leeward sides of ridgelines. Utilize terrain options to avoid areas of concern. Additional wind loading is not expected today as wind speeds diminish, however always pay attention to localized wind blowing snow.
Forecast Discussion
The jury is out...Are you dusting off your shorts for warmer days ahead or lusting for more powder?  For now, we are back in winter mode after a nice taste of spring. It ain't over 'till it's over -- Wax'em up!



Below, the NOAA Climate Prediction Center's 8-14 day Temperature and Precipitation Outlooks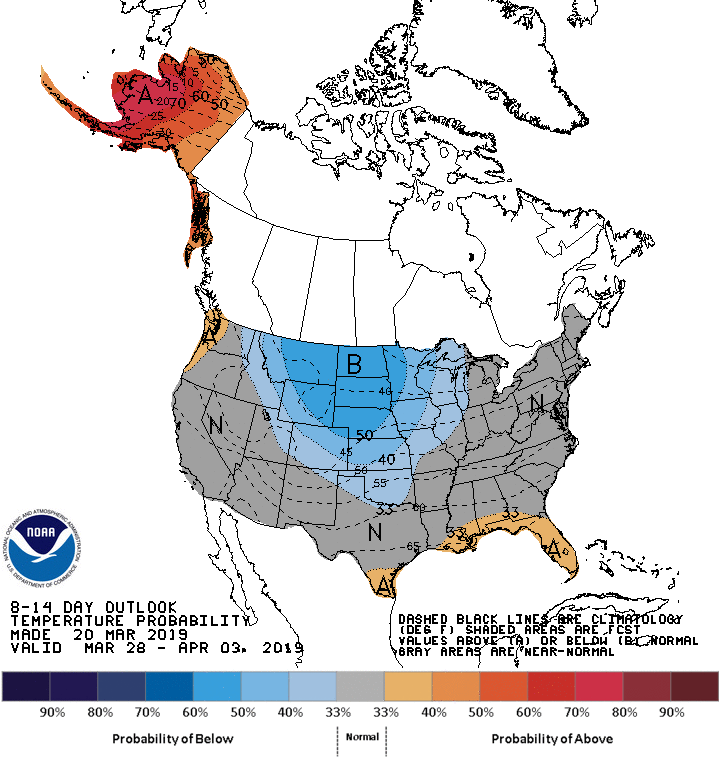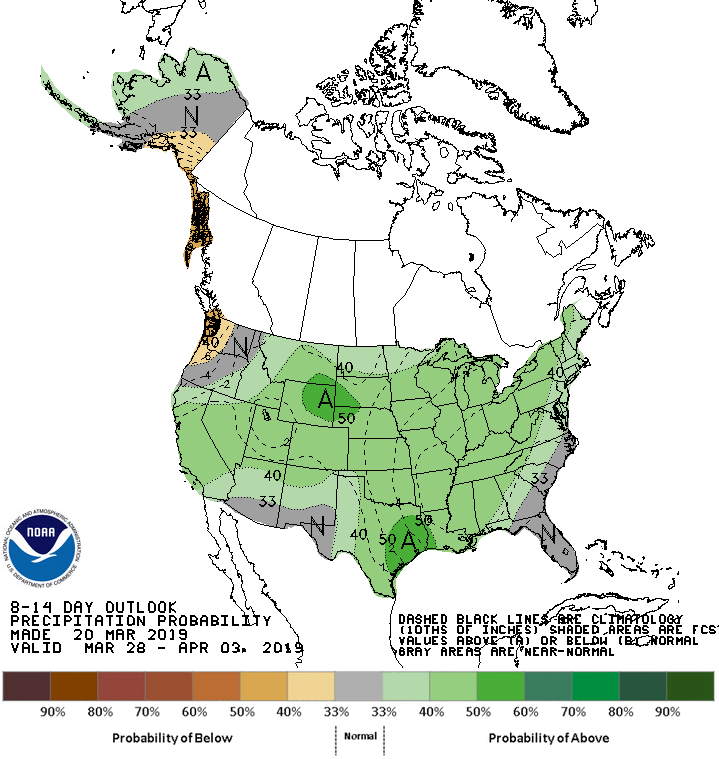 Recent Observations
A short lived, wintery storm blew through over the past 24 hours with snow down to 5,000 feet and upwards of 3 to 4 inches of fresh snow (.46" H20) accumulated above 6,500 feet. Daylight hours yesterday hosted low visibility, foggy, cloudy skies with periods of rain in town and moist snow in the mountains. Wind averaged 8 mi/hr with gusts to 25 out of the southeast. Blowing snow was visible and southeasterly winds were actively loading westerly facing slopes. Near treeline, drifts up to 2 feet deep were observed. Non-planar fractures on the moist, old snow/new snow interface were possible in hand pits. Small wind slabs were triggered on test slopes during hard kicking. (see observation) Release was slow and progressive. By late in the day, patches of blue sky and a general clearing trend was noticeable. 
Weather and Current Conditions
Weather Summary
Precipitation will dry up for the most part today, with the exception of Mount Shasta where persistent, moist flow up the Sacramento Valley will keep a small chance for isolated showers. Wind will be calm to light out of the west/southwest. On Friday, the next front arrives, bringing valley rain and mountain snow. Snow levels should hover around 4,500 feet and we will see several inches of the fresh white stuff by Saturday morning. Pre-frontal winds are going to increase. Tomorrow will be breezy out of the southwest. Longer term,  more weather approaches Sunday night and moves onshore Monday, bringing additional wind and water. Stay tuned!
24 Hour Weather Station Data @ 3:00 AM
Two Day Mountain Weather Forecast
Produced in partnership with the Medford NWS
For 7000 ft to 9000 ft
Thursday
(5 a.m to 11 p.m.)
Thursday Night
(11 p.m. to 5 a.m.)
Friday
(5 a.m to 11 p.m.)
Weather
Mostly cloudy this morning, then partly cloudy with a chance of rain and snow showers this afternoon.
Partly cloudy with a slight chance of rain and snow showers in the evening, then mostly cloudy with a slight chance of rain and snow showers after midnight.
Rain and snow. Snow levels near 4,500 feet.
Temperature (°F)
36
29
31
Wind (mi/hr)
West 0-5
Southwest 0-5
South 10-15
Precipitation SWE / Snowfall (in)
/ < 0.5
/ < 0.5
/ 2-4
For 9000 ft to 11000 ft
Thursday
Thursday Night
Friday
Weather
Chance of snow showers after 11am
Increasing clouds, chance of snow showers
Snow and increasing winds.
Temperature (°F)
21
20
25
Wind (mi/hr)
East 0-5
West < 0.5
Southwest 20-30
Precipitation SWE / Snowfall (in)
/ < 0.5
/ < 0.5
/ 3-7
Season Precipitation for Mount Shasta City
Period
Measured (in)
Normal (in)
Percent of Normal (%)
From Oct 1, 2019 (the wet season)
32.07
33.88
95
Month to Date (since Apr 1, 2020)
2.54
4.38
58
Year to Date (since Jan 1, 2020)
23.66
18.67
127
Disclaimer
This forecast does not apply to Ski Areas or Highways and is for the Mt. Shasta, Castle Lake and Mt. Eddy backcountry. Use this information for guidance only. You may find different conditions in the backcountry and should travel accordingly. This forecast expires on midnight of the date it was posted unless otherwise noted.