You are here
Avalanche Forecast for 2019-03-22 06:17
EXPIRED ON March 23, 2019 @ 6:17 am

Published on March 22, 2019 @ 6:17 am
Issued by Nick Meyers - Shasta-Trinity National Forest
Low avalanche danger this morning will rise to moderate danger this afternoon following a winter storm onset. Six to eight inches of new snow will accumulate in the mountains later today and tonight. Increasing southerly wind will transport new snow. Fresh wind slabs are likely near and above treeline along exposed ridgelines.
Avalanche Problem 1: Wind Slab
Certain

Very Likely

Likely

Possible

Unlikely

Historic

Very Large

Large

Small
Fresh wind slabs will form later today as new snow and wind impact the mountains. Southerly flow will bring increasing wind speeds, blowing new snow onto primarily leeward N-NE-E-SE aspects. Look for obvious clues like wind blowing snow and/or cornice formation. Use your pole to probe down and identify areas of drifting. Cautious travel along ridgelines this afternoon will be important. Human triggered avalanches are possible in complex or extreme terrain like couloirs, cliffy areas, unsupported slopes and steep convex rollovers. Most wind slabs should remain small, but an avalanche large enough to have consequences is not impossible.
Forecast Discussion
It's officially Spring folks, and that means that all weather is possible. A winter storm can be immediately followed by full sun. Spring related instabilities won't be an issue today, but anytime we have new snow followed up by that huge, glowing sphere of hot gas (the Sun), expect loose-wet surface sluffs and point release style snow instabilities. Often times, this type of avalanche is not dangerous, however steep slopes with a long fetch can allow literally tons of snow to become entrained, easily sweeping someone off their feet and into undesirable terrain. Keep in mind as we spring into spring!
A cloud type refresher for today. Knowing cloud types can provide vital information about the state of the atmosphere. Clouds can tell a weather story for a meteorologist. To read more, click here... Recent Observations
Yesterday, from Mount Shasta City, clear skies in the morning was soon washed away by low stratus clouds, light mist and drizzle. Bunny Flat (6,950 feet) marinated in pea soup and a few snow flakes tried to cheer things up. All that changed with 1,500 feet of elevation gain. Clouds thinned out near 8,500 feet and blue sky dominated with hot sun.  Below treeline, recent storm snow has settled and old snow surfaces can be seen poking up through the new snow. Only about 3-4 inches was observed. Near and above treeline, 4-8 inches was measured in various locations. Previous wind out of the southeast loaded westerly aspects and inconspicuous drifts up to 2 feet deep exist. Wind yesterday was dead calm. On steep easterlies, non-consequential rollerballs were observed within new snow, as well as a small, skier triggered loose-wet slide on Right Peak at Castle Lake.  Above treeline on Mount Shasta, targeted stability tests for wind slabs (see observation) resulted in moderate force, fully propagating extended column tests, 8-12 inches down from the surface on a layer of well preserved, 2-3mm stellar and plate precipitation particles. Numerous tests were reproduced along the westerly aspect of Green Butte Ridge with a lot of spacial variability. Distribution of this weak layer was not uniform and found in pockets. No other obvious signs of instability was observed. Snow surfaces are generally smooth, though the wind affected, old snow can be felt below. No new snow was recorded in the last 24 hours. Total height of snow on the mountain averages 130 to 170 inches.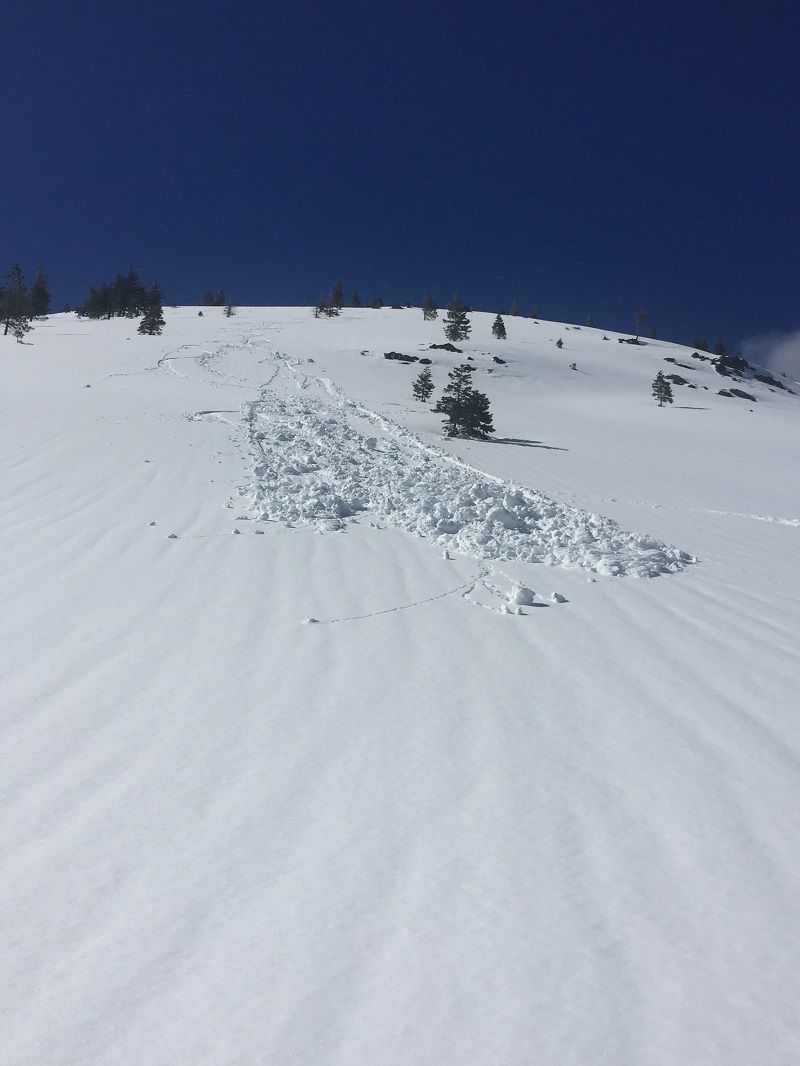 A small, skier triggered, loose-wet point release on Right Peak at Castle Lake, 3.21.19 [Photo: J Hansen]
Weather and Current Conditions
Weather Summary
Southerly flow will focus active weather over Northern California for the near future. A cold front approaches this morning, bringing increasing winds and certain precipitation. This system will be wetter than the last, and though not a total whopper, should allow for 6-8 inches of new snow -- just under .5 inches of water. Snow levels will dip to 4,800 feet today and 4,600 feet tonight, however most new snow will accumulate above 6,500 feet. Wind will increase this morning and meet advisory criteria for the Shasta Valley. Cold air arrives behind the front Saturday. Precipitation will fade with partial clearing Sunday.  Monday, another front arrives. Put those river toys back in the shed, Mount Shasta returns for the fourth quarter in the winter game!
24 Hour Weather Station Data @ 3:00 AM
Two Day Mountain Weather Forecast
Produced in partnership with the Medford NWS
For 7000 ft to 9000 ft
Friday
(5 a.m to 11 p.m.)
Friday Night
(11 p.m. to 5 a.m.)
Saturday
(5 a.m to 11 p.m.)
Weather
Snow. Increasing wind. Chance of precipitation 90%. Snow level near 4,800 feet.
Snow before 11pm, then snow showers after. Decreasing wind. Chance of precipitation 80%. Snow level near 4,600 feet.
Snow showers possible, mostly cloudy. Chance of precipitation 70%. Snow level near 4,300 feet.
Temperature (°F)
30
27
33
Wind (mi/hr)
South 20-25
South 10-15
West 0-5
Precipitation SWE / Snowfall (in)
/ 2-5
/ 2-4
/ 1-2
For 9000 ft to 11000 ft
Friday
Friday Night
Saturday
Weather
Snow and windy. Temps rising by noon, then falling in the afternoon.
Snow showers, windy, decreasing.
Snow showers becoming mostly cloudy and cold.
Temperature (°F)
22 and falling
10
10
Wind (mi/hr)
Southwest 35-40
Southwest 3-6
West 5-10
Precipitation SWE / Snowfall (in)
/ 3-6
/ 3-5
/ 2-3
Season Precipitation for Mount Shasta City
Period
Measured (in)
Normal (in)
Percent of Normal (%)
From Oct 1, 2019 (the wet season)
32.07
34.04
94
Month to Date (since Apr 1, 2020)
2.54
4.54
56
Year to Date (since Jan 1, 2020)
23.66
18.83
126
Disclaimer
This forecast does not apply to Ski Areas or Highways and is for the Mt. Shasta, Castle Lake and Mt. Eddy backcountry. Use this information for guidance only. You may find different conditions in the backcountry and should travel accordingly. This forecast expires on midnight of the date it was posted unless otherwise noted.