You are here
Avalanche Forecast for 2019-03-23 05:45
EXPIRED ON March 24, 2019 @ 5:45 am

Published on March 23, 2019 @ 5:45 am
Issued by Nick Meyers - Shasta-Trinity National Forest
The avalanche danger is LOW today for all elevations and aspects. Watch for isolated wind loading over exposed terrain near and above treeline. Cooling temperatures should keep loose wet avalanche problems at bay. Use basic backcountry travel principles to stay safe and always carry rescue gear. Heads up for falling rime ice off the upper mountain during any period of sunny weather.
Avalanche Problem 1: Normal Caution
Certain

Very Likely

Likely

Possible

Unlikely

Historic

Very Large

Large

Small
Watch for small, isolated wind slabs along ridgelines. Using normal caution should grant safe passage through avalanche terrain today. Basic principles include:
Adapting your ascent route to the terrain. Gullies, troughs and unnecessary steep slopes should be avoided.
Go around fresh snowdrifts and accumulations of compacted snow
Always actively watch out for the 5 red flags of avalanche danger. These include wind blowing snow, recent avalanches, cracks/whoomfing, rapid warming,  recent heavy snow. 
Check whether slope steepness matches the danger situation. Slopes steeper than 30 degrees generally require switchbacks for skinning.
Ascend steep slopes one at a time and/or keep a distance away from partner(s)
Remember, recent avalanches are the BEST indicator of avalanche danger.
Forecast Discussion
Latest snow survey results shown below.  Every year, this information is collected by USFS recreation, fire and avalanche center employees. The information is compiled and sent to the California Department of Water Resources. For more information, visit their website.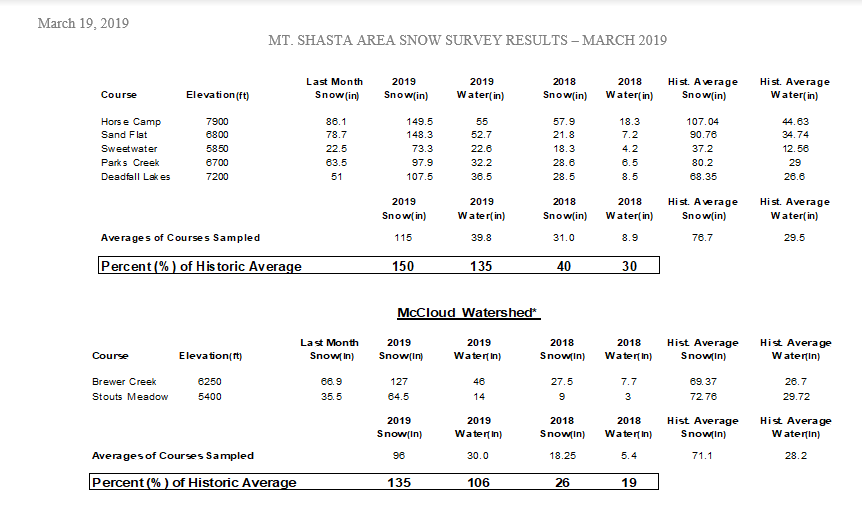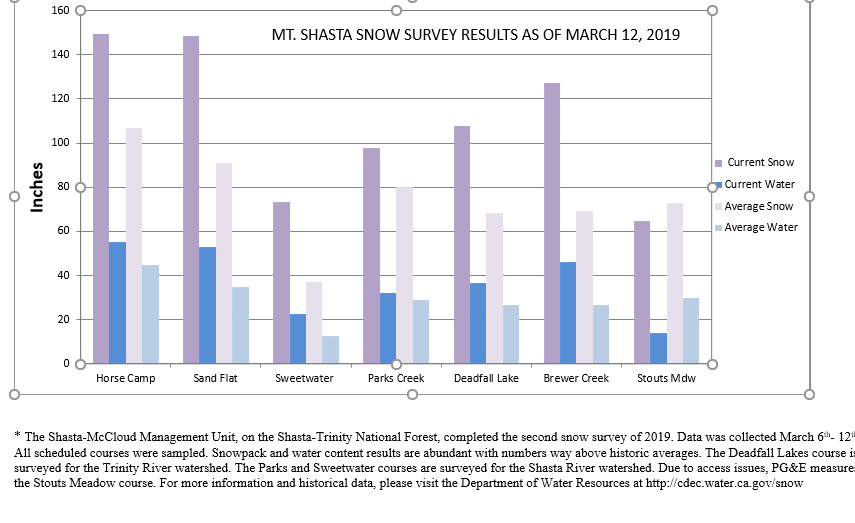 Recent Observations
Precipitation and wind underperformed during yesterday's storm and we received only about half of what was forecast.
Two inches of new snow observed at treeline on Mount Shasta
Winds were light with a few stronger gusts on the mountain. Wind loading was minimal. 
Old snow surfaces are variable, from firm and icy to soft and breakable. 
New snow from this past week and the additional fresh snow from yesterday have helped smooth things out, though it's still a little funky out there.
No signs of avalanche danger have been observed.  
Weather and Current Conditions
Weather Summary
A brief clearing trend will kick off spring break here in Mount Shasta. A frontal boundary extends south to north over the middle of California and Oregon this morning.  Today, snow showers are possible early on. Unstable air pushes onshore hosting chilly temps, clearing skies and a chance for thunderstorms this afternoon and frost this evening. Sunday looks dry with mostly sunny skies and light wind. This brief period of mellow weather is going to change Monday when a front approaches bringing south wind and additional precipitation. Tuesday through Friday, southerly flow will allow for an active weather pattern to continue.
24 Hour Weather Station Data @ 3:00 AM
Two Day Mountain Weather Forecast
Produced in partnership with the Medford NWS
For 7000 ft to 9000 ft
Saturday
(5 a.m to 11 p.m.)
Saturday Night
(11 p.m. to 5 a.m.)
Sunday
(5 a.m to 11 p.m.)
Weather
Mostly cloudy, snow showers this morning, isolated thunderstorms this afternoon.
Partly cloudy
Partly cloudy
Temperature (°F)
29
21
39
Wind (mi/hr)
Southwest 0-5
Southwest 0-5
Southeast 5-10
Precipitation SWE / Snowfall (in)
/ 1-2
/ 0
/ 0
For 9000 ft to 11000 ft
Saturday
Saturday Night
Sunday
Weather
Snow showers with thunder possible, mostly cloudy.
Partly cloudy
Partly cloudy
Temperature (°F)
12 and falling
11
17
Wind (mi/hr)
West 10-15
West 1-2
Southwest 15-20
Precipitation SWE / Snowfall (in)
/ 1-2
/ 0
/ 0
Season Precipitation for Mount Shasta City
Period
Measured (in)
Normal (in)
Percent of Normal (%)
From Oct 1, 2019 (the wet season)
32.15
34.20
94
Month to Date (since Apr 1, 2020)
2.62
4.70
56
Year to Date (since Jan 1, 2020)
23.74
18.99
125
Disclaimer
This forecast does not apply to Ski Areas or Highways and is for the Mt. Shasta, Castle Lake and Mt. Eddy backcountry. Use this information for guidance only. You may find different conditions in the backcountry and should travel accordingly. This forecast expires on midnight of the date it was posted unless otherwise noted.